Luiz - Fotolia
Ahana releases managed Cloud for Presto service
New Ahana cloud system brings a managed service to market that integrates data management and visualization capabilities to aid in business intelligence and data analytics.
Data analytics startup Ahana released its new Ahana Cloud for Presto system, providing a managed service for organizations using Presto.
The new managed Presto service is now in preview and is set to be generally available by the end of 2020. Presto is an open source distributed SQL query engine that competes against Apache Spark.
Ahana, based in San Mateo, Calif., emerged from stealth mode on June 2 and revealed its first offering on June 30 with the availability of the open source PrestoDB in the AWS Marketplace. While the initial Ahana product provides support for the open source Presto project, Ahana Cloud for Presto is a managed service that goes beyond the open source project.
"Managing Presto environments can be a bit daunting for many, especially as clusters grow to meet the speed, size and scale of data," said Mike Leone, senior analyst at ESG.
Leone said Ahana's managed service has the potential to address the perceived challenges of getting started with Presto. He noted that Ahana has a slick user interface that can be used to ramp up deployments quickly as well as help with ongoing management. As Ahana's engineering team grows, continuing to infuse automation and intelligence throughout the product will be critical to the vendor's success, he said.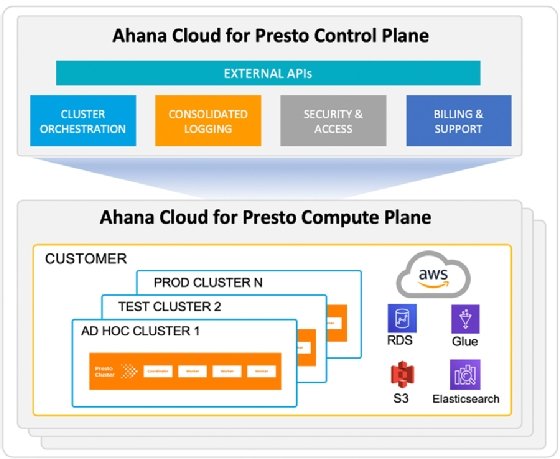 Managed Presto service handles operations
At the core of the service is the Ahana Console, which handles the orchestration of clusters and services that enables Presto to help users with data management and analytics tasks.
Ahana Cloud for Presto deploys into an organization's virtual private cloud (VPC). With the VPC approach, users have full visibility into what's happening since the service is deployed into the user's own environment, said Dipti Borkar, co-founder and chief product officer at Ahana.
Managing Presto environments can be a bit daunting for many, especially as clusters grow to meet the speed, size and scale of data.

Mike LeoneSenior analyst, ESG
While users have full visibility, Borkar noted that as a managed service, Ahana handles the software operations, making it easier for organizations to use Presto without having to deal with configuration and infrastructure concerns.
Connecting to different data sources is a key requirement for analytics and part of that process is understanding what data is available. To that end, Borkar said Ahana Cloud for Presto integrates a Hive metastore, which provides a data catalog that is provisioned on a per-cluster basis.
Ahana managed Presto integrates Apache Superset
Visualizing data for business intelligence and analytics is a key use case for Presto, though Presto itself does not include a data visualization dashboard.
As part of the managed service, Borkar noted that Ahana Cloud for Presto includes the Apache Superset project, an open source data visualization technology. Borkar noted that Ahana Cloud users can use Superset after a cluster is created to visualize data as part of a business intelligence sandbox.
Ahana said it also recognizes that many organizations already have their own BI tools. As such, Ahana Cloud uses the Java Database Connectivity interfaces, which enable users to bring their own BI tools to Ahana.
"Our focus initially is for the mid-market segment, folks that perhaps don't have a large big data team or data platform team, but they're trying to be data-driven," said Steven Mih, co-founder and CEO of Ahana. "So we think that those groups need ease of use, and they are looking to use their time to get more insights from data rather than managing infrastructure."