voyager624 - Fotolia
Druva Phoenix serves up new DRaaS features
An upcoming wave of updates to Druva Phoenix and CloudRanger will boost the DRaaS offering's capabilities, and the vendor said it will extend Druva beyond data protection.
Backup vendor Druva is bolstering its disaster recovery as a service around its Phoenix and CloudRanger cloud backup apps and Amazon Web Services.
Druva this week said it would add the following features:
runbook automation;
failback to AWS or on-premises sites;
cross-region replication; and
mobility of virtual machines (VMs) and virtual private clouds for Phoenix and CloudRanger.
The features are due to roll out incrementally over the next few months.
Druva Phoenix first launched in 2014 as a software-as-a-service cloud backup and archive product. The vendor added DRaaS capability into Druva Phoenix in 2016. Druva acquired AWS backup company CloudRanger in mid-2018 and added it to its Cloud Platform, along with Druva Phoenix and InSync backup. The vendor added automated DR testing to CloudRanger in late 2018.
Mike Palmer, chief product officer of Druva, based in Sunnyvale, Calif., said around 30% of Druva Phoenix customers have adopted DRaaS. Now, those customers are requesting more features to keep their data secure.
"We're seeing an uptick in demand for this type of solution as compensating for ransomware attacks," Palmer said.
Because Druva creates a separate, off-premises data repository from an organization's primary infrastructure, it creates an air gap from which to recover from a cyberattack. Druva charges a flat $20 fee per VM regardless of the size of the VM for its DRaaS.
Palmer said Druva Phoenix can help customers meet recovery time objectives (RTOs) of a few minutes and recovery point objectives (RPOs) of an hour. It is possible to achieve shorter RPOs from other technologies and vendors, but that comes at a greater cost.
Steven Hill, senior analyst at 451 Research, said organizations should evaluate how mission-critical their data is and think about how quickly they need it back when choosing from many of the DRaaS providers in the market.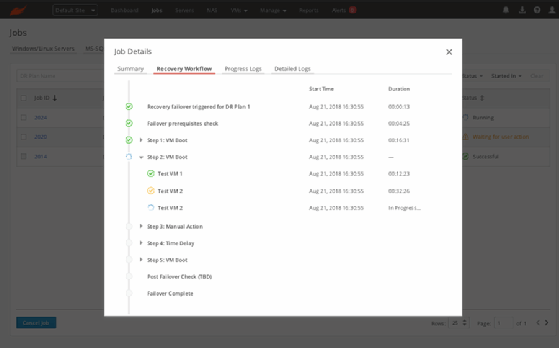 "The whole idea of being able to port your application to the cloud and let it continue from when it went down is a pretty big deal," Hill said. "But that's where the cost comes in. The shorter you want your RTO and RPO, the more money you spend on it."
Mark Jaggers, senior director analyst at research and advisory firm Gartner, gave a similar warning.
The shorter you want your RTO and RPO, the more money you spend on it.

Steven Hillsenior analyst at 451 Research
"While many technologies today have the potential to deliver very low RPOs, users should always understand what their requirements really are. It can be expensive and unneeded to achieve an RPO that is not justified by the business requirements," Jaggers said.
The sweet spot RPO for the best cost-benefit ratio is at around the one-hour mark, Hill said, and an RPO of 30 minutes to an hour is reasonable for most businesses. Backing that up, Jaggers cited a research survey of DRaaS subscribers performed by Gartner that found 83% of respondents reported their lowest RPOs were one hour or less.
Palmer said runbook automation will be available in April, and failback capabilities will roll out in May. Because the product is being delivered as a service, customers will not have to upgrade or install a patch to use the features once they become available.
Other feature updates coming to Druva Cloud Platform will extend beyond backup and DR to areas such as analytics, data governance, e-discovery and long-term retention via Amazon storage tiers.
"You'll see Druva evolve not just from data protection into business continuity, as we are doing today, but into compliance, archive and analytics over time," Palmer said.
Druva faces steep competition in DRaaS, including some of the largest IT companies. Gartner lists 10 DRaaS vendors on its latest DRaaS Magic Quadrant, with Microsoft and Iland listed as leaders and IBM and Sungard Availability Services in the visionaries quadrant. Druva is not on the list of 10.