Gen Z in the workforce both want and fear AI and automation
For Gen Z in the workforce, AI and automation are ways to ease workloads, even as the young generation worries the technologies could eventually replace them.
For Gen Z in the workforce, AI and automation are useful and time-saving tools, but also possible threats to job security.
Typically characterized as the demographic born between the mid-1990s and mid-2000s, Generation Z is the first generation to truly grow up exclusively with modern technologies such as smart phones, social media and digital assistants.
Many Gen Z-ers first experienced Apple's Siri, released in 2011, and then Amazon's Alexa, introduced in 2014 alongside Amazon Echo, at a young age.
The demographic as a whole tends to have a strong understanding of the usefulness of AI and automation, said Terry Simpson, technical evangelist at Nintex, a process management and automation vendor
Gen Z in the workforce
Most Gen Z employees have confidence in AI and automation, Nintex found in a September 2019 report about a survey of 500 current and 500 future Gen Z employees. Some 88% of the survey takers said AI and automation can make their jobs easier.
This generation understands AI technology, Simpson said, and its members want more of it in the workplace.
"For most organizations, almost 68 percent of processes are not automated," Simpson said. Automation typically replaces menial, repetitive tasks, so lack of automation leaves those tasks to be handled by employees.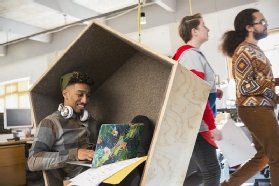 For Gen Z in the workforce, a lack of automation can be frustrating, Simpson said, especially when Gen Z-ers are so used to the ease of digital assistants and automated programs in their personal lives. Businesses generally haven't caught up to the AI products Gen Z-ers are using at home, he said.
Yet, even as Gen Z-ers have faith that AI and automation will help them in the workplace, they fear it, too.
Job fears
According to the Nintex report, 57% of those surveyed expressed concern that AI and automation could affect their job security.
"A lot of times you may be a Gen Z employee that automation could replace what you're doing as a job function, and that becomes a risk," Simpson said.
Everybody says I don't want to lose my job to a robot, and then Outlook tells you to go to a meeting and you go.

Anthony ScriffignanoChief data scientist, Dun & Bradstreet
Still, he added, automation can help an organization as a whole, and can ease the employees' workloads.
"Everybody says I don't want to lose my job to a robot, and then Outlook tells you to go to a meeting and you go," said Anthony Scriffignano, chief data scientist at Dun & Bradstreet.
Jobs that can be easily automated may eventually be given to an automated system, but AI will also create jobs, Scriffignano said.
As a young generation, Gen Z-ers may have less to fear than other generations, however.
Younger generations are coachable and more open to change than the older generations, Scriffignano said. They will be able to adapt better to new technologies, while also helping their employers adapt, too.
"Gen Z have time in their career to reinvent themselves and refocus" their skills and career goals to better adapt for AI and automation, Scriffignano said.