metamorworks - stock.adobe.com
How Loram reduces distracted driving with AI technology
The road and rail maintenance company employs technology from a startup AI vendor with a computer vision and deep learning device that alerts unfocused fleet truck drivers.
Desperate for a way to cut distracted driving across its fleet, road and rail specialist maintenance Loram turned to an AI startup with computer vision and deep learning technology.
Safety is a big issue in the world of truck driving. A typical fleet driver has an average of 4.5 accidents per year, according to a 2022 survey by truck fleet software vendor GPS Insight.
And with roughly 500 fleet trucks across North America, Loram truck drivers drive a total of 14,000 miles daily and about 9.4 million miles per year. That adds up to a lot of accidents.
Nauto's AI technology
After exploring about a dozen systems that could help Loram's drivers, Graham Rose -- vehicle fleet manager at Loram -- decided to try Nauto. The vendor, based in Palo Alto and founded in 2015, has received investments from General Motors Ventures and BMW i Ventures.
"They were the only one at the time with facial recognition and distracted driving," Rose said. "All the other cameras could pick up some violations, but their main features did not include distracted driving."
For customers like Loram, Nauto installs a small camera device that uses computer vision to see what's happening on the road and what the driver is doing. The camera doesn't record every moment of driving activity but only the 30 seconds or around the time of a collision or driving violation, according to CEO Stefan Heck.
The device also measures the probability of collision when drivers are distracted or tailgating and voice coaches drivers when the probability of collision is more than 30 percent. When the Nauto device notices an incoming collision, it sounds an alarm.
The Nauto system also produces a visual enhancement risk assessment score for drivers to let them know how they're doing.
The pilot program
Loram began working with Nauto in 2018. Since then, the road and rail maintenance company, based in Hamel, Minn., has cut down at-fault accidents by 79 percent and changed the driving behavior of drivers, according to Rose.
"It's significantly decreased our tailgating, our cellphone usage," he said. "Our guys are going hands-free and not picking up their cellphones and getting distracted when they're driving." Drivers are also using their seatbelts more, he added.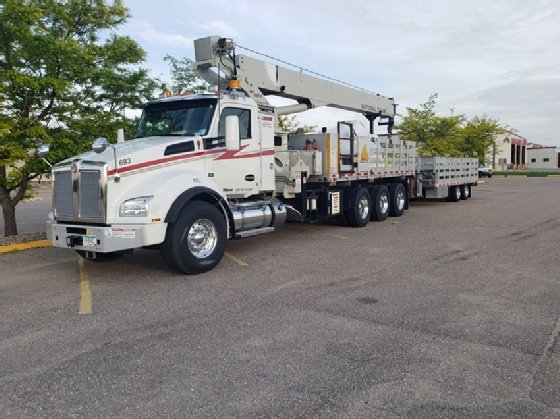 While some of Loram's veteran drivers -- who have been in the business for about 30 years -- are still unsure about having a camera device with facial recognition capabilities in the truck, most of their drivers enjoy Nauto for its protective value, according to the company.
At the start, drivers were told that managers are not monitoring their every move despite the camera. However, managers can go back and pull footage of what happens at a particular moment in case there's an accident and a violation.
"We use it as a tool that -- when it picks up a violation or picks up a coaching moment, that's when we'll go in and look at the footage," Rose said. The camera footage can also defend drivers against inaccurate at-fault claims.
The vendor's AI technology has made drivers more aware of the dangers of distracted driving and the distance their trucks have traveled during innocuous moments, such as grabbing a cup of coffee.
"The artificial intelligence side of it has been easy to stand behind because when you dissect the videos, dissect the timeframe, you dissect the speed, it's always helping them get better," Rose said. "It's always pointing out the things you might not see without that data."
The artificial intelligence side of it has been easy to stand behind because when you dissect the videos, dissect the timeframe, you dissect the speed, it's always helping them get better.

Graham RoseVehicle fleet manager, Loram
The facial recognition feature also lets Loram keep track of which driver is driving what vehicle in case a truck is damaged.
One problem Nauto and Loram are currently fixing is getting the device to recognize whether drivers of hi-rail trucks, which travel on both roads and railroad tracks, are doing their job. The system thinks drivers are distracted because they are working on the rail and not driving the vehicle. The companies want the device to make an exception in those instances, Rose said.
Nauto works with not only commercial fleets but also auto and truck makers. It charges $400 for its device. The AI vendor also annually charges $300 to $500 per vehicle for enterprises using its features and services. Its competitors include LeddarTech, Nexar and UISEE Technology.