Kirill Kedrinski - Fotolia
ERP implementation success: Program management vs. project management
ERP program management provides the framework to manage the portfolio of projects that ensure ERP deployment success. Here's what that looks like.
ERP implementation success is not a foregone conclusion -- it demands a huge commitment of time, effort, and financial and human resources.
Project management alone is unable to effectively address these areas, even if you choose a cloud ERP implementation.
Instead, organizations would do well to focus on the critical layer above project management: program management. It provides a framework to manage and follow up on the many individual projects that compose a typical ERP implementation.
A look at the program-project relationship
The individual projects that compose an ERP implementation -- from selection to change management -- become part of an overall program management.
They each need to be monitored and controlled from an individual perspective of project management and from the collective perspective of program management to reap the real business benefits of an ERP implementation.
ERP implementation success depends on program management success, which, in turn, depends on attaining success of individual projects that come within the program management.
Because projects are the building blocks of any program, any failure at the project level will automatically have an impact on the overall ERP program management effectiveness.
Program management vs. project management
But what exactly goes into program management? To answer that question, it's important to understand some of the major differences between program management and project management.
| | |
| --- | --- |
| ERP program management... | ERP project management... |
| Carries a less well-defined end date until an outlined organizational state has been achieved, or is ongoing as part of continuous improvement. | Has defined start and end dates. |
| Focuses on delivering business benefits, such as reduced time to close monthly or quarterly accounts, faster and accurate shipment to customers, and a shorter lead time in procuring materials; requires involvement of program management's team even after projects end, for example, to offer extended guidance on making best use of the new ERP system. | Focuses on delivering tangible and quantifiable deliverables, such as the timely availability of hardware and infrastructure, and having networking in place to ensure seamless data transfer. |
| Is more complex and requires strategic planning; contains multiple projects and drives operational changes. | Is simpler, as the focus is only on delivering defined deliverables -- such as hardware and its installation, infrastructure and networking, ERP software and its successful implementation -- within the agreed-upon timelines. |
| Requires that changes at the project level be constantly monitored and their impact on the program and its projects are controlled and managed. | Includes change control that is more focused, including preventing implementation scope creep, timeline slippage or cost overruns. |
| Requires a macro view, which must consider the combined effect of a portfolio of projects, which should provide medium- to long-term benefits. | Includes a micro view -- only concerned with the delivery of what has been defined, is on time, and is within budget and with acceptable quality. |
Five phases of ERP program management
ERP program management promotes the culture of integration. While individual projects focus on getting things done, the ERP program management ensures all these defined and temporary projects synchronize and integrate with each other in terms of the overall benefits the organization wants to achieve.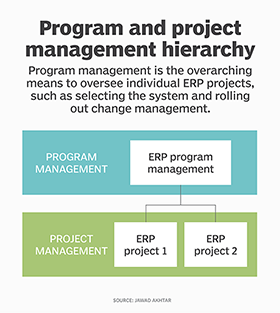 The five phases of an ERP program management are:
Program initiation. In this phase, a program manager is assigned and a business case is built to identify the benefits of an ERP implementation so as to ensure success. This phase sets the working boundaries for an ERP implementation as well as the realization of underlying benefits that the company will achieve from it.
Program setup. This phase entails setting up the program office, program charter definition, project portfolio development, program structure definition, and budget- and timing-related activities.
Design, build and test. In the design subphase, the functional and technical foundations of ERP software are laid out and these will have cascading effects throughout the project. The build subphase enables functional and technical teams to build a prototype of ERP software that meets the overall ERP program management goals. The test subphase requires iterative testing of the developed ERP prototype so as to constantly improve until it is ready for deployment. The ERP program management focuses on ensuring training, communication and performance management.
Deploy. While primarily focusing on an ERP go-live, this phase ensures that all associated projects within the ERP program management are also working in complete harmony with each other.
Post implementation. Perhaps more critical to ERP implementation success than any other phase, this phase ensures immediate and pressing issues get addressed. These include incorrect data entry, authorization issues and a programming dump that threatens to impede how well the system works. It's also this phase that inevitably ends up taking more time and budget than planned and, hence, needs an effective ERP program management's focus. Further, this phase in the ERP program management needs to be given the time and understanding it needs to truly realize the benefits of implementing ERP software and that happens after users have gained good proficiency of the new ERP software and are able to quantify tangible and measurable improvements in their daily working.
What is successful ERP program management?
ERP program management's success depends on the following:
organizationally defined benefits that are realized within the agreed timeline and budget; and
the successful execution of each of the projects that come under its program.
As projects are the building blocks of a program, any failure at the project level will automatically make the overall ERP program management ineffective.
Five streams of ERP program management
Breaking up the entire ERP program management into the following five distinct streams or working groups helps ensure an effective ERP implementation.
ERP implementation stream. This stream focuses on designing, developing, configuring and implementing ERP software as a tool that can support the organization in new ways of data sharing and working.
Information system and information technology (IS/IT) stream. This stream works to ensure the necessary infrastructure such as hardware, networking and software are in place for ERP implementation success.
Testing stream. Testing is so crucial for ERP implementation success that it warrants a separate stream. Unit testing, unit acceptance testing, integration testing, ERP software performance testing and load testing are some examples. The associated activities that support various testing, such as test scripts preparation and test results validation by the functional or business users, are also ensured by this stream.
Integration stream. This stream ensures integration of people, business processes, IT/IS and the entire organization. More critically, this stream takes the lead in reintegrating the resources within the organization after an ERP project management has ended.
Program management stream. Projects falling within the scope of an ERP program management are launched within this stream. Some of these projects involve risk management; timely and quality follow-ups; resources management; budget assignments, tracking and monitoring; projects' progress follow-ups; and performance management.
Four change management streams in an ERP implementation
The following four change management streams play a crucial role in an ERP program management and in ERP implementation success:
Organization stream. This stream defines and implements a new organizational structure and new ways of working in the ERP software. The outcome of this stream's work is to ensure new ways of working that are based on best practices to ensure a more efficient organization.
Communication stream. This stream supports ERP program management during its entire lifecycle to ensure seamless coordination and communication among all stakeholders. It ensures that perceptions of the new ERP software are aligned with company's vision for implementing it.
Learning stream. This stream aims to upgrade the ERP knowledge and skills of the organization. Its main outcome is to preserve quality data input and knowledge.
Performance stream. This stream updates the appraisal system, rewards mechanisms and performance management so they support a culture of integration to bring people, business processes and data harmonization across the entire organization in a cohesive way.
Dig Deeper on ERP administration and management