Sergey Nivens - Fotolia
SAP still leads tier 1 ERP market, Infor solidifies place in the top 4
SAP continues to lead the tier 1 ERP market, according to Panorama Consulting's Clash of the Titans 2019 report. But disruption is never far from sight, with Oracle and Microsoft trailing just behind and Infor continuing to make gains.
SAP still tops the table of tier 1 ERP software systems, but the race is much more even these days, according to a new report from Panorama Consulting.
The Greenwood Village, Colo., ERP consulting firm's annual Clash of the Titans 2019 report surveyed 263 ERP users about their experiences with what it calls the titans of the industry -- the tier 1 ERP vendors SAP, Oracle, Microsoft and Infor. The report found 30% of surveyed ERP customers selected SAP, followed by Microsoft Dynamics at 29%, Oracle at 25% and Infor at 16%
The ERP market battle among the tier 1 vendors "isn't likely to be settled anytime soon," according to the report, adding that each of the vendors has strengths that customers should consider when selecting an ERP product.
For SAP, its strength lies in building products from the ground up, rather than through acquisition, according to the report. Oracle's strength is in developing or acquiring product lines that provide flexible functionality for various industry niches. For Microsoft, it's providing an ERP product that's less complex than the SAPs and Oracles. And Infor's strength is innovation and a strong cloud-first strategy.
Infor solidifies claim as a tier 1 titan
The report showed that the tier 1 ERP market is in a state of disruption. While all the vendors are moving to the cloud, they are doing so in different ways, according to Chris Devault, Panorama Consulting's manager of software selection.
The disruption is further characterized by the solidification of Infor as a tier 1 titan, Devault said. "Infor, especially with the M3 product [a manufacturing-focused ERP], has fleshed out to be a true enterprise tier 1 player," he said. "Not only out-of-the-box functionality, but Infor has done a great job in facilitating large companies from their standard out-of-the-box processes and then adding more value with their add-on products."
As it has risen to the tier 1 ranks, Infor has taken business away from primarily Microsoft and Oracle, according to Devault. Neither Microsoft nor Oracle has been as strong in developing cloud applications, he said. In Oracle's case, its cloud application may be powerful, but it's not fully developed and has gaps in functionality for some processes, such as process manufacturing.
SAP still has appeal for Fortune 1000 organizations and remains strong in implementing very large enterprise systems, even as it develops its own cloud approach.
"They're taking a little different approach with S/4HANA, where they're not exactly a pure SaaS model," Devault said. "But they do a very good job with coming up with a solution when they're in the prospecting and sales cycle, and then continue to tailor that solution to meet the clients' particular needs."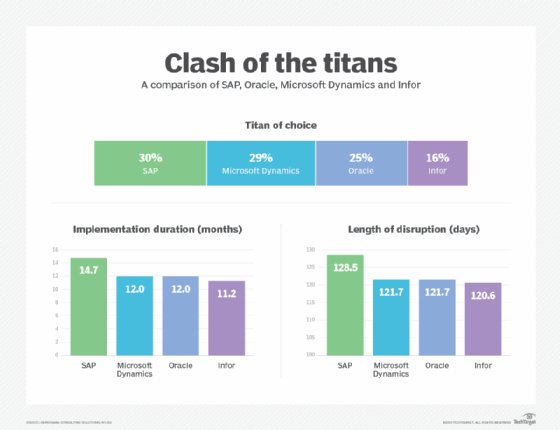 More complex systems take longer
Selecting a more complex ERP system means implementation projects can take longer to complete and may create more organizational disruption, according to the report.
A majority of our clients fall under digital optimization, where they are improving their processes and using technology as an enabler to facilitate those improved processes.

Chris Devaultmanager of software selection at Panorama Consulting
The survey indicated that SAP clocks in with the longest implementation time, at 14.7 months on average, while Infor averages the shortest implementation time of 11.2 months. SAP typically takes longer, because its customers tend to be large global organizations with several locations, a detail that can add to the complexity of any project. Infor can usually be implemented faster, because the company encourages customers to minimize customizations and use more out-of-the-box functionality.
Infor also does a good job in the design phase of working with customers to figure out what they really need to implement or customize, Devault said.
These characteristics contribute to the length of organizational disruptions, such as the inability to manufacture or ship products during the implementation, according to the report. As such, SAP had the longest organizational disruption, at 128.5 days, while Infor had the shortest, at 120.6 days. Organizations should take a phased approach to implementation and conduct conference room pilots before going live to reduce operational disruptions, the report advised.
Infor more likely to center digital transformation
An organization's digital strategy should guide its selection and implementation of ERP software, the report said. But just 60% of respondents reported that ERP implementations played a significant role in their digital strategy.
There's a difference between a digital transformation, where companies adopt digital technologies to create new revenue streams, and what Devault called digital optimization, where technology is primarily used to improve processes.
"We see that less than 20% of our clients are trying to enter new industries or go cross-functional by using technology to generate pure revenue streams that they are not using now and that are dependent on technology," he said. "A majority of our clients fall under digital optimization, where they are improving their processes and using technology as an enabler to facilitate those improved processes."
Infor was seen as the most suitable ERP for digital transformation, as 71.4% of Infor customers responded that ERP played a "significant role" in their digital strategy. By contrast, Oracle is considered more process- and function-oriented, as just 45% of its customers responded that ERP was a significant part of their digital strategy.
The Clash of the Titans 2019 report analyzed responses from Panorama Consulting's ERP Benchmark survey, conducted in September and October 2018. The survey includes data from 263 respondents from various industries who had selected or implemented ERP applications from SAP, Oracle, Microsoft or Infor. Panorama Consulting is an independent firm, with no relationship to any software vendor or reseller, according to the company.
Next Steps
Find out how Infor's Coleman compares with other next-generation AI platforms.
See how the top ERP vendors stack up on ROI.