buchachon - Fotolia
Panorama Consulting's report talks best-of-breed ERP trend
The top ERP vendors offer distinct capabilities to customers, paving the way for a best-of-breed ERP approach, according to Panorama Consulting.
SAP ERP systems cost far more to implement than those from Infor, Microsoft and Oracle. However, those SAP projects can also deliver more digital business transformation.
That's one of the findings of the annual "Clash of the Titans 2021" report from Panorama Consulting Group, which compares customers' experiences with the top four ERP vendors: SAP, Oracle, Microsoft and Infor.
Panorama Consulting Group in Greenwood Village, Colo., provides vendor-independent research, consulting and services for ERP selection and implementation projects. The "Clash of the Titans" report analyzes responses collected from the group's "ERP Benchmark Survey" conducted between October 2019 and September 2020. "Clash of the Titans 2021" includes a total of 116 respondents from organizations that have selected or implemented ERP systems from Infor, Microsoft, Oracle and SAP.
The report indicates some broad trends that are common in the ERP industry regardless of vendor. There are also sharp differences in how vendors approach areas such as ERP project goals and gaps in project costs, paving the way for a recent best-of-breed ERP trend.
SAP invests heavily in R&D, particularly in cloud technology, according to the report. Recent advancements in IoT and machine learning technologies have been introduced throughout the product portfolio, and SAP is helping customers implement these over time.
Oracle's strengths lie in a full stack of cloud options, with SaaS applications available for a variety of business functions and industry verticals, according to the report. Customers can also benefit because these applications can run on Oracle's extensive global cloud infrastructure.
Microsoft invests strongly in data centers that support its cloud capabilities, according to the report, and customers can build out on their existing Microsoft technologies. The report also found that adoption of Microsoft cloud-based ERP and CRM applications are on the rise.
Infor takes an industry-specific approach rather than developing a single product that can be adapted for various industry functionality, according to the report. Infor has also taken a flexible approach in moving customers to cloud applications.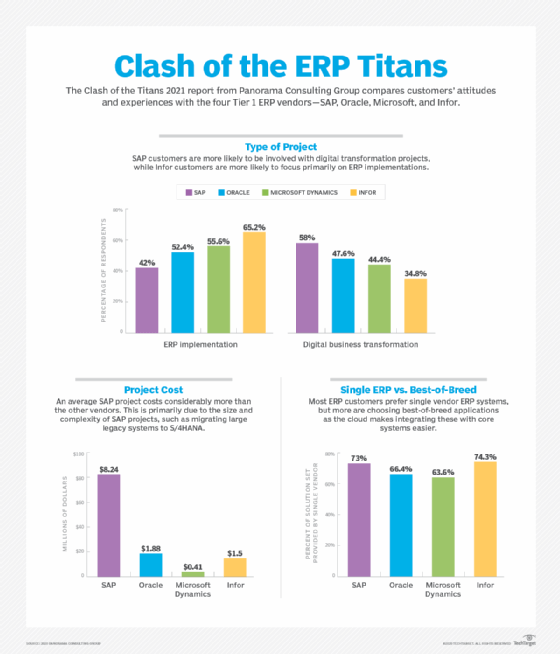 Best-of-breed ERP becomes more common
ERP implementations on the whole tend to be provided by a single vendor, but a best-of-breed approach is becoming increasingly common, according to the report. Best-of-breed ERP, which integrates applications from various vendors into an ERP stack, is becoming more attractive because of cloud capabilities and better integration tools.
The "Clash of the Titans" report indicated that 74.3% of Infor customers and 73% of SAP customers have the largest percentage of their ERP stacks delivered by a single vendor, while 63.3% of Microsoft customers and 66.4% of Oracle customers have more best-of-breed integrations.
Infor systems, in particular, have broad and deep industry functionality, which give its customers little reason to look elsewhere for functionality, according to the report. Microsoft, on the other hand, supports a large partner ecosystem that provides products and services that enhance Microsoft applications.
Best-of-breed ERP is becoming more common, however, as organizations look to capitalize on all the data flowing into ERP and other enterprise systems, according to Alan Salton, Panorama Consulting's director of innovation.
"Systems like SAP and Oracle have tremendous amounts of data, and part of this is about functionality, but part of it is also scalability," he said. "Scalability isn't just how many users a system supports, but how many transactions and how much data the systems can handle. As data has become the jet fuel of the new economy, we're seeing vendors like Microsoft, SAP and Oracle start to say that this extended best-of-breed ecosystem can include some things that help us do something with their data."
Cost a factor but not the whole story
Cost is a significant factor in the ERP system selection process and implementation projects. But the "Clash of the Titans" report found that SAP projects are the costliest by far at an average of $8.24 million, followed by Oracle at $1.88 million, Infor at $1.5 million and Microsoft at $0.41 million.
The raw project costs only tell part of the story. SAP's products and technologies can be difficult and complex to implement, Salton said. This is particularly evident as SAP customers consider moving off legacy SAP ECC systems to its modern ERP SAP S/4HANA.
"SAP has always been more expensive, and it's usually orders of magnitude more expensive than either Infor or Microsoft, there's no question about that," Salton said. "There's been a big transition to their new cloud-based products, and a lot of people who have invested a lot of money in their legacy SAP systems have been hesitant to move. But when they do, there's just a lot of stuff they have to move, so that makes it expensive."
By contrast, Microsoft focuses on a smaller set of products and markets, and its customers tend to be newer companies without the legacy infrastructure of SAP organizations. The number of licenses purchased is also a factor, as SAP implementations involve an average of 655 licenses across a product portfolio including SAP ECC, S/4HANA, Business ByDesign and SuccessFactors; Microsoft customers purchase an average of 255 licenses, according to the report.
"We look at the size of the companies and try to normalize it to say that a Microsoft implementation costs this and an SAP implementation costs that, but this is only valid if you're using some rough number of users and which functionality they're using," Salton said. "But, as a whole, you're seeing the complexity that SAP embraced, the cost of moving over large and complex implementations that have been years in the making. The Microsoft client base doesn't have that same legacy."
Digital transformation vs. ERP implementation
The "Clash of the Titans" report also showed some significant differences in the nature of the ERP projects. For example, the survey asked respondents to identify their project as an ERP implementation or a digital transformation project.
More than half of SAP customers, 58%, defined their projects as a digital transformation projects, while 65.2% of Infor customers defined their projects as an ERP implementation. The majority of Microsoft customers and Oracle customers came down on the side of ERP implementation at 55.6% and 52.4% respectively.
Infor systems are not necessarily behind SAP in digital transformation capabilities, but the company has been slower to move its products to the cloud, Salton said. It now offers the Infor CloudSuite Industrial, which is aimed more at middle market manufacturers, but its customer base doesn't tend to be early technology adopters.
"An industrial manufacturer that makes automotive parts is typically not as influenced by consumer behavior, and digitization has a lot to do with connectivity all the way down the supply chain from the vendors through to the end customers," he said. "Industrial manufacturers are slow to change, they have large capital assets that they've invested."
Look to future needs
Each of the top-tier vendors has ERP systems that can address an organization's needs, according to Salton. Customers should choose a system that best fits their particular requirements, but they must also consider the ERP system that will best fit their future business processes and organizational goals.
A few years ago, the biggest concerns CEOs had were around keeping pace with competitors, but now their biggest worries are centered on disruptions that could put them out of business, he said.
"Organizations need to think about where they're going to be in five years; they've got to think about what's going to come around the corner, about how that may disrupt their environment, and how they can change their business model," Salton said. "So they need to think about implementing ERP systems that can support flexibility and deal with disruption."
Dig Deeper on ERP administration and management