Getty Images/iStockphoto
Top manufacturing ERP systems focus on industries, UI
Panorama Consulting Group's top 10 manufacturing ERP report indicates that the systems are increasingly cloud-based and delivering functionality for specific industries.
Manufacturing ERP systems are evolving new functionality and are increasingly focused on specific industries, according to a new report.
The "2023 Top 10 Manufacturing ERP Systems Report" from Panorama Consulting Group, based in Denver, lists the vendors that have the best functionality and vendor support for manufacturers.
The top 10 list consists of cloud-based, on-premises and hybrid ERP systems, aimed at all organization sizes from SMBs to large enterprises:
Acumatica Manufacturing Edition
Epicor Kinetic
IFS Cloud
Infor CloudSuite
Microsoft Dynamics 365 Finance and Operations
Oracle NetSuite ERP
Oracle Supply Chain Management and Manufacturing
Sage ERP
SAP S/4HANA and SAP Digital Manufacturing Cloud
Syspro ERP
The firm provides research reports on the ERP software market each year and focuses on two areas: the capabilities and roadmap of the software systems, and the vendors' ability to execute on delivering those capabilities, according to Alan Salton, director of business development and innovation at Panorama Consulting Group.
Panorama did not rank systems because the list can change depending on the company, the industry and the use case, Salton said.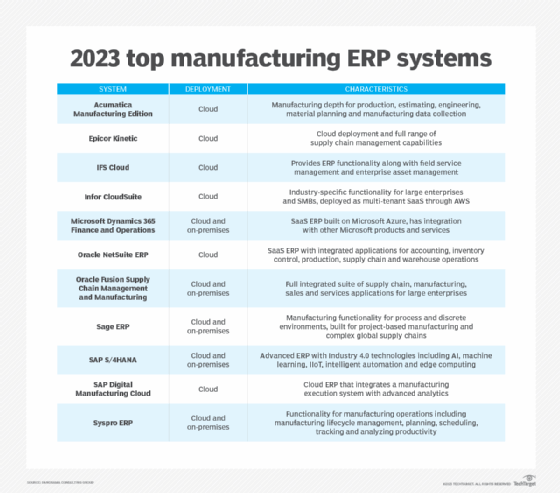 Trends from the report
One trend in this year's report is that ERP vendors are pushing to develop new functionality and add technologies such as AI and machine learning (ML) to their manufacturing offerings, but this push might be outpacing their ability to deliver, Salton said.
"AI and ML is still in its infancy as far as functionality ... At this point, it's more future looking than something you can actually get benefits from right now," he said. "We're moving into a truly digital age, so you need to look at your ERP software as your transactional system -- your system of engagement with vendors, customers and employees -- and then out of that come up with good insights."
In general, vendors are adding more industry specificity into ERP offerings, and that includes manufacturing systems from Acumatica Manufacturing Edition, Epicor Kinetic, IFS Cloud, Infor CloudSuite and Oracle NetSuite, Salton said.
Vendors are also making more of a concerted effort to provide cloud-based products that have as much functionality as on-premises systems, according to Salton. Some of these systems, such as Acumatica and NetSuite, are cloud-native, while others, including SAP S/4HANA, Epicor Kinetic, IFS Cloud and Infor CloudSuite, are cloud or hybrid systems that have been developed from existing on-premises ERP systems.
"If you go back four or five years, the cloud products weren't as functional as others, but now we're seeing that swing the other way," Salton said. "Part of that is because most of them have a pretty good cloud infrastructure to deliver in the cloud, but these cloud products needed to and have developed offerings that they didn't have before."
Modernizing the UI
Top manufacturing ERP vendors are also modernizing the user experience to meet customer demands.
In some cases, manufacturing ERP systems are beginning to look and feel more like customer engagement systems rather than systems of material transactions so that users can draw on manufacturing, sales and other data to acquire and retain customers, Salton said.
Events including COVID-19 and the subsequent supply chain disruption have caused manufacturers to look for better inventory control and move away from accepted practices such as just-in-time manufacturing, he said.
"Manufacturers need to have more inventory planning and are starting to think more about safety stock rather than minimum stock," Salton said. "That generates a secondary requirement to have better warehouse management systems and multiple storage locations because the supply chain has become very uncertain."
Today's manufacturing ERP systems need to have more modern interfaces because the younger workforce is not comfortable working with keyboard devices, he said.
"This started to change a few years ago with a move to more mobility, so you didn't have to be locked to your desk," Salton said. "But the ability of these systems to do a better job of being more intuitive in the UI is making a big difference, especially on the shop floor."
Jim O'Donnell is a senior news writer who covers ERP and other enterprise applications for TechTarget Editorial.