What is two-tier ERP?
Two-tier ERP is a technology strategy taken by large, multinational enterprises that uses tier 1 ERP for financials and other core common processes at the corporate level and tier 2 ERP for divisions, subsidiaries and smaller locations of the company to address specific needs.
This approach to ERP saves money since tier 2 systems are less expensive and gives smaller locations more control, flexibility and agility in meeting their unique and local needs. In a two-tier ERP approach, master data management (MDM) requires diligent attention to ensure that there is no duplication of data or inconsistencies.
Tier 1 vs. tier 2 vs. tier 3 defined and common vendors
Tier 1 ERP
Tier 1 ERP are systems built for major global enterprises with subsidiaries or local offices -- essentially, Fortune 1000 companies. Tier 1 ERP is created to handle the complexity such companies require -- for example, enabling multiple people to handle the same tasks. As part of that functionality, these systems are highly complex to configure, take a long time to implement and come with an initial high cost as well as a high total cost of ownership (TCO). Tier 1 ERP includes SAP, Oracle, Microsoft Dynamics and Infor, according to the 2023 Clash of the Titans report by Panorama Consulting Solutions.
Tier 2 ERP
Tier 2 ERP is less complex and costly than tier 1. It can be more comprehensive to meet the core needs across a business, such as finance, sales, marketing, HR, supply chain and operations. Or it can be highly targeted to meet specific needs, such as types of manufacturing, distribution or retail. There are many more vendors in this category, including Epicor, NetSuite, Plex, Sage and Syspro. Tier 1 vendors may also offer tier 2 software.
Tier 3 ERP
Tier 3 ERP is far simpler and less costly to implement. It is meant for small and medium-sized businesses (SMBs) with one or only a few locations. Much of the ERP systems in this category target a specific industry. There are numerous vendors in the tier 3 category, including Appian Corporation and JDA Software Group. Also in this category are products such as QuickBooks and Sage 50.
Products in the tier 3 category may not even qualify as ERP. Subsequent references of a two-tier ERP strategy will focus on the use of tier 1 and tier 2.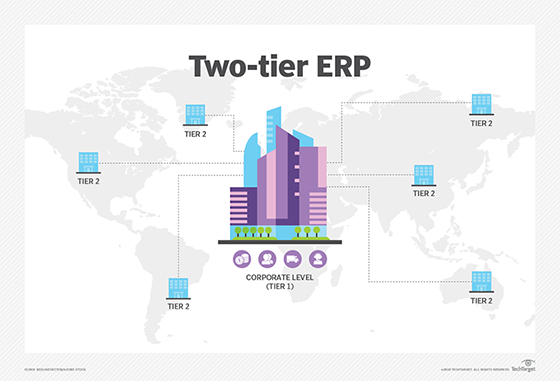 Use cases
Traditionally, enterprises implemented a single ERP across the entire company and its locations. However, these monolithic implementations of ERP require a major investment of time, money and resources and do not offer flexibility to smaller locations. In addition, a major rollout of a tier 1 system is likely overkill for certain regional locations -- for example, when a global company acquires a smaller company located in a third-world country.
Here are typical use cases for two-tier ERP:
Subsidiaries sell to a different market than the main company or have a different or targeted core function.
Local company divisions are based in a different country and need customization for that location.
Acquired companies would require a cost-prohibitive implementation to upgrade ERP to the tier 1 system used by the company's headquarters, and such an implementation cannot be justified.
Enterprise locations have specific needs related to manufacturing, supply chain management (SCM) or another specialized focus and need in-depth functionality to meet those needs.
The enterprise wants to roll out some modern software, such as SaaS ERP, to modernize in certain ways but still wants to keep the legacy system in place.
Benefits of a two-tier ERP strategy
Enterprises that use two-tier ERP look to these benefits:
Lower the enormous costs of tier 1 ERP with the functionality provided by tier 2 systems.
Gain industry-specific functionality through tier 2 software.
Meet local needs, for example, related to language and currency.
Offer software with a better user experience (UX) and easier user interfaces (UIs), since tier 1 systems can be highly complex to configure and use and lower-tier software can offer a simpler experience.
Offer greater agility and ability to innovate through software more easily customized and integrated, in comparison to enterprise-class ERP.
Approaches to two-tier ERP
Companies have a number of choices in how they approach two-tier ERP. Here are two of the most common:
Smaller locations can choose their own ERP in what is referred to as a laissez-faire strategy. This approach may pose integration challenges.
The enterprise can decide on a limited number of choices, from which smaller locations can choose. The tier 2 choices can be an option from the same enterprise-class vendor or from other vendors, depending on what the enterprise chooses. Either can help to limit integration challenges.
This was last updated in
July 2023
Continue Reading About two-tier ERP
Dig Deeper on ERP administration and management