A look at the leading medical imaging software on the market
Medical imaging systems have evolved to meet the needs of modern healthcare environments. Learn who the leading vendors in the space are and what services their products offer.
Healthcare organizations have consolidated over the past decade, extending their networks and increasing the need for collaboration among practitioners, clinics and hospitals. In collaborative environments, older-style picture archiving and communications systems (PACS) are often departmentalized image silos that become obstacles to collaboration.
But PACS systems are still needed in disciplines such as radiology and cardiology. Consequently, organizations need to find effective, but economical ways to maintain PACS, while still being able to store data in a universal repository that facilitates collaboration.
Medical imaging software vendors can provide a vendor neutral archive (VNA) that enables broad access to images, the ability to integrate images with other workflows, and the ability to process and manipulate PACS images.
However, some vendors have greater strength in VNAs, while others offer VNAs, but are stronger in PACS. How much your organization relies on PACS is a key consideration when evaluating medical imaging software.
Most medical imaging software vendors also offer prebuilt packages designed for specific medical specialties, such as cardiology or eye care, so you'll need to see how well specialty packages match your facility's specialties.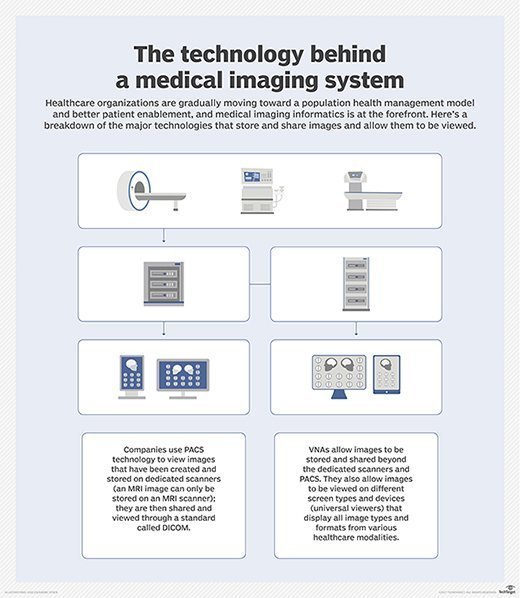 Also important is pricing and modularity; if you only need support for a clinic, you won't want to pay for a cardiology workflow.
Ease of access is another key consideration; you may want your staff to be able to access images using mobile devices, as well as laptops and workstations. And 24/7 vendor support is a must if your organization also functions on that schedule.
An open architecture may be important, as well. If your organization acquires another firm with disparate systems, those systems may have to plug in to your imaging system.
Editor's note:
Using extensive research into medical imaging informatics systems, TechTarget editors focused on vendors that we've defined as full-service vendors that supply PACS, VNAs and universal viewers.
The following are the leading players and products in the medical imaging software market.
Agfa HealthCare Enterprise Imaging
Agfa HealthCare Corp.'s Enterprise Imaging product integrates information across organizations and specialties. It uses VNA technology for a consolidated enterprise imaging approach that enables unified access to patients' medical reports. In addition, users can add medical documentation and other relevant information to images.
The system has eight modules.
Vendor Neutral Archive: supports DICOM/non-DICOM data, PACS 2D/3D imaging and modeling, and VNA image archiving; interoperable with other systems and serves as a single repository.
Universal Viewer: provides patient-centric image access from workstations and mobile devices, enabling collaboration.
Image Exchange: enables image viewing and transport to participants throughout a medical community.
Patient Portal: consolidates patient data and enables sharing data with patients.
Enterprise Content Management (ECM): provides tools to manage content in a data repository.
Enterprise Scheduling System: handles scheduling of patient appointments and orders.
Business Intelligence: provides analytics that enable the development of custom queries, the use of resident reports and access to high-level dashboard data.
Clinical applications: tools for 3D visualization.
The VNA is the centerpiece of the system. Agfa provides a single data and imaging repository and workflow automation. Starting with the VNA, organizations can pick and choose among modules to develop a customized system that fits their functional and cost requirements; more modules may be added later.
Agfa offers prebuilt packages tailored to specific applications, such as cardiology, electronic health records or regional health information exchange. Agfa's application can interoperate with many other medical and healthcare systems.
Carestream Image Suite V4
Carestream Health Inc.'s Image Suite V4 is well-suited for smaller facilities. It features a touch-friendly interface and a tool set for manipulating images and streamlining workflows. Its mini-PACS module enables image management and analysis. The system is modular, so new functionality can be activated as needed. It supports both VNA and PACS.
Image Suite follows the workflow of a clinical practice -- from scheduling, to data acquisition, viewing and editing captured images, diagnosing and reporting on conditions, and archiving information.
Carestream's portable digital radiography (DR) detectors provide an affordable way to transition to digital radiography because the devices can easily be used with already available X-ray equipment.
Image Suite has been customized for clinics, hospitals, imaging centers, oncology practices, dental practices, orthopedic practices, pediatric practices, veterinary practices, women's healthcare clinics and otolaryngology/allergy clinics.
Image Suite can be installed incrementally on workstations, DR detectors, laser printers, etc., and can be expanded as needed. The Carestream Vue Cloud also offers cloud-based PACS image storage and access.
Cerner CareAware Multimedia and SkyVue
Cerner Corp.'s imaging and workflow software uses both PACS and VNA, and it is tailored for specialties like cardiology and radiology.
The CareAware Multimedia and Cerner SkyVue PACS systems specifically address imaging. These modules are best used in concert with other workflow modules in the Cerner suite because the workflows directly incorporate the imaging. CareAware Multimedia VNA and SkyVue PACS can be deployed as multi-tenant public or private cloud platforms.
Cerner acquired Siemens' healthcare business in 2015, but, as of now, the Cerner and Siemens offerings remain two separate product lines.
Cerner uses open computing platforms with standard APIs that enable its software to easily work with disparate systems and devices.
The SkyVue Image Viewer ensures consistent image views across all medical disciplines, in addition to providing easy to use tools to customize images. Cerner also touts its Device Connectivity technology that enables interoperability between medical devices, healthcare applications and electronic medical records, regardless of the vendor.
Conserus
In 2016, McKesson Corp. sold its healthcare products line, including its PACS and imaging software. One of the McKesson spinoffs was Conserus, which was shifted into a new, $3.4 billion venture between McKesson and Change Healthcare.
Conserus focuses on cross-enterprise data integration and sharing. It interoperates with imaging systems from many different vendors, providing a uniform data repository.
Conserus is comprised of five key modules that can be purchased as a package or in customized groupings.
Clinical Data Exchange: manages and shares non-DICOM images across the enterprise.
Workflow Intelligence: enables cross-enterprise access to data.
Image Repository: provides a single, consolidated view of patient data.
Enterprise Viewer: enables anywhere, anytime access to images.
Imaging Fellow: connects images with relevant clinical data about patients to provide a holistic view of a patient's health.
Conserus supports PACS and VNA image and document management. It endeavors to perform as a document unifier, enabling companies to stay with their existing PACS systems investments, but to migrate into a data sharing mode among all departments and disciplines by using a single Conserus-hosted data repository.
Conserus is an on-premises system that runs on Windows using Dell and VMware technology. A dashboard interface enables hospital administrators to monitor the status of system components in four areas: connectivity and bandwidth, process and interface health, archive storage capacity, and cache storage capacity.
Fujifilm Synapse VNA
Fujifilm's Synapse VNA from its TeraMedica Division is the centerpiece of Fujifilm Medical Systems U.S.A. Inc.'s enterprise imaging portfolio.
Synapse VNA is designed to be interoperable with PACS systems from various vendors and multiple specialties and clinics within healthcare networks. The system creates a patient-centric view of images and data across the enterprise, accommodating DICOM and non-DICOM documents.
Synapse VNA provides workflow management, in addition to image storage and access to individualized specialties that include oncology, endoscopy, point-of-care ultrasound, dermatology and multi-facility hospitals.
Synapse VNA consists of four components.
Synapse VNA: data repository.
Connext Clinical Connectors: link to as many medical specialties as is desired.
Mobility Enterprise Viewer: provides web portal access to imaging data for desktop, laptop and mobile devices.
Image Exchange: a cloud-based feature that enables remote access to the system.
Fujifilm says these components work best as a total package, but the system can be configured with as many connectors as required for different medical specialties.
The system uses a customized Synapse 5 server imaging architecture that provides high-speed, on-demand data access. Synapse VNA is typically deployed on premises, but the Image Exchange component is cloud-based.
GE Healthcare Centricity Imaging Collaboration Suite
The Centricity Imaging Collaboration Suite from GE Healthcare is delivered through the GE Health Cloud as an as-a-service cloud application that connects clinicians with images, data, analytics and peers. It uses a browser interface, so it can be accessed from desktop, laptop and mobile devices.
This suite brings together four imaging collaboration apps.
Case Exchange: enables forwarding and downloading of patient cases from a browser or mobile device.
Multi-Disciplinary Meeting: enables collaborative, visual meetings that can incorporate images.
Image Access: gives medical practitioners enterprise-wide access to patient data and images.
Cloud Visualization: provides 2D viewing and 3D advanced imaging tools from any browser.
The system supports both DICOM and non-DICOM file formats. Its VNA data repository is integrated with medical workflows that include PACS, radiology information systems and cardiovascular IT systems.
Merge Healthcare
Merge Healthcare is an IBM company. Its medical imaging system supports VNA and PACS imaging and DICOM/non-DICOM files, and its software comes in prebuilt configurations that are tailored to the workflows of specific medical specialties, such as radiology, cardiology, orthopedics and eye care.
Merge's unique cognitive module uses IBM Watson technology to resolve discrepancies between patient reports and findings. Watson can also be used for analytics.
Merge also comes with a system integration toolkit and VNA interoperability that facilitates data exchange with other healthcare systems.
Merge uses a Windows-based platform and can be virtualized using VMware. It supports mobile access for iPads and other tablets through its Merge iConnect Access functionality, which provides touchscreen image manipulation.
Merge's medical imaging software can be run in house, but it also offers a cloud-based image repository -- iConnect Cloud Archive -- that organizations can use for image storage.
Philips IntelliSpace PACS
Philips IntelliSpace PACS delivers PACS capabilities combined with data aggregation and collaboration to enable medical practitioners throughout an enterprise to access images and medical documentation.
The system includes:
IntelliSpace PACS Anywhere: distributes images to desktop, laptop and mobile devices.
IntelliSpace VL Capture: captures visible light images on an iOS device and stores them as images that can be incorporated into clinical workflows.
IntelliSpace PACS Federation: unifies patient data for medical professionals.
IntelliSpace PACS iVault: an enterprise-accessible PACS image repository.
These systems are tailored for clinics, advanced molecular imaging, breathing and respiratory care, tomography, customer service, diagnostic ECG, emergency care and resuscitation, telehealth, fluoroscopy, hospital respiratory care, interventional devices and therapies, interventional X-ray, magnetic resonance, mammography, mother and child care, pathology, patient monitoring, radiography, sleep, and ultrasound.
In June 2017, Philips added cloud-based integration with apps and devices from its Philips HealthSuite offering that work with on-premises IntelliSpace PACS and provide enhanced interoperability with software and devices from third-party vendors. Philips also unveiled an analytics-based application that links healthcare providers to patients in their homes.
Philips IntelliSpace PACS is a good fit for organizations committed to PACS and that want to extend PACS accessibility throughout the enterprise. Philips' recent acquisition of Wellcentive, a healthcare analytics company, adds to the IntelliSpace portfolio with present and predictive analytics that address operational metrics, along with healthcare trends of specific populations.
IntelliSpace PACS uses clustered servers to ensure full redundancy of data.
Sectra
Sectra AB's medical imaging software portfolio features PACS for imaging-intensive departments like radiology, pathology, cardiology and orthopedics, along with VNA and an HTML5-based UniView web viewer that enables secure access to images and related information from any location.
Sectra imaging and medical workflows are prebuilt for medical specialties like radiology imaging, breast imaging, enterprise image management and digital pathology. Sectra's historical focus is PACS, but it has moved into VNA, as more healthcare organizations require unified storage management and archiving.
Sectra is cloud-based and accessible via its UniView web viewer. UniView works with web browsers that support HTML5, including the latest versions of Microsoft Edge and Google Chrome on Windows, and Safari on iPad. With this viewer, users can access both DICOM and non-DICOM images. Sector's UniView also includes a search engine.
The system has multi-language support; multi-image support; video streaming ability; zoom, pan, rotate, flip, invert and scrolling image manipulation; and patient-centric information aggregation. The system can scale as users' needs grow.
Sectra Image Exchange Portal enables healthcare providers, patients and others to securely exchange and access imaging information from anywhere.
In the cloud, Sectra uses its ImageServer platform for online, rapid-access retrieval; tier two storage for archiving images and radiology information on standard file systems; and tier three storage to archive external DICOM documents.
Siemens Enterprise Archiving
Siemens Enterprise Archiving can integrate with many other medical systems and be used by multiple healthcare entities. This system includes PACS 2D/3D imaging and modeling and VNA image archiving. Cerner acquired Siemens' healthcare business in 2015, but Cerner's and Siemens' medical imaging software remain separate.
Enterprise Archiving provides cost and functional scalability by enabling users to pay only for what they use. Common medical applications that Enterprise Archiving supports include tomography, radiation therapy, mammography, magnetic resonance imagery, molecular imaging, robotic X-ray, cardiology and ultrasound.
Enterprise Archiving comes with user-friendly PACS 2D/3D image manipulation tools and offers upgrade paths for those wishing to migrate to this system from other PACS systems.
Enterprise Archiving is DICOM-compliant, so it's interoperable with many other medical and healthcare applications, such as healthcare information systems and electronic medical records.
Siemens Enterprise Archiving is available on premises or in a public or private cloud. The system is multi-lingual, has a web browser-style interface and can be accessed from mobile devices.
Next Steps
Artificial intelligence in healthcare on display at RSNA 2017
Medical imaging in the cloud continues to gain steam
3D printing in healthcare could completely change the industry
Dig Deeper on Healthcare IT systems and applications