Google, Fitbit, startups storm into healthcare AI
Google is moving quickly into healthcare, forging alliances with Fitbit and selling AI services to smaller health IT vendors. Meanwhile, Fitbit is expanding into healthcare.
LAS VEGAS -- Google is putting its stamp on healthcare AI and is moving aggressively into healthcare and wellness, with a new alliance with Fitbit.
At the same time, Fitbit has quickly expanded its healthcare and healthcare AI footprint -- challenging Apple's high-profile moves in healthcare -- with a barrage of acquisitions and deals with health and wellness app vendors it unveiled here at HLTH: The Future of Healthcare conference.
"Let me dispel a few myths. Artificial intelligence and machine learning are not just technologies of the future," said Greg Corrado, principal scientist and director of augmented intelligence research at Google, at a packed opening session Monday morning at the Aria Resort & Casino convention center. "I can assure you that the best artificial intelligence and machine learning in the world is already in your pockets."
Google and Fitbit
Google partner, wearable technology giant Fitbit, used the first full day of the new conference as a forum to roll out eight new health apps and smartwatch clock faces aimed at helping people manage their health, including diabetes and some cancers.
Some of the apps are oriented toward health plans, employers and clinical researchers, and intended to help them support users' health outside of clinical settings, including some that use healthcare AI.
The deal announcements came less than a week after Google and Fitbit unveiled a collaboration around Google's new cloud healthcare API, which is based on the FHIR (Fast Health Interoperability Resources) health data sharing standard.
"We are also committing to FHIR for interoperability," said Adam Pellegrini, general manager and senior vice president of Fitbit Health Solutions, in an interview with SearchHealthIT at the conference. "And we're leveraging Google's AI and analytics capability. We have all this data and we want to build insights."
"When a health system wants to layer on Google's analytics and AI capability, and we can now also bring that to bear," Pellegrini said of Fitbit's healthcare AI strategy.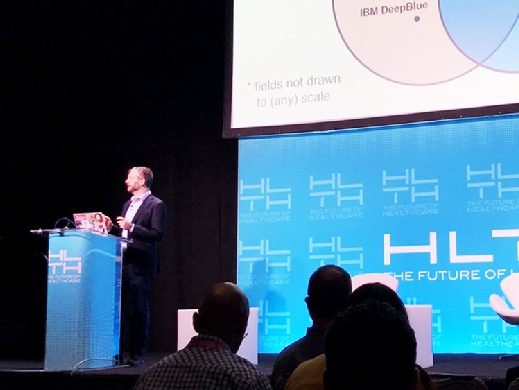 Fitbit enters population health arena
The healthcare app announcements also follow Fitbit's acquisition of population health management coaching vendor Twine in February.
Fitbit has renamed the Twine system the Fitbit Health Platform and is positioning it to sell to healthcare providers, self-insured employers and health plans. Twine founder John Moore, M.D., is Fitbit's first medical director.
Fitbit said it intends to use the Google healthcare cloud to move health data between its wearable devices and healthcare providers' EHR systems.
Google redefines itself
Corrado, in his presentation, said that Google, which has defined itself as a mobile company, is transforming itself into an artificial intelligence company and is concertedly bringing healthcare AI technology to mainstream medical treatment.
Corrado said Google's healthcare cloud system enables AI algorithms to read EHR data as a single data structure.
Corrado tried to dispel hype about how healthcare AI and machine learning are purportedly going to change healthcare by digesting huge chunks of data and distilling them into "groundbreaking clinical insights" and employing superior reasoning abilities to solve the toughest cases of disease.
Rather, he said, healthcare AI recognizes patterns, provides data-driven health outcome forecasting, automates the "truly routine" and helps catch commonly overlooked phenomena.
In a research study on diabetic retinopathy published in the journal Ophthalmology in March, Google demonstrated this healthcare AI capability, comparing disease detecting abilities of AI and human doctors. The study found Google's AI system was on par with the doctors, and even slightly better at diagnosing the progressive eye disease.
AI and medical imaging
Corrado noted that medical imaging is among the most promising fields for healthcare AI.
Indeed, Google made a major statement in November 2017 at the RSNA (Radiological Society of North America) medical imaging conference by showcasing a group of innovative startups using the Google Health Cloud's data structure. It was the first time Google had attended the influential event, North America's biggest annual healthcare conference.
As for the HLTH show, dominant tech industry players like Google and Fitbit weren't the only ones showcasing healthcare AI, as startups and smaller vendors also were in attendance.
Wellness and AI
Wellness software vendor Limeade, one of the partners with which Fitbit unveiled partnerships, Monday unveiled a new employee burnout indicator and a Limeade-led consortium for tackling caregiver burnout in healthcare.
"We're using AI and machine learning to indicate burnout patterns," CEO Henry Albrecht told SearchHealthIT at HLTH.
Limeade's app for Fitbit smartwatches is an instant pulse survey consisting of five faces that users punch to indicate how happy or unhappy they are at work that day. The app also offers tips for the unhappy, such as "walking meetings."
The other partners Fitbit announced are Dexcom, Diplomat Pharmacy, Fitabase, Go365 by Humana, One Drop, Sickweather and Walgreens.
Voice chatbot AI
Bill Rogers, co-founder and CEO of Orbita, a voice chatbot vendor, said its system wouldn't be possible without AI and the cloud-based supercomputing power that enables it. Orbita sells its voice-controlled speaker technology to insurance payers and providers like the Mayo Clinic.
"This technology really didn't exist three years ago," Rogers said. "In one way or another, AI is going to grow across all of healthcare."
"It's not going to replace people," he said. "It's going to allow efficiencies and essentially allow people to get second opinions."
Dig Deeper on Healthcare IT systems and applications