alphaspirit - Fotolia
Healthcare data analytics success grows when IT advises execs
Educating healthcare executives about data analytics, and seeing that healthcare organizations invest in data, is critical, according to a panel of experts.
CARY, N.C. -- Educating healthcare executives could lead to greater investment in data and further application...
Continue Reading This Article
Enjoy this article as well as all of our content, including E-Guides, news, tips and more.
of healthcare data analytics, according to a panel of experts.
Many senior people in healthcare "have not had the training to understand the technology that is available today," said Pandurang Kulkarni, Ph.D., chief analytics officer and vice president of biometrics and advanced analytics at pharmaceutical giant Eli Lilly and Company.
A change in mindset needed
"And the people who understand the technology," Kulkarni said, "don't have the power to make decisions. People at the higher levels really have to embrace the technology and the analytics. People with power have to change the mindset." Kulkarni's comments came during a panel at the 15th Annual SAS Health Analytics Executive Forum.
The panel's moderator, Mark Pitts, healthcare analytics executive at SAS, agreed, noting that "if you're going to be a leader in healthcare, you need to understand not just your business but how to apply these technologies and the mathematics behind them to solve a problem." SAS sells analytics software.
Getting sponsorship for healthcare data analytics projects is a continual challenge, said Byron Yount, director of virtual care services research, evaluation and advanced analytics at Mercy Virtual Care Center, part of the Mercy healthcare system in St. Louis, Mo. His experience has shown, though, that having a person at the top of an organization educated in healthcare data analytics demonstrates to an organization "that we're taking analytics seriously."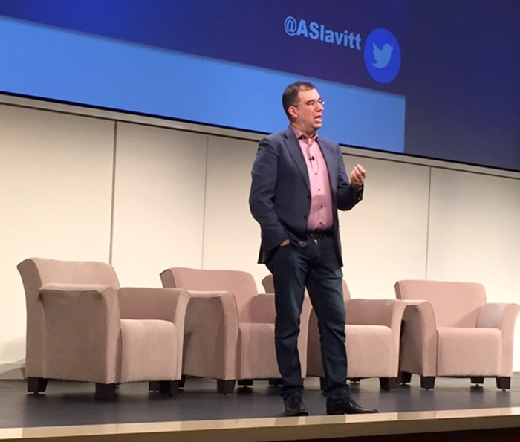 Those who know should educate
Again stressing the importance of education, Kulkarni said "[those] who have an analytics background, who are doing analytics, it's our job to convince everybody else why [analytics] is important."
The healthcare experience is no better than it was a decade ago or two decades ago.

Andy Slavittformer acting administrator, CMS
He added that "I want to turn people around to want to do decisions based on data and analytics rather than gut. Gut is needed, but it has to be supplemented with data."
Panelists also stressed the need for healthcare organizations to invest in data.
The challenge, said Ravi Shanbhag, senior director of data science at insurer UnitedHealth Group, is that cleansing data "is a hard investment for many companies to make because it's not necessarily indicating perceived value."
But Kulkarni said companies nonetheless need to invest in data. "We have to get the right data for the problems we want to solve."
The status of healthcare today
If IT doesn't educate their healthcare leaders, executives may not fully fund technology purchases for healthcare data analytics projects. This potential lack of interest could lead to healthcare problems outlined by keynote speaker Andy Slavitt, former acting administrator for CMS.
"Over the last decade, two decades," Slavitt told an audience of executives from healthcare providers and payers, "we've seen ... a huge amount of investment in healthcare: investment in people, investment in talent, investment in capital, a lot of buildings, a lot of mergers and investments in technology and data analytics, too. And yet the healthcare experience is no better than it was a decade ago or two decades ago."
Arguably, Slavitt said, "healthcare is even more fragmented ... even harder to access in some locations ... even worse in terms of the kind of outcomes. For the investment we've put in, we have not had a great return on investment."
There are two ways to view this dilemma, Slavitt said. Perhaps, he said, "We're investing, but we're investing in the wrong thing. We're not investing in things that are going to improve the goal."
Another possibility, he said, is that "We are just missing how and where we care for people. We're getting them at the wrong time, we're getting them at the wrong locations, we're overtreating them, we're undertreating them, and that in itself is causing our investment to be too imprecise. Under this explanation, we are investing, but we don't guide people to a point in the system at the right time."
Slavitt, currently board chair for United States of Care, a national nonprofit focused on giving every American affordable healthcare, suggested that better healthcare data analytics could come through these three steps:
Using data to "define a problem better that you're chasing"
Getting the data into the right place at the right time
Using data to enable system change
Dig Deeper on Healthcare IT systems and applications