Fotolia
LinkedIn's recruiting platform billed as 'Intelligent Hiring Experience'
LinkedIn's use of AI requires the sharing of data. It is one reason why the company is combining its talent tools into one system, called the Intelligent Hiring Experience.
LinkedIn is combining three recruiting tools into one platform. The company, known best for its professional networking site, calls it the Intelligent Hiring Experience. This is a technology-driven change designed to improve its job-matching capabilities.
The recruiting platform, which launches this summer, combines its Recruiter, Jobs and Pipeline Builder into a single product. It uses AI such as machine learning to get a deeper understanding of its users, and one goal is to make better recommendations for job seekers and recruiters.
The Intelligent Hiring Experience platform appears to be part of a broader goal by LinkedIn to add new features to its talent management system. Last year alone, it added LinkedIn Talent Insights to help with workforce planning. And it recently acquired Glint, an engagement tool that has the potential of using employee engagement data to help determine who might be a good job fit. Last year, LinkedIn also announced an applicant tracking system.
LinkedIn's system learns what's best
This new platform will allow all of these products to learn from each other so that matches in each system get more intelligent.

John Jersinvice president of product, LinkedIn Talent Solutions
LinkedIn spent the last year rebuilding its core products into a "common platform," said John Jersin, vice president of product for LinkedIn Talent Solutions. The recruitment products work from a shared pool of data, and each informs the other, he said.
"This new platform will allow all of these products to learn from each other so that matches in each system get more intelligent," Jersin said at an online press briefing.
LinkedIn ranks the search results -- whether by job seeker or recruiter -- with what the platform deems are the best fits, placing them at the top. LinkedIn's engine will also recommend candidates to recruiters.
In arriving at the search results, LinkedIn's recruiting platform uses three different data sets, according to Jersin. The first is explicit data or information listed as skills and experience on a candidate's profile or information in a job description.
The second data set is behaviors, or the actions candidates take on the platform. This data set includes a history of searches and jobs clicked on.
The third kind of data that LinkedIn's recruiting platform uses is inference. The platform infers facts about a candidate that aren't apparent from the profile or from behavior.
For instance, a candidate may have a skill that doesn't appear in a profile. But based on a candidate's job history, the platform fills in the gaps, inferring that a person may have picked up a skill at a previous job, Jersin said.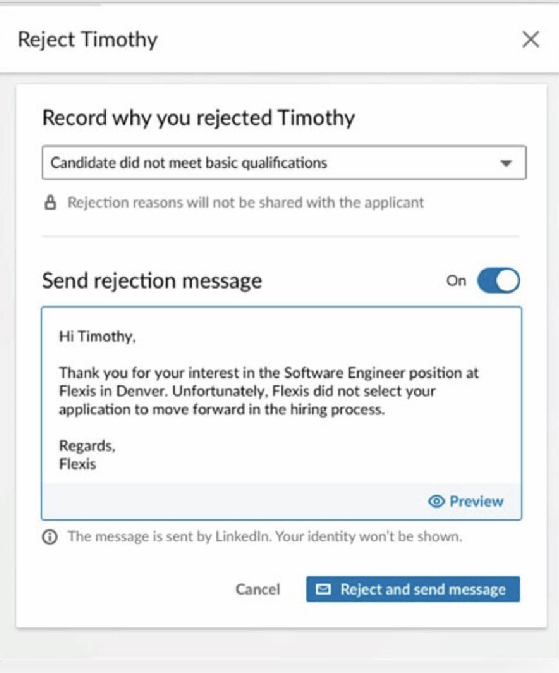 Better results for recruiters, LinkedIn says
Jersin said the recruiting platform's tools improve the match rates for recruiters and people hunting for jobs.
"As we're showing job seekers more of the right opportunities, it's more likely that recruiters on the other end will be getting more people who are well-qualified for the role," he said.
Some other changes that are arriving include a bulk reject feature. While the label might make the technology sound harsh, the intent is to end the frustration candidates have with job applications. A common complaint by job seekers is they never hear back after applying. There will also be interface improvements to help recruiters work with the tools.
Dig Deeper on Talent management