Rawpixel - Fotolia
Antibias diversity tools grow, spinning off a new market
Antibias software is a rapidly growing HR market, according to a new report that offers what may be the first comprehensive look.
Antibias diversity tools are a separate area for HR managers to focus on, according to what may be a unique analysis of the emerging market. This is being driven by major demographic changes, as well as the ability of AI to probe HR data for evidence of bias.
Mercer LLC, an HR consulting firm, and RedThread Research, a human capital research and advisory outfit, recently released a report that examines, in depth, the diversity and inclusion software market, which they argue is rapidly taking shape as a distinct product offering. The researchers peg the global market at about $100 million today.
The market is so new that 60% of the vendors discussed in this report are startups and are less than four years old. About 75% of the vendors have fewer than 50 employees. The 66-page report, co-authored by RedThread's principal analyst Stacia Garr and Mercer's principal of product strategy Carole Jackson, also includes major vendors, such as SAP SuccessFactors and Workday, which have antibias systems that are part of their broader offering.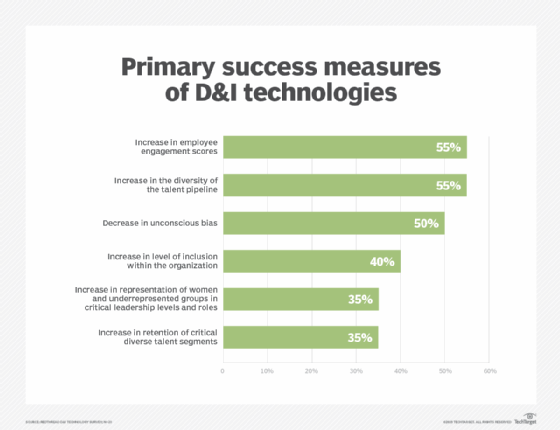 Antibias approaches vary widely
Vendors are trying to tackle bias with a range of approaches, which include anonymous reporting on misconduct, as well as anonymous participation in diversity and inclusion (D&I). The tools look for evidence of bias in promotion rates, compensation and gaps in pay. They can analyze internal communications to look for variances in how men and women respond to each other. Do men, for instance, respond faster to emails from other men? They can also hide or blind a candidate's personally identifiable characteristics from hiring managers.
Interest in diversity tools grew out of academic research that found diverse workforces have better financial performance. But some of the interest is also being driven by a shifting workforce -- one that is younger and more racially diverse. By 2025, for instance, millennials will make up three-quarters of the global workforce.
"The rise of #MeToo has heightened people's awareness that there is a real challenge, not just around sexual harassment in organizations, but also around all the things that relate to diversity and inclusion," Garr said.
AI tech is enabling diversity tools
Market growth of antibias diversity tools is also being affected by the application of AI-related technologies, such as natural language processing or sentiment analysis that "can be applied to historic challenges that haven't been able to be applied in the past," Garr said.
There has to be that human piece that's part of it.

Jeff Millsdirector of solutions management, SuccessFactors
Jeff Mills, director of solutions management at SuccessFactors, echoed Garr, saying progress is being helped along by the application of AI in HR.
SAP has been developing antibias tools. Last year it released a "job analyzer," which is embedded in SuccessFactors and uses machine learning to identify gender bias in job ads. SAP is also in the process of developing tools to analyze pay equity gaps and their influences. Diversity tools will be part of SuccessFactors' extended analytics dashboard.
But the reliability of AI to provide solid results is up for debate. "It's an extremely valid topic," Mills said, about the effectiveness of AI tools.
Some things can be done to improve the accuracy of salary gaps that might flag bias. AI algorithms do their best when they have large amounts of data from diverse sources, such as job boards that specialize in helping LGBT, veterans and other populations find their next career opportunity. For AI systems to make accurate recommendations, the more data, the better, Mills said.
While diversity tools include features such as masking systems to hide photos, years of employment and data that could lead to bias, Mills said technology, alone, won't make workforces more diverse. HR departments need to rely on best practices and policies to do a better job. "There has to be that human piece that's part of it," he said.