sommai - Fotolia
HR SaaS adoption is slower than expected
HR departments continue to rely on hosted or on-premises platforms for management systems. It may not be by choice. Many want to move to HR SaaS, but doing so isn't easy.
Many HR departments want to deploy an HR SaaS model, but they are discovering it's not easy. About 80% continue to operate on-premises, internally developed systems or have opted for a hosted platform -- and this may not be by choice.
The remaining 20% of HR departments are using HR SaaS products or have implemented a hybrid of on-premises and cloud systems for their HR management systems, according to new survey findings by Information Services Group (ISG) Inc., an IT consulting and market intelligence firm. ISG surveyed 271 organizations that ranged from more than 1,000 employees to more than 20,000.
The survey numbers indicate far less HR SaaS adoption than users anticipated. ISG did a similar survey in late 2016, and, at that time, more than 40% indicated they would be on an HR SaaS or hybrid model by now.
Moving to HR SaaS is harder than expected, according to Debora Card, ISG partner in HR technology and delivery strategies and an author of the report. She said many things can dash expectations about HR SaaS migrations: funding delays, a merger, a poor business plan, as well as a lack of internal resources.
The ISG findings match other analyst reports that also point to a struggle by HR to move their management systems to a SaaS model. The big vendors are working hard to build a case for migration to HR SaaS, and even they suggest that movement is slow going.
But for the firms that do make the move, more than half have saved 10% to 30% in IT and HR administration costs. Another 15% saved 30% or more in both areas, ISG reported.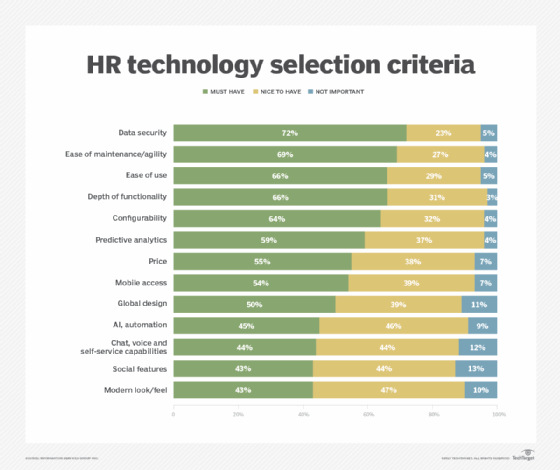 The top benefit that users are hoping to get from an HR SaaS model is to "improve the employee user experience." That's been a consistent finding in ISG's prior surveys, Card said.
The need to deliver a good employee experience is important to "attract, engage and retain the best talent," she said. "A large part of that is trying to support the best experience for employees."
Another major reason for HR SaaS adoption is to gain independence from IT departments. Because HR is a back-office function, it may be last in line for help from IT, Card said. To the degree that HR can reduce its dependence on IT is "a great benefit for them," she said.
Other HR news: Remote workers feel left out
A new survey by Igloo Software, a collaboration, culture and engagement tools vendor, found that 73% of employees say that employee benefits "are easily accessible." But only 29% could say the same for the idea submission process.
In its survey of 2,000 workers at firms of 250 employees or more, Igloo also found that 70% of remote employees feel "left out." They report missing out on important information, being excluded from meetings and being unable to access documents.
Benefits firm acquired by investment group
In other HR news, PlanSource, a cloud-based benefits provider, is being acquired by Vista Equity Partners. The investment firm owns a variety of technology-based firms, including iCIMS, a talent acquisition vendor. PlanSource says its platform serves about 4.5 million consumers.
Dig Deeper on Core HR administration technology