HR execs express anxiety, interest about AI in HR
There are some 22,000 people at the annual SHRM conference in Las Vegas. It's HR's biggest gathering, and it's becoming more of a technology conference, thanks to AI.
LAS VEGAS -- There are some 22,000 people attending the Society for Human Resource Management conference, and many have questions about AI's impact on HR.
For the vendors, AI in HR products is now a fact of life. The Society for Human Resource Management (SHRM) conference trade show floor is filled with vendors showing off AI-enabled tools. But some HR users are here to learn how AI will fit in their HR operations.
"It's hard for someone in my position to believe [AI] is coming as fast as it is," said Kim Ball, HR director at Davidson College, a liberal arts school in Davidson, N.C.
Ball was up early, along with a sizeable group of attendees, to listen to Ira Wolfe, author of the book Recruiting in the Age of Googlization, detail some of the AI challenges ahead for HR. Wolfe is also the head of Success Performance Solutions, an employee assessment and recruitment firm in Wind Gap, Pa.
Anxiety about AI in HR
Wolfe quickly tapped into the anxiety people have about AI.
"How capable are we and your leaders in your company of supervising an algorithm?" Wolfe said, prompting a nervous chuckle out of his audience.
One of the major issues with AI-based technologies is bias, according to Wolfe.
"HR is struggling on people analytics," he said, adding that there's potential bias in the data. "But there's bias in the way we collect the data currently, and there is a bias in the way that we evaluate data."
The danger of AI is HR is taking a lot of data that it has, applying analytics to it and believing it's going to solve a problem, Wolfe said. "It's not going to solve the problem until we solve the problem of how we collect data and what data we collect," he said.
Stephen Welford, HR director of Inline Plastics Corp., in Shelton, Conn., said he's concerned about AI and its implications, but also wants "to get ahead of the whole trend of using analytics." That's why he was at Wolfe's session.
AI "is going to have a profound effect on everything that we do in HR, as well as in business," Welford said.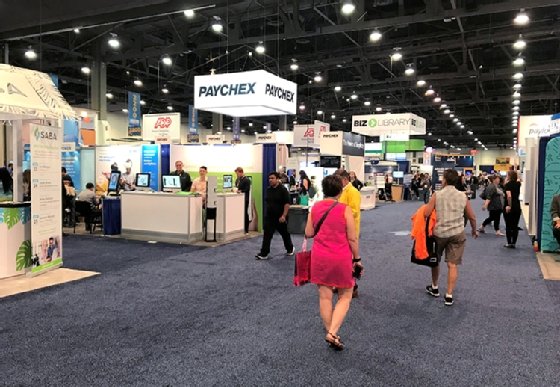 AI in HR will be across the board
Welford said he sees AI being applied across the board in HR, including talent acquisition, improved analysis and predictability, employee engagement, and to better help alignment with business strategy.
But Welford said he has also been surprised by what he is learning, such as the ability for AI tools to analyze facial and hand gestures.
The technology may be new, but Welford's selection of vendors selling AI HR products will depend on whether he feels the vendor can offer the business a good relationship.
"From a technological perspective, they all have something to sell that is very similar, so it comes down to the relationship," Welford said.
Similarly, Ball's process for evaluating AI-enabled HR tools will be methodical and similar to what she has done in the past.
"We will look for someone else who has already used that technology," Ball said. "We will look to people we trust to tell us what went well and what didn't."
Dig Deeper on Core HR administration technology