Fotolia
Pulling back the curtain on how companies train replacements
Democrats are hoping to discourage firms from moving jobs overseas by reporting where employees are located. One lawmaker also wants clarity on how outsourced workers are trained.
Democrats in Congress are backing legislation that requires companies to disclose the location of employees. The bill's intent is to identify firms that are outsourcing jobs overseas. One supporter, U.S. Rep. Cindy Axne, an Iowa Democrat, is also interested in something else: identifying companies that send employees overseas to train their replacements.
Axne is the sponsor of the Outsourcing Accountability Act, introduced this month. Its goal is to make it harder for publicly traded companies "to deceive workers and the public when they do ship jobs overseas." HR departments may have to assemble lists of where these employees are working.
Axne's legislation is a companion to a similar Senate bill by Sen. Gary Peters (D-Mich.). But questions she raised about layoffs at Wells Fargo may indicate a deeper motivation behind the effort than her Senate colleagues.
In March, Axne questioned Wells Fargo CEO Tim Sloan about a layoff of 400 workers in Iowa and the bank's customer business practices at a U.S. House Financial Services Committee hearing.
With the Trade Adjustment Act (TAA) petition and emails from bank employees as evidence, Axne said to Sloan: "I have a signed affidavit here saying that an employee in Des Moines was told her job was being moved to India and employees in that area have gone to India to train those replacements."
Axne continued, "I've heard from employees that are using your virtual classrooms for that same purpose to train other people in other companies. Are these recent layoffs really just you moving jobs overseas?"
Sloan, who stepped down as CEO that same month, said, "No, that is incorrect." He did not elaborate.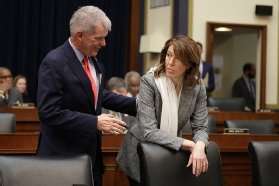 Wells Fargo was asked by TechTarget about employees who train replacements overseas. The firm didn't answer the training query directly, but Peter Gilchrist, a spokesman for the financial services firm, said "the vast majority of the Wells Fargo Home Lending servicing team members in West Des Moines who received notices that their positions were being eliminated earlier this year were able to find other opportunities within Wells Fargo. We're pleased that there ultimately have been very few job losses as a result of these changes within Wells Fargo."
Wells Fargo said its global workforce "allows us to provide faster turnaround time on decisions and inquiries" and "new functionality to market faster."
Iowa asked the question
There is no data on the number of U.S. employees who travel overseas to train replacements. But this kind of travel was noted by the Iowa Workforce Development office in a TAA petition filed in January on behalf of the Wells Fargo workers. The petition was seeking TAA benefit status for about 400 employees. The petition noted that "employees in this area of Mortgage Claims have traveled to India to train their replacements."
This type of overseas training is not usually reported on TAA applications or anywhere else. But the Iowa Workforce Development bureau chief, Molly Van Wagner, said in an email that "we started asking this as part of our U.S. Department of Labor Petition documentation."
Sending employees overseas to train replacements as part of an outsourcing agreement has been going on for years, analysts say. But they are divided about whether this practice is increasing in frequency because of H-1B visa restrictions imposed by President Trump's administration.
Overseas training is more effective
David Rutchik, executive managing director at outsourcing consultancy Pace Harmon LLC in Vienna, Va., said this type of overseas training is based, in part, on the willingness of employees to go overseas, especially if they are losing their jobs. "I think it's becoming more prevalent," he said.
I wouldn't call it a new phenomenon.

Sakshi GargVice President, Everest Group's Global Sourcing practice
But Rutchik said sending employees overseas to train offshore staff is also more effective for companies, and they are advising clients to do it.
Rutchik said online training or virtual training "doesn't sink in as well," or help an outsourced workforce understand the nuances of a particular process that the outsourcing provider is taking over. While there's a reluctance from some folks to go because of the travel and time involved, others find it interesting, he said. The incentive is usually a retention bonus, he said.
Regardless, the predominant outsourcing model is still to send services employees to the U.S. for training, said Sakshi Garg, vice president of the Dallas-based Everest Group's Global Sourcing practice.
Sending people overseas to train outsource workers is something that has been going on for many years, Garg said.
"I wouldn't call it a new phenomenon," said Garg, adding that she doesn't believe the practice is increasing.
The H-1B visa problems are prompting service providers to increase their staffing in the U.S., Garg said. "We are seeing an increase in the onshore presence of those providers," she said.