kritchanut - Fotolia
As offshore outsourcing grows, HR tries to measure impact
Offshore outsourcing can be a traumatic event for employees -- both for those who lose their jobs and for those who survive. It's HR's job to figure out the real impact it's having on employees -- a task that may benefit from new technology.
President Donald Trump became a harsh critic of the H-1B program during his campaign for president and invited IT workers who had trained visa-holding replacements to speak at campaign rallies. Trump promised to make changes to the H-1B program, and his administration is now denying roughly one in five of the H-1B visas sought by IT services firms.
But the administration's results are mixed. Offshore outsourcing is still growing, and U.S. businesses are still shifting work overseas.
Firms don't typically announce outsourcing agreements, because they may involve layoffs and the rebadging of workers. But there are exceptions. Take Molina Healthcare. Molina is an approximately $18 billion firm that provides health services and information management to Medicaid and Medicare recipients. It recently made public an agreement with IT services firm Infosys to manage some of its IT infrastructure.
Indeed, few actions are as politically fraught as the offshore outsourcing of jobs -- externally and internally. A decision such as the one by Molina can be a morale-crushing event for employees -- one that has major implications for HR. Once a firm decides to offshore work, HR departments may be tasked with measuring its impact on employee engagement and productivity. HR managers may turn to pulse surveys or invest in new technology to conduct analytics on employee behavior.
A layoff and IT services agreement
But improvements in HR's ability to measure the impact of outsourcing is unlikely to change its reality. On the same day Molina announced its agreement with Infosys, California posted a Worker Adjustment and Retraining Notification Act notice, reporting that Molina was laying off 169 employees in Long Beach, where some of its IT work is done.
The announcement likely did not surprise Molina IT workers, some of whom had earlier received a retention offer with a financial benefit if they agreed to stay on the job. The employees were considered "important to the success of the restructuring," according to a document obtained by TechTarget. Molina did not respond to a request for comment.
Employees at firms undergoing outsourcing are often reluctant to talk, and such was the case at Molina. But the experience is disruptive to an employer, and it can be brutal for affected workers. Marco Pena faced this situation firsthand.
Pena was an IT employee at Abbott Laboratories and one of about 150 to be laid off after their work was outsourced to an India-based firm in 2016. He chose not to take a severance, because he didn't want to be bound to a nondisclosure agreement.
"There are several words that could apply to characterize the impact on the morale of IT professionals and not only as employees of a company, but also as citizens of a nation," Pena said. They are "devastation, betrayal, anger, hopelessness and shock."
Outsourcing survivors face problems
"There is also the morale impact to other employees that were not affected by the outsourcing," Pena said. As Pena noted, offshore outsourcing affects more than the employees who are either being rebadged or losing their jobs.
"The survivors go through quite a few challenges, as well," said Maya Garza, regional vice president for behavior science at BetterUp, a San Francisco-based firm that provides on-demand professional coaching.
Garza, who has a doctorate in industrial organizational psychology, said research on mergers and acquisitions, which have a similar impact to outsourcing, shows "a very big dip" in employee engagement that lasts for about six months.
Some firms may involve HR early in a decision to offshore to reduce the impact on employees -- for those who are losing their jobs, as well as those who remain. Garza said employees who remain can feel a loss of control, and this can trigger drops in engagement and performance. People "start to think differently about the organization," she said.
Understanding changes in morale may involve adopting pulse surveys, particularly for firms that have been relying on annual surveys, Garza said. Pulse surveys are shorter and done more frequently than annual or biannual surveys, giving HR a better sense for employee concerns. HR departments may also use analytics to look at turnover, absenteeism and performance drops overall. A 5% drop in performance can translate to millions of dollars for a large firm, she said.
Being able understand these metrics "does require having a talent analytics function that can track all of these things," Garza said, as well as the "people who can understand that data."
Outsourcing decisions sometimes become a catalyst for HR departments to invest more on software and services to survey and analyze what's going on internally, said Clay Calhoun, partner at ISG, a technology research and advisory firm in Stamford, Conn.
"The HR team is surveying the retained organization as to what is working well and what is not working," Calhoun said.
Trump's order
The Trump administration has been trying to disrupt the offshore outsourcing model by applying more scrutiny to H-1B visa applications. The use of offshore outsourcing is closely tied with the use of H-1B visa workers. IT services firms are the largest visa users.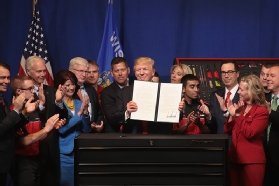 The Trump administration is challenging IT services firms on their use of visa workers. Outsourcing firms had lower H-1B approval rates last year, according to data released last month by the U.S. Citizenship and Immigration Services (USCIS). Infosys, for instance, had a 74% approval rate, and Tata Consultancy Services had 82%, in contrast to Apple and Microsoft, both of which had a 99% approval rate.
"As part of our efforts to fulfill President Trump's 'Buy American and Hire American' executive order, USCIS has made a series of reforms designed to protect U.S. workers, increase our confidence in the eligibility of those who receive benefits, cut down on frivolous petitions, and improve the integrity and efficiency of the immigration petition process," Jessica Collins, a USCIS spokesperson, said in an emailed statement. "It is incumbent upon the petitioner, not the government, to demonstrate that he or she meets the eligibility under the law for a desired immigration benefit."
In response to the Trump administration, but also for other business reasons, outsourcing firms are making adjustments.
They are increasing their hiring of U.S. workers and investing more in local facilities, said Chirajeet Sengupta, analyst and partner at Everest Group, an outsourcing consultancy and research firm in Dallas.
Some of these changes were prompted by client necessity that resulted from digital transformation efforts -- work that involves changes to a firm's core business model. For that kind of work -- which could involve changes not just in tech, but in business culture -- outsourcers have to be in close proximity to the business. "You really need to understand the business; you need to understand the business processes," Sengupta said.
Another driver of increased local presence by offshore firms is the use of Agile development and its reliance on continuous interactions, Sengupta said. "It's hard to do that when you are separated by thousands of miles," he said.
Trump's influence on offshoring
But the Trump administration is having some impact on offshore outsourcing. Some firms, worried about the future availability of H-1B workers, are telling outsourcing providers, either explicitly or implicitly, that they don't want visa workers on the team, according to Sengupta. There is also worry about negative press.
"It's very clear that there is a negative perception associated with a lot of H-1B workers," he said.
We are continuing to see an upward trajectory in demand for IT services outsourcing.

David Rutchikexecutive managing director at Pace Harmon
Trump's biggest impact on outsourcing is a result of his rhetorical attacks more than actual policy changes, said David Rutchik, executive managing director at outsourcing consultancy Pace Harmon, based in Vienna, Va.
"Their rhetoric is pushing companies to hire more U.S.-based resources," Rutchik said. This is having a number of effects, including enabling "a stronger affinity with U.S.-based customers by having American workers serving in customer-facing roles."
Rhetoric alone is also causing outsourcing providers to build up their U.S. capability, "including hiring more resources out of U.S. universities and colleges, in order to be less dependent on visa holders," he said. They are also trying to do more work remotely, he said.
An upward trajectory continues
But the Trump administration has not hurt the adoption of outsourcing IT services, Rutchik said. "In fact, we are continuing to see an upward trajectory in demand for IT services outsourcing," he said.
Indeed, India's largest IT industry group, Nasscom, last month released a survey of CEOs forecasting software export growth in 2019 of more than 9%.
The administration's focus on preserving America "by making visa restrictions more stringent" misses the bigger changes going on in the economy, Rutchik said. "Automation will displace vastly more jobs than labor arbitrage."
As for Molina, the healthcare organization has a history of turning over work to offshore providers and has faced litigation from displaced IT workers over it.