Fotolia
Trump's H-1B work visa actions disappoint ex-Disney workers
President Donald Trump arrived in office promising to reform the H-1B visa program. But his actions have fallen short of what reformers wanted and went too far for IT services firms.
In the 2016 presidential race, Donald Trump campaigned against the H-1B work visa program. He invited former IT workers at Disney Parks, Experiences and Products, Inc., to speak at his rallies, some of whom had trained visa-holding replacements as a condition of their severance.
In a debate in Miami, Trump called the H-1B visa program "unfair for our workers" and said "we should end it."
As president, Trump didn't end the H-1B visa program, and he's made many unhappy over his efforts to reform it.
Businesses are complaining about visa denials and delays in approvals. There is more enforcement, paperwork and uncertainty for business managers.
Some of the former Disney workers aren't happy either. Leo Perrero, an application developer, was one of about 250 IT workers laid off from Disney in 2015. As a condition for his severance, he was asked to train his foreign worker replacements from IT services firms.
In 2016, Perrero appeared at Trump rallies three times, echoing points he made that year in testimony before the Senate immigration subcommittee. The committee was chaired by Sen. Jeff Sessions (R-Ala.) who would go on to endorse Trump. "This abuse of the H-1B visa is not about a lack of talent here in the U.S.," Perrero told lawmakers.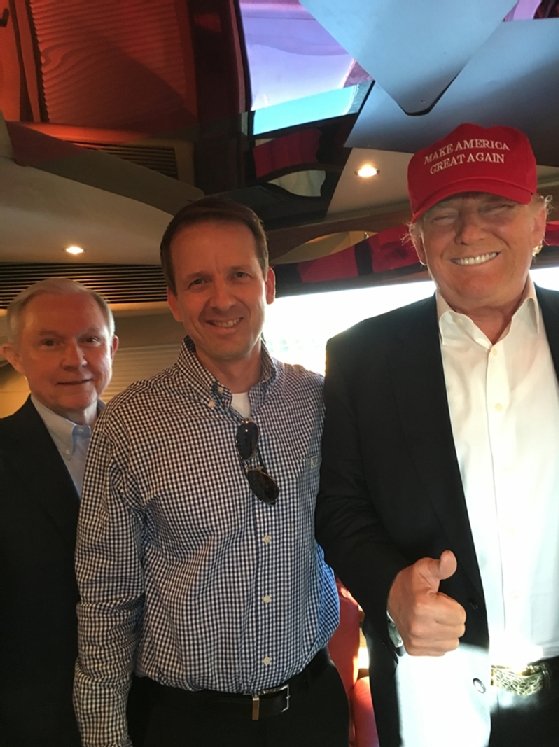 At the rallies, "We were paraded around on stages as examples of how a government program had gone awry and was stealing American jobs," Perrero said. "That really hasn't changed whatsoever."
Perrero said Trump is simply doing more to enforce existing laws. H-1B visa applications "are being scrutinized more and questions are finally being asked," he said. But he doesn't see much impact on the offshore outsourcing business model "that continues to go on." The largest users of H-1B visa workers are offshore outsourcing firms that move work to low-wage countries. Perrero continues to work in private sector IT.
The problem hasn't changed
Another former Disney IT worker agreed with Perrero.
"I don't see any improvement to this problem," Keith Barrett said. He was among the Disney employees replaced by offshore IT outsourcing contractors. "I don't believe [Trump] has addressed it," he said.
"The majority of contractors are still H-1B holders having routine skills found throughout the country," Barrett said. "Citizen professionals and college graduates cannot compete with a workforce that puts down no roots, has no mortgage or kids in school or student loan obligations, and is willing to relocate across the country every six to 12 months for low wages just to hold onto their visas and stay here."
The Trump administration has also angered the IT services industry.
H-1B visas are typically approved for three years. But in 2018, the Trump administration toughened its policies by limiting visas for H-1B workers at third-party sites to the length of a client's contract, which could be a few months and as little one day, according to court records. This has created uncertainty for businesses, as well as some uncomfortable moments. The Trump administration has increased site visits by federal anti-fraud agents targeting IT services firms that use H-1B visa workers.
"It's unnerving to the end client to have a federal officer show up," said Bradley Banias, an attorney at Wasden Banias LLC in Charleston, S.C., which is representing some of the IT consulting firms in litigation against the Trump administration over H-1B rule changes. "It hurts the business relationships between the end client and my client," he said.
The Trump administration strategy
The Trump administration's position is that IT services firms that place workers at third-party sites "are the companies that are most likely going to be the ones to displace U.S. workers. As a result, [they] have concentrated their enforcement and rule-making authority most on them," said Dick Burke, CEO of Envoy Global Inc., in Chicago, an immigration services firm that also provides immigration management software.
Disney, for instance, used IT services firms HCL and Cognizant, both major users of H-1B visa workers that also run large offshore operations in India. Under the offshore model, domestic workers train contractors to take over certain operations, which are then done overseas once the "knowledge transfer" is completed.
The administration is also increasing denial rates for people with a "bare minimum" of skills, according to Burke.
The Trump administration says its actions have improved the visa program. It is increasing the percentage of master's degree holders and salaries paid to H-1B work visa holders. A U.S. Citizenship and Immigration Services (USCIS) spokesperson pointed to government data: The median salary for H-1B workers approved in 2018 was $10,000 over the previous fiscal year.
But it's hard to know if salaries paid to visa workers can be attributed to a policy change, said Ron Hira, associate professor in the department of political science at Howard University. Hira has testified before Congress on multiple occasions about the impact of the H-1B visa on the labor force. Other data suggests that the salaries paid to visa workers aren't changing significantly, he said.
The U.S issues 85,000 H-1B visas annually for workers with a bachelor's degree or above. Approximately 66% of the visas go to workers in computer occupations, according to government data. Visa holders are sponsored by employers, and the initial approval for a visa is three years.
Visa wages rising, but still short
H-1B visa workers can be paid less than U.S. workers under the prevailing wage system. The prevailing wages, which vary from region to region in the U.S., are categorized into four levels, from Level 1 for inexperienced workers to Level 4 for the most skilled. Level 3 wages are the median for U.S. workers.
A Level 2 wage is, on average, 17% below the median wage for computer occupations in all locations, Hira said, based on his analysis.
"There's no doubt that the offshore outsourcers are reducing their Level 1 applications, and it can be soundly attributed to USCIS scrutiny of Level 1," Hira said. But 60% of employers are approved at Levels 1 or 2 -- and hardly any at Level 4, he said.
"Wages are still lower for the outsourcing firms," Hira said. He has been analyzing wage levels by employers for an upcoming paper.
Trump has not even come close to fulfilling his promises.

Ron HiraAssociate professor of political science, Howard University
"The major offshore outsourcing firms might experience a little nuisance, but it's business as usual," Hira said.
The Disney workers "ought to be disappointed," Hira said. "Trump has not even come close to fulfilling his promises."
IT contractors are litigating
The IT services industry, however, argues that it is under siege.
Members of ITServe Alliance Inc., a Dallas-based group that represents about 1,250 IT consulting firms in the U.S., have filed multiple lawsuits against the government. This includes one in January alleging that U.S. firms have been unlawfully charged $350 million in H-1B visa fees. The law firm Wasden Banias is representing them.
The lawsuit is challenging USCIS over fees applied to so-called 50/50 companies -- firms with at least 50 employees that have 50% of their workers on a work visa. A $4,000 fee is applied to a change of status, such as a new worksite for a visa worker.
The ITServe Alliance said that most of its members are smaller firms that work as consultants and are not offshoring jobs, said Deepali Khadakban, director of the group's Policy Advisory Committee. But if the consulting firms face difficulty using visa workers, they may see it as a reason to shift some work overseas, Khadakban said.
"Now I'm thinking that if I have to continue to deliver to my customers, I may have no other choice but to have an office where the talent is," Khadakban said. "It could be Mexico; it could be India; it could be China."
Some of the ITServe's member firms have more than 50% of their workforce comprised of foreign nationals on visas, according to its lawsuit.
H-1B work visa denial rates
The Trump H-1B visa denial rate for the largest IT services firms is high relative to other firms. These firms have large workforces in India that serve U.S. clients. The denial rate for Cognizant Technology Solution is 31%; for Tata Consultancy Services, it's 22%; and for Infosys, it's 37%, according to a preliminary analysis by Hira.
In contrast, the H-1B denial rate is much smaller for firms that are likely to use visa holders in their own workforces and not use them to move the work overseas. For instance, the denial rate for Microsoft is 3%, Facebook, 2%, Apple, 1%, and Intel, 3%, according to Hira.
But the denials have not changed demand for the H-1B visa.
"More denials could make those approved more likely to be qualified," said Hal Salzman, a professor of planning and public policy at Rutgers University. Salzman has testified before Congress on the workforce impacts of the visa.
"The evidence suggests that the main effect [of denials to outsourcing firms] is shifting the advantage to U.S.-based firms such as Microsoft and Google who have very few denials," Salzman said. "Overall, in the short term, it's unlikely to slow the extensive use of offshoring and outsourcing firms that hire workers at below market wages."
After becoming president, Trump signaled major changes ahead for the H-1B work visa. His administration considered ending the visa lottery and prioritizing visas around salaries so that firms that paid high wages would have a better chance of getting their visa candidate approved. A visa lottery is held if the the number of H-1B visas exceed the visa cap.
Instead, the Trump administration is making it easier to enter the visa lottery. On March 1, a new visa electronic registration system takes effect. Employers pay $10 and fill out an online registration for the lottery; if they are selected, they have 90 days to submit a full petition with required fees.
The lottery change "will encourage more employers to apply" for visas, said Yova Borovska, an immigration attorney at Buchanan Ingersoll & Rooney PC in Washington. "It's so much easier to participate in a lottery."
The Democrat stands on the H-1B visa
The H-1B work visa has not become an issue in the election so far. Trump hasn't raised it, and the Democrats are more likely to discuss immigration generally. But some of the Democrats have strong positions on the H-1B visa.
Former New York City Mayor Michael Bloomblerg is a vigorous proponent of expanding the H-1B visa program. He was a founder of the Partnership for a New American Economy, which lobbies Congress for more H-1B visas.
U.S. Sen. Amy Klobuchar (D-MN) has co-sponsored legislation to significantly raise the visa cap.
Pete Buttigieg, former mayor of South Bend, Ind., once worked for McKinsey & Co., a management consulting firm that has argued in support of business offshoring. U.S. Sen. Elizabeth Warren (D-Mass.) remains vague about her plans for the work visa.
Former Vice President Joe Biden calls for a "wage-based allocation process" on temporary visas and appears to support increasing visa caps.
The only Democratic candidate critical of the H-1B visa program is U.S. Sen. Bernie Sanders (D-Vt.).
Sarah Blackwell, a Florida attorney who represented laid-off Disney workers, said Trump "no longer acknowledges" the problems with the H-1B visa.
"Some of the Disney workers are among the disappointed in his lack of support and action since the election," Blackwell said. "But there are American workers who have been, and are being, fired and training foreigners to take their jobs who still hold onto the hope that President Trump will be the hero he promised to be."