Sergey Nivens - Fotolia
Federal shutdown disables E-Verify program, creating HR headache
The free federal program E-Verify is inoperable, thanks to the government shutdown. HR departments that rely on the work eligibility service will have to revert to manual processes.
The federal shutdown has disabled the E-Verify program, an online employee work authorization service. This may create headaches for HR managers who rely on it.
The E-Verify program is voluntary, except for federal contractors. The free U.S. Citizenship and Immigration Service (USCIS) program helps employers verify the ability of a potential employee to work legally. Employers enter employee data from the Employment Eligibility Verification I-9 form into E-Verify. The system then checks Social Security Administration records and federal immigration databases.
The USCIS is continuing to operate most of its programs during this shutdown, which began Dec. 22. Many of its services are fee-based, which provides the necessary funding. But E-Verify is a free service for employers.
However, USCIS's chatbot, Emma, is still accessible to employers and can provide basic information about the E-Verify program. It also directs users to an E-Verify webpage and the following message: "Due to the lapse in federal funding, this website will not be actively managed."
USCIS officials were not available for comment.
A potential burden on HR
The shutdown of E-Verify "definitely increases the administrative burden on employers," said Shanon Stevenson, an immigration attorney and partner at Fisher & Phillips LLP in Atlanta.
Employers who have trained HR staff to use E-Verify are going to have to "interrupt their processes," Stevenson said. Once the system resumes operation, employers will have to verify anyone who was hired during the shutdown. There is a risk that someone may get missed in this background-checking process, she said.
Stevenson said some employers are delaying onboarding until E-Verify is returned to service.
Nearly 800,000 employers use the E-Verify program, or about 13% of all employers, according to government data. President Donald Trump's administration wants to make E-Verify mandatory for all employers, but there has been no action on that by Congress. Whether E-Verify should be law is part of the broader immigration debate by lawmakers.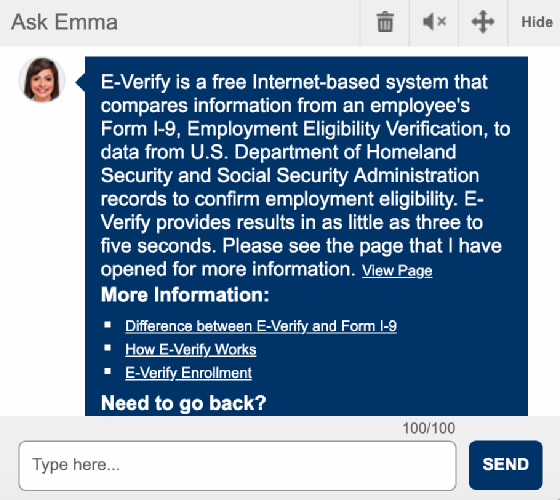 Revert to manual processes
Tech employers are likely users of E-Verify systems, Stevenson said. Firms hire foreign college graduates under the Optional Practical Training (OPT) program. This program allows students with F-1 status to work for one year on their student visa. The OPT work authorization can be extended if the worker is a science, technology, engineering or math graduate. To get the OPT extension, the employer has to use E-Verify, she said.
With E-Verify offline, employers will have to revert to the older process. They will need to look at verification documents accepted by the government. The employer will then have to keep the I-9 form available in the case of an audit, said Laura Handrick, an HR analyst at Fit Small Business in New York.
Employers that don't rely on the E-Verify program may run a risk of hiring someone using a false ID, Handrick said.
But there is some good news for HR departments: The government is "not going to come out and audit you during a shutdown," Handrick said.
If the employer is trying to do the right thing during the shutdown, but errors are made, immigration authorities can be lenient, she said.
Typically, federal contractors have three days to check a new hire through E-Verify, but that rule won't be enforced during the shutdown, she said.