Customer service chatbots gain ground
As chatbots begin to replace email as the go-to customer service channel, more and more companies are using AI and natural language processing to improve their chat services.
Companies reap the benefits of AI through things like customer service chatbots, and customers can take advantage of self-service and automated approvals. And while it's unlikely AI will ever completely replace email or phone as a customer service channel, there's no question that tools like facial expression analysis will continue to proliferate -- and give the bots more data and make them a bit smarter.
Who wouldn't want instant answers any hour of the day? With the right amount of human assistance, AI tools can offer an invaluable customer service channel. It can help both the enterprise and the consumer, said Jordi Torras, CEO and founder of Inbenta Technologies Inc., an AI vendor of natural language processing tools. Torras founded Inbenta in 2005 in Barcelona, Spain before moving the company to California in 2012.
"We have seen how chat and messaging is growing even faster than email as it takes over phone calls as a customer service channel," Torras said.
Because they need current tools to service a variety of mobile devices and not just desktop computers, more companies must implement intelligent conversational systems with the latest algorithms for machine learning and natural language processing.
For German financial services company Allianz, Inbenta delivers two AI solutions: customer service chatbots and Dynamic Frequently Asked Questions (FAQ), which suggests answers to customer questions with Inbenta's semantic search engine technology. The Dynamic FAQ tool incorporates the latest in natural language processing and a theoretical linguistic framework called the Meaning-Text Theory.
Allianz customer service email volume has decreased 35% since bringing Dynamic FAQs and the customer service chatbot online. Customers are now using them as the primary customer service channel.
We have seen how chat and messaging is growing even faster than email as it takes over phone calls as a customer service channel.

Jordi TorrasInbenta
It was important for executives at Allianz to explore and invest in tools that not only encourage customer self-service, but that also automate decisions with personalized context, said Allianz program leader Aurélien Barthe.
"We want customers to be happy, and they are more willing to obtain the most precise information really fast," Barthe said.
His goal was to find solutions and empower his customers to do the same, especially in areas where Allianz could make efficiency gains.
When an Allianz customer asks a question, instead of listing possible answers from keyword searches, Inbenta's Dynamic FAQ provides accurate answers that take users directly to the source page of their answer. Allianz also uses Inbenta to provide fast housing insurance quotations with a navigational bot on Facebook messenger.
Successful customer service chatbots need to connect smoothly with back-office corporate applications, a feat that has been historically difficult due to legacy system integration costs. As corporate application programming interfaces are being rolled out and business intelligence systems are being deployed at all levels of the enterprise, companies will need to deploy more decision-making systems. This deployment, of course, will take time to become successful on a massive scale.
Don't fire the call center humans just yet
Because chatbot deployments may still lack the basic capacity for natural language comprehension and back-office integration, completely replacing customer service with customer service chatbots is not something most companies are considering. The key is knowing the right balance.
"It is impossible for humans to keep up with this type of demand at scale without sacrificing quality," Torras said. "Only certain types of AI technologies can sufficiently address this issue for both sides of the problem."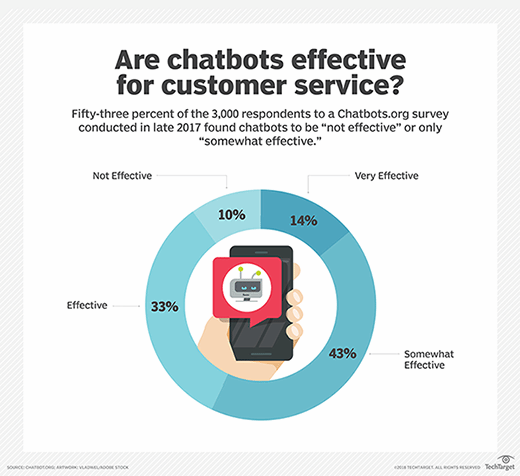 According to Forrester's 2018 predictions on the impact of AI on sales and service, more major brands will likely phase out email in favor of real-time, customer-agent communications like chatbots and chat. Companies like Nike, Apple, Uber and Target have moved away from actively supporting email as a customer service contact channel. Forrester predicts that having a successful AI-driven customer service or sales program will depend on the processes that support a blended AI approach, with humans playing a critical role in the ongoing optimization of AI.
And there are many more changes to come. Torras has also seen an explosion of community-based customer support in the last two years, but with little progress beyond the initial interest. For now, deploying a chatbot with a full dialog built-in is complex enough for a simple dialog strategist or bot master. Adding crowdsourcing is an additional level of complexity that he predicts will eventually be added in the future.
"The AI era mimics how the population is changing over time," Torras said. "Having the capacity to effectively take care of these chat conversations with an AI-based system is very compelling for the enterprise and also for the consumer."