Sergey Nivens - Fotolia
Hiring algorithms prove beneficial, but also raise ethical questions
AI-capable tools in recruiting are being adopted by large users, such as Hilton and Delta Air Lines. The tools can cut recruiting time and costs, but they also raise questions about how to vet them.
LAS VEGAS -- In recruiting today, algorithms are deciding whom to hire. Take Hilton Hotels. It uses chatbots for initial assessments of thousands of call center candidates. Those who move onto the next step undergo a video interview, where they answer a series of questions. The responses -- including facial expressions -- are analyzed by a hiring algorithm. How job candidates are scored on the assessments may get them hired.
Hilton hires call center jobs in large numbers, particularly around the holidays. One job posting was for 1,200 positions; it received more than 30,000 applicants, according to Sarah Smart, vice president of global recruitment at Hilton. The hiring algorithms have delivered major benefits, including reduced recruiting cost and faster time to hire, thanks to automation, Smart said at the HR Technology Conference & Expo.
Hilton is using HireVue's video interviewing technology, which analyzes how a candidate answers a question, as well as microexpressions or rapid facial expressions that take place in a fraction of a second. Hilton reviews how the responses align "with an algorithm that we have designed and continue to tweak," Smart said.
AI -- how to buy it, deploy it and benefit from it -- is a leading topic at the HR Tech conference. Indeed, Josh Bersin, an independent analyst, called AI a "core component of HR." But the technology is also bringing unresolved questions about its ethics and potential for bias.
AI vendors may have to prove claims
"I think the No. 1 issue, as we move into 2020, is using AI in an ethical and responsible manner and proving it," said Jeanne Meister, a founding partner at Future Workplace, a consultancy, in an interview with SearchHRSoftware.com. She moderated a panel on AI.
Meister believes that AI vendors and customers may be subjected to requirements similar to safety checks now conducted on automobiles. "I think it's going to be mandated that these vendor companies and their customers be on the hook for auditing that data," she said.
Regulations are just beginning to emerge, Meister said, who pointed to California's new Bolstering Online Transparency or BOT bill, which came into effect July 11 and requires firms to disclose if they are using bots to interact with people.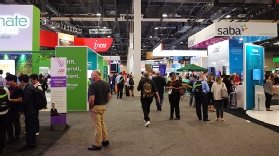 Jennifer Carpenter, vice president of global talent acquisition at Delta Air Lines, said that in selecting an AI vendor, HR managers should pick those that have "a deep commitment to ethical AI."
Carpenter said vendors should be questioned, "what are you doing to ensure that your algorithms are not biased, how are you monitoring [and] validating" the data? She is interested in vendors that are "adding to the conversation" on ethical AI and "not just selling a product."
Users need AI products they can defend
You're not going to be able to implement something you can't defend.

Jennifer CarpenterVice president of global talent acquisition, Delta Air Lines
The vendors need to defend the product and measure its impact, according to Carpenter. "Because you're not going to be able to implement something you can't defend and these vendors need to help you make that case or you're not going to be able to get anything off the ground," she said.
But Carpenter also argued for "safety in numbers" in vendor selection or choosing vendors that have clients that can be used in due diligence.
While acknowledging Carpenter's point about safety in numbers, Hilton's Smart said they have taken risks on smaller vendors because it has given them the ability to "create with them."
The attraction of AI is powerful
In Hilton's case, hiring algorithms reduced the need for recruiters to handle call center recruiting by 23%. The company shifted those recruiters to other assignments.
Hilton uses a chatbot from AllyO, an AI recruiting tools vendor, based in Palo Alto, Calif., to conduct an initial candidate assessment. The chatbot will ask, for instance, the hours a candidate can work, and since these call center positions are remote, whether the candidate has access to high-speed internet. If the candidate passes the initial assessment, the candidate can proceed to a video interview, where Hilton employs HireVue's technology.
The technology that Hilton uses doesn't remove HR from the hiring process, but hiring algorithms make recommendations and can prioritize a pool of applicants who are best suited for the job. Smart said they have seen results, particularly in reduced turnover.
Dig Deeper on Core HR administration technology