Delta's surcharge a new take on employee vaccination incentives
Businesses are reluctant to impose vaccine mandates, and vaccine incentives are showing limited results. But Delta Air Lines is trying a $200 surcharge on unvaccinated employees.
Employers have been giving employees cash, gift cards and time off to encourage them to get vaccinated. But, if the approach Delta Air Lines Inc. is taking to workplace vaccination is widely adopted, the days of freebie-based incentives may be ending.
On Wednesday, Delta said it would impose a $200 monthly surcharge starting Nov. 1 on unvaccinated U.S. employees who use the firm's healthcare plan.
But Delta stopped short of issuing a formal vaccine mandate, unlike the recent announcement from United Airlines Inc. One of the reasons Delta executives may have decided on a surcharge is that businesses, overall, are rejecting employer vaccine mandates, according to new data from Gartner.
"The bigger issue is that a lot of companies are afraid of alienating a significant percentage of the workforce by mandating the vaccine," said Brian Kropp, vice president of research at Gartner.
Indeed, Gartner found that only about 16% of businesses had imposed vaccination mandates, according to survey results of 300 firms released Wednesday. That percentage may rise, but with some 25% of the workforce not vaccinated, Kropp said employers are worried about a mandate's impact on a business.
If just 5% of a firm's workforce refused to get vaccinated and was fired, the company would "take a huge financial hit," Kropp said.
A lot of companies are afraid of alienating a significant percentage of the workforce by mandating the vaccine.

Brian KroppVice president of research, Gartner
Vaccination incentives are limited
Vaccination incentives have had limited progress, and, "now, we are seeing companies start to adopt stances like the approach from Delta [Air Lines]," Kropp said.
Delta justifies its costly vaccination incentive by pointing out the cost of treating unvaccinated workers.
In a memo to employees, Delta CEO Ed Bastian wrote, "The average hospital stay for COVID-19 has cost Delta $50,000 per person," to explain the basis of the added healthcare costs on unvaccinated employees. "This surcharge will be necessary to address the financial risk the decision to not vaccinate is creating for our company," he said.
Since the emergence of the delta variant, "employees who have been hospitalized with COVID were not fully vaccinated," Bastian said.
About 75% of Delta's employees are vaccinated, Bastian said. The firm has 72,000 U.S. employees and its new policy will include weekly COVID-19 testing for its unvaccinated employees.
After the Food and Drug Administration's full approval Monday to Pfizer's COVID-19, President Joe Biden urged business leaders to require vaccinations "or face strict requirements" similar to what the government recently imposed on its workforce.
Last month, the White House said it will start asking employees and on-site contractors to sign forms attesting that they have been vaccinated.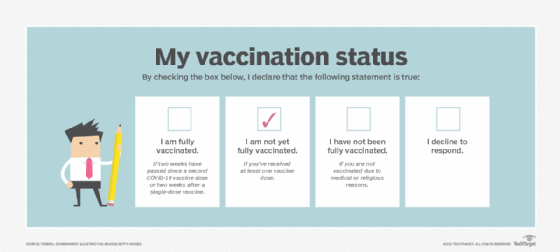 This policy requires people who do not attest to being fully vaccinated to wear a mask on the job, physically distance from all other employees and visitors, comply with a weekly or twice-weekly COVID-19 testing requirement, "and be subject to restrictions on official travel," according to a government document.
Patrick Thibodeau covers HCM and ERP technologies for TechTarget. He's worked for more than two decades as an enterprise IT reporter.