daniilvolkov - stock.adobe.com
SAP's new San Francisco office sets its hybrid work approach
SAP's new San Francisco office encourages in-person interaction and community building among its diverse workforce. Its design was informed by employee input.
SAP recently opened a new office near mass transit in San Francisco's South Park neighborhood. It was designed with hybrid workers in mind, with spaces for collaboration and meetings, and places with flat-screens ready for laptop connection.
The SAP office is about 2 miles from Twitter's headquarters in San Francisco. But the companies are opposites as remote work goes. Twitter's owner Elon Musk wants employees in the office, and SAP says some people might go to the office three times a month, if that.
Musk's approach is top-down, while SAP's approach is more bottom-up.
The person helping SAP set its hybrid work direction is Daniel Zimmer, head of engagement at SAP Labs. It was his job to find out what people wanted out of an office, so he interviewed everyone from senior leaders to newer hires, made transcripts of the conversations and analyzed them for common themes.
"For the last three years, our people have shown us that they can work from home," Zimmer said. And when questions arise about coming into the office, "everybody has the right to ask the question: Why? How did we get to that conclusion?"
SAP concluded that it has to allow for customized hybrid work approaches. Some teams might want more on-site meetings than others, and younger workers seeking support and interactions might want to come in more often, but others might feel more effective working from home.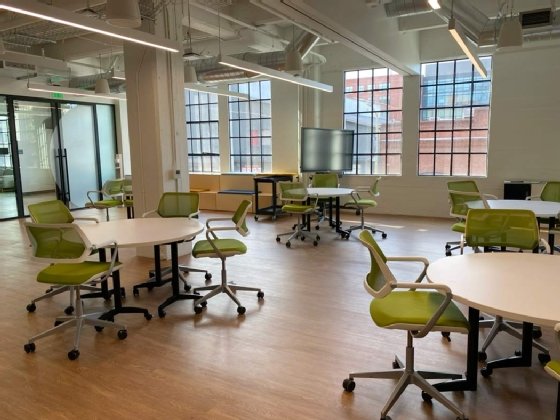 New research from the Hackett Group, a management consulting firm based in Miami, backs SAP's approach.
In a survey of 600 workers in all industries, it found that one-size-fits-all hybrid work options will negatively affect a business. For 25% of the respondents, increased commuting time was cutting into their daily work, decreasing their interest in continuing to work for their employers. Half of the survey respondents were U.S. workers and most of the balance in Europe.
The survey found that single-mandated policies, applied across the board, "are the most polarizing in their effects on engagement and retention" and that "giving employees choice has the strongest positive impact on engagement."
For employees to come into the office, "they need a good reason," and part of that is to be productive, said Tony DiRomualdo, senior research director at Hackett. Those reasons for coming in might have to do with collaboration, brainstorming, jointly working with team members and relationship building with new team members.
"If they're going to take the time and effort to commute, they want to be able to be productive in all the things that they need to be productive and successful in their job," DiRomualdo said.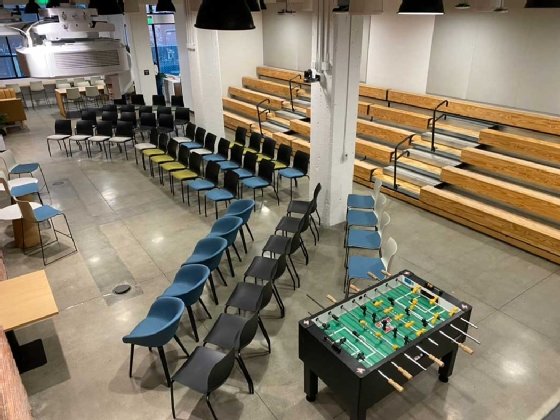 From in-office to hybrid work
SAP has more than 100,000 employees; about 4,500 are in the San Francisco Bay Area, in a patchwork of multiple offices. Before the pandemic, they mostly worked in the office, but it depended on the team, Zimmer said.
It was important for SAP to create a hub where all its employees, whether in data science, design, sales or marketing, could come together under one roof and feel part of a larger community.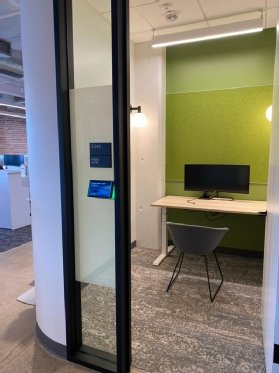 Today, about 80% of the company's employees are hybrid workers and go into the office several times a month, with a relatively small group showing up daily, Zimmer said.
SAP's new office opened March 1, designed to feel "highly energized, and at the same time anybody can feel productive the moment they come."
The hub office is in a new space over three floors plus a roof deck. It created a combination of spaces for focusing, including informal and formal meeting areas, a forum for a larger gathering and a central staircase that offers visibility to each floor. It includes lunch and coffee stations on every floor. There are also many separate phone rooms for private calls.
Employees don't have fixed desks, but they use an in-house application to book desks and meeting rooms. The facility can seat about 350 people, but Zimmer said the ideal number of people on a given day is 100 to 250.
The hybrid office offers employees in-person collaboration, coffee and lunch together, and socializing during happy hours and time for casual exchanges.
"The office needs to offer things that the home office can't," Zimmer said.
Patrick Thibodeau covers HCM and ERP technologies for TechTarget Editorial. He's worked for more than two decades as an enterprise IT reporter.