Mark Carrel - stock.adobe.com
Prepare for ITIL framework updates in version 4
The much-anticipated release of ITIL v4 not only changes the framework's certification structure, but emphasizes many modern software development and IT service delivery practices.
Various ITSM frameworks guide IT operations practices around governance, methodology, system design and software lifecycles. The IT Infrastructure Library -- known as ITIL -- is a well-established framework, and in the first quarter of 2019, it received long-awaited updates that account for the growing use of DevOps, microservices, multi-cloud and other emerging technologies and IT practices.
What is the ITIL framework?
ITIL is a standardized set of guidelines to create and manage IT services within the business. It clarifies capabilities and aligns IT services -- and the providers of those services -- with the business and its customers' needs. ITIL focuses on IT service management (ITSM) issues, specifically, rather than broad business operations.
As with other frameworks, ITIL is not a discrete product or tool, but rather a cohesive set of concepts and practices to guide practitioners in IT service development, deployment and support. Since its introduction in the 1980s, ITIL has become bound to international ITSM standards, as it is outlined in the ISO 20000 Part 11 standard.
The ITIL framework is traditionally composed of five core publications that cover the entire IT service lifecycle. These publications include ITIL Service Strategy, ITIL Service Design, ITIL Service Transition, ITIL Service Operation and ITIL Continual Service Improvement. ITIL is updated periodically to acknowledge the changing demands of businesses on IT and the availability and capability of enterprise technologies, both locally and globally. Release ITIL v4, also dubbed ITIL 2019, replaces the existing ITIL v3 framework released in 2007 and updated in 2011. The core concepts expressed in these publications, however, are expected to remain in place, and ITIL v3 certifications are not currently set to expire.
ITIL is sponsored and driven by Axelos, a joint venture company created in the U.K. to develop best practices in ITSM, project and program management, and cyber-resilience. Axelos offers ITIL certifications, but its practices also expand beyond the ITIL framework.
Compare COBIT and ITIL
COBIT and ITIL are both regarded as key ways to shape ITSM but are radically different frameworks, in terms of purpose and scope.
ITIL describes a method to manage IT services across an entire service lifecycle and outlines the processes and activities that enable service management. By comparison, COBIT, also updated in 2019, describes how to govern enterprise IT to maximize business value yet manage resources and risks. The COBIT framework outlines processes and activities related to assets and resources across enterprise IT. From this standpoint, ITIL is regarded as a more focused ITSM approach, whereas the COBIT framework is a broader and more general approach that's applicable to almost any area of the business -- including ITSM.
There is overlap between the two frameworks. ITIL generally covers about a quarter of the practices, mostly those related to service management, found in COBIT. But COBIT has other strengths, including auditability -- which simplifies organizational compliance obligations -- from ISACA Certified Information Systems Auditor-certified auditors. ITIL relies on benchmarks such as Tudor IT Process Assessment.
Ultimately, ITIL and COBIT are not mutually exclusive. Businesses can use them together to govern and manage IT services.
What has changed in ITIL v4?
ITIL v4 makes additions to the framework, broadens the view of IT service and refocuses on service relationships and business value creation. This reconceptualization of the ITIL framework slightly changes the format and supporting certifications for ITIL practitioners.
Version 4 of the ITIL framework expands the scope of ITSM and updates content and concepts to better embrace technological advances. It brings software development schemes, such as Agile, DevOps and Lean, into the ITIL practices discussion and will make ITIL more applicable to IT workload deployment options, such as containers, microservices, serverless computing and multi-cloud.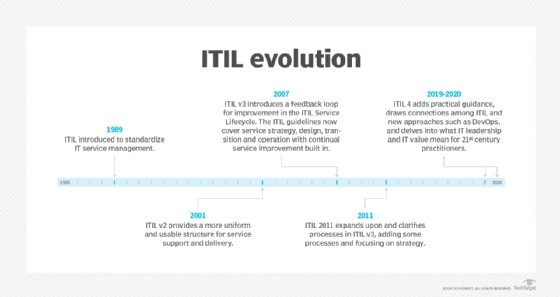 ITIL v3 offered five levels of professional certification: Foundation, Practitioner, Intermediate, Expert and Master. Each level addressed different aspects of ITIL, in both depth and scope. ITIL v4 still aligns with v3 but makes substantial changes to certification levels and terminology. For example, ITIL v4 offers only four certification levels: Foundation, Managing Professional, Strategic Leader and Master. Each level reflects the practical ITIL roles within a business.
Axelos released material for the ITIL v4 Foundation certification in February 2019. Materials for the remaining three levels are expected within the second half of 2019. Advanced certifications past the Foundation level focus on IT service creation, delivery and support; IT services direction, plans and improvements; IT strategy development; stakeholder value; and high-velocity IT management.
Dig Deeper on IT operations careers and skills