Tierney - stock.adobe.com
Geek gifts 2020: Kits and gadgets for holidays at home
The holidays in 2020 are sure to be like no other. Our geek experts recommend ways to keep them entertained while keeping their distance.
Finding the right gifts for geeks can be a challenge in any year, but in 2020, geek gift givers face an especially tough prospect: What to get for the techie type stuck at home amid a pandemic?
Fortunately, our panel of geek experts have some suggestions based on their own holiday wish lists, an assortment of ideas for gaming, tinkering, hobbying and generally geeking out while passing the time at home this year. As is our custom, we gathered their suggestions anonymously to allow them to speak freely, and in some cases, to protect surprises.
"Three things during [the] pandemic that I appreciate the most are backyard furniture, a treadmill desk, to get exercise while I'm working," said one of our nerd friends, "and [Apple's] HomePod mini – a smart speaker [that has] just enough smartness, but not so much that you wonder if Big Brother is listening to you at all times."
The Raspberry Pi mini-computer is a perennial favorite, but geeks say they can never have too many, and in a year like this one, DIY projects can always use them.
"One of the most unexpected new items is the Raspberry Pi 400, a complete Raspberry Pi 4B-based computer inside a cute little keyboard," said one of our tech-savvy sources. "Especially for geeks with homebound 'budding geeks,' this could be a lot of fun to play with, and it's cheap!"
Geeks also suggest running Prometheus (or another favorite time series database) on a Pi to sample sensor data.
"It makes for a neat crossover between the tools we use at work and other geeky interests," said one of our advisers. "Vendors like SparkFun have great tutorials and a wide range of sensors that are easy to use and are ready to go for hobbyist use."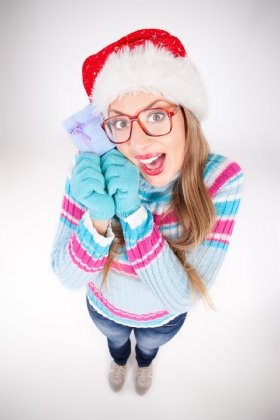 Geek n00bs and grown-up geeks alike may also enjoy building a Turing Tumble -- a computer based on marbles.
"Computers are too 'magic,'" said one of our geek friends. "This demystifies them."
Another of our experts added, "For the kids out there, I'd recommend the Hummingbird Robotics Kit that blends the best of open source, robots and programming."
Speaking of sensors, if your geek is an avid golfer, like another of our geek experts, affordable sensors meant to improve their game are now readily available.
"Arccos makes sensors that you put in the end of your club grips that provide all sorts of data when you hit the ball and report it to their app," reported our golfing geek. "After five rounds of data is ingested, they then use AI to give you advice on what to do in situations going forward. It's a pretty neat way to provide a high level of insight into the game that very few amateur golfers normally have access to."
Home hobby kits fill geek gift wish lists
Not every geek gift has to be technical -- geeks love to tinker with all sorts of projects in meatspace as well, our experts say, and there are DIY home kits for nearly any interest, whether it's whiskey, coffee, wine or herbs.
We can't just consume it and enjoy, but we have to totally geek out on it. Tech geeks want to do things the 'right' way.

Geek expert
"We can't just consume it and enjoy, but we have to totally geek out on it," said one geek we consulted. "Tech geeks want to do things the 'right' way, so whiskey or wine tasting guides -- worksheets, books, the proper glasses - are good."
Specifically, one geek we know recommended whiskey tasting and drinking products from Brumate.
"I found a shop on Etsy that would inscribe logos and I'm giving everyone on my staff a logo-inscribed whiskey snifter with a small bottle of local whiskey," they said.
In the non-alcoholic category, our geek advisers also mentioned home herb growing kits and make-your-own hot sauce kits.
For the geek who truly has everything, consider a software-defined radio such as Nooelec that's compatible with GNU Radio.
"The device translates radio waves into something that can be processed in software rather than in specially designed hardware," explained one of our experts. "It can listen to broadcast radio one minute and decode signals from airplane beacons the next."
If all else fails, let your favorite nerd come up with their own ideas using a 3D printer, available in a wide range of designs, sizes and prices.
"Engineers are tasked with 'making it work,' and sometimes you have to use asymmetrical methods to make it work," said one hardcore egghead on our list. "Having a 3D printer can allow you to build customized parts to make things work."
This geek added, "Another cool idea I'm going to ask my wife for this year is indoor battle drones."
Of course, your mileage may vary with that idea.
More ideas, from keycaps to ring lights
For boffins on a budget or looking to fill out a list of stocking stuffers, consider smaller items such as cable organization tools, including Command strips and hooks, Velcro strips, reusable zip ties and colorful labels. Geeks with a certain aesthetic may appreciate cute mechanical keyboard caps or pastel highlighters. Fancy dice, while suitable only to some facets of nerdery that enjoy tabletop role-playing games (think Dungeons and Dragons), are available in a dazzling array of designs -- there's even a "Dice of the Month" club.
Don't forget fidget and sensory toys such as Koosh balls or fidget cubes and relaxation aids such as bath bombs and massage oils. For the hard-working engineer, there's also the gift of an ergonomic assessment to help them avoid repetitive stress injuries while hunched over a keyboard.
Eventually your geek will have to put down their hobbies and return to work, probably via video conference for the foreseeable future. When that time comes, our geek advisers recommend a ring light to help them look their best on camera.