Fotolia
Optimize your VM monitoring strategy with these tools
Keeping track of hundreds of VMs and applications can be difficult. However, monitoring tools such as OpManager and vSphere can help admins ensure successful system performance.
VM monitoring is essential to ensuring IT administrators' systems stay healthy and stable, and there are several tools admins can use to improve their VM monitoring strategy, such as VMware's vRealize Suite, Microsoft's System Center and ManageEngine's OpManager. These tools offer a host of monitoring capabilities, such as performance metric monitoring, system health checks, resource utilization and configurations.
Monitoring virtual systems is no easy task. However, monitoring tools help alleviate much of the heavy workload, leaving admins available to perform other system tasks. Native vendors such as VMware offer several products for VM and system monitoring, such as vSphere and Skyline Health for vSAN. However, there are several third-party options available, such as SolarWinds Virtualization Manager, that offer many of the same monitoring capabilities.
Available third-party VM monitoring tools
Third-party VM monitoring tools are a great alternative to native options but choosing between native and third-party vendors is not as straightforward. For example, native VM monitoring tools come with certain limitations, such as the lack of ability to monitor VMs across several systems. Third-party tools offer a solution to this issue, as well as integrated dashboards and reduced costs. However, third-party VM monitoring tools might lack detailed capabilities compared to native options.
To make the decision easier, admins should primarily consider which hypervisor their system relies on. For example, if admins' systems use Hyper-V, they will be better off using System Center. But if admins rely on VMware vSphere or ESXi, vRealize Suite should be the first option. However, if admins use a combination of both Microsoft and VMware technology, third-party monitoring tools such as SolarWinds Virtualization Manager and Veeam One can offer a balance between the two technologies.
Dig into ManageEngine OpManager monitoring capabilities
ManageEngine's OpManager provides admins with network and VM monitoring capabilities while also maintaining delivery of business-critical services. OpManager is primarily a network monitoring platform that tracks network and server resources to prevent fault and performance issues. OpManager can monitor physical servers as well as systems that rely on VMware ESXi, Citrix XenServer and Microsoft Hyper-V, including their VMs and guest OSes.
In addition, OpManager offers graphs and reports for admins looking to get a more comprehensive idea of their network, server and application health. OpManager can monitor Windows and Linux servers by collecting resource metrics such as CPU usage, consumption of memory, disk utilization and I/O. OpManager's monitoring capabilities enable admins to address several virtualization challenges, such as VM sprawl and virtual network congestion.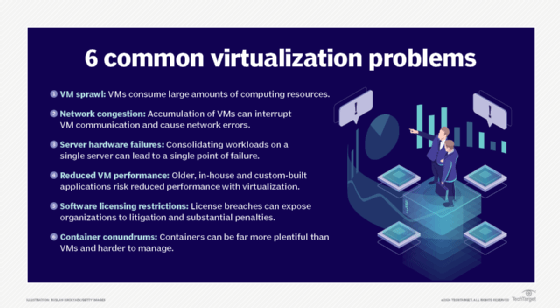 Use vSphere monitoring for system health and performance
VMware's vSphere monitoring platform provides admins with a suite of products that can run, manage, connect and secure applications within their systems and even across clouds. In addition, vSphere monitoring offers several capabilities, such as the ability to create performance metric charts and perform system health checks.
Monitor performance metrics with vSphere performance charts. The vSphere Web Client offers admins access to performance metrics, which can be displayed through charts. These charts provide a display of historical data as well as real-time data from powered-on hosts and VMs.
Perform system health checks. System health checks are integral to ensuring a healthy virtual system. VSphere's monitoring platform offers admins several tools for monitoring system health, such as the vSphere Client or the vSphere Web Client. Both of these tools can monitor processors, memory, storage, power, battery and fans. In addition, vSphere can track the status of software agents and any outstanding issues, as well as keep log files that provide status and activity information of supported VMs.
Skyline Health for vSAN can improve system health
For admins who are primarily VMware customers and use vSAN regularly, Skyline Health for vSAN can help admins identify potential issues and analyze service requests.
VMware Skyline. Skyline provides admins with a way of collecting and aggregating product usage data, such as features, configurations and system performance. Skyline can perform several tasks, such as patch and upgrade verification and cross-application checks.
VSAN Health. VMware vSAN Health is an on-premises offering that monitors a system's general health and performs several configurations and state checks. This helps admins diagnose a host of issues, such as misconfigurations.
Skyline Health for vSAN. VMware's decision to combine vSAN Health with Skyline means admins have a unified product to monitor their virtual systems and components, such as VMs, storage, clusters and nodes. Skyline Health for vSAN also provides proactive analytics for improved system health checks, ensuring systems stay stable and reliable.
Dig Deeper on IT systems management and monitoring