VM performance monitoring tools boost infrastructure insights
Learn how virtualization management and monitoring tools from ManageEngine, SolarWinds and Veeam compare when it comes to features that address system health and performance.
Monitoring VMs in a virtual environment is more important than ever. IT teams need tools that enable them to see both inside the VMs as well as the big picture -- the environments in which their VMs run. Most virtualization vendors offer products that provide this type of visibility. Many third-party vendors offer monitoring tools as well, making it difficult to know which option an organization should choose.
To help with that decision, learn about three third-party VM performance monitoring tools:
ManageEngine Applications Manager
SolarWinds Virtualization Manager
Veeam One
Despite other products on the market, the three vendors represented here provide a good cross-section of the monitoring tools available and what to look for when reviewing third-party products.
The benefits of third-party VM monitoring tools
The monitoring tools virtualization vendors offer can be both effective and useful, especially if they're integrated into the vendor's larger product ecosystem. However, the tools often come at an additional cost, and they're typically limited to their own platforms. For example, VMware tools might be good at tracking vSphere VMs, but they aren't the handiest for Citrix Hypervisor.
Most third-party VM performance monitoring tools support multiple virtualization platforms. As a result, administrators juggle fewer tools, helping reduce costs and simplify management. In addition, these products often integrate with other systems, which isn't always the case with native tools. Third-party tools also reduce the risks of vendor lock-in, while making it easier to migrate from one virtualization platform to another.
Third-party VM performance monitoring tools also often provide more comprehensive reports and visualizations. For example, a tool's dashboard might include summary graphics that offer a quick overview of VM operations, while making it possible to drill into specific details. Some tools also retain historical metrics to help identify patterns and forecast future trends.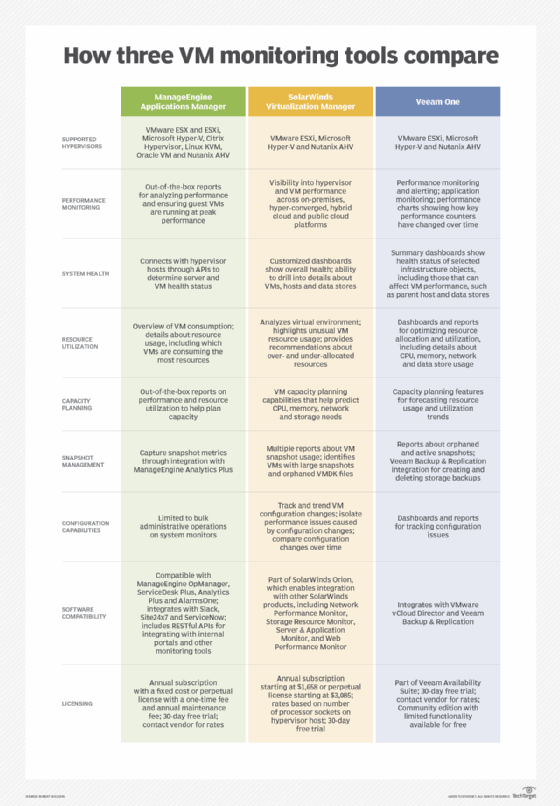 Monitoring tools can help plan capacity, prevent VM sprawl, track snapshots or provide insights across the application stack. In addition, many tools now accommodate modern environments such as Docker containers, cloud platforms, hybrid clouds or hyper-converged infrastructure, making it easier to monitor environments at the application level across different platforms.
With an effective VM performance monitoring tool, administrators have a comprehensive, end-to-end view of the virtual environment -- not only the VMs, but also the resources on which they rely, such as the host server or data stores. The tool tracks key performance metrics such as CPU and memory usage and provides insight into how the system consumes those resources. Administrators can more quickly troubleshoot and resolve issues, while ensuring availability and optimal performance.
With an effective VM performance monitoring tool, administrators have a comprehensive, end-to-end view of the virtual environment -- not only the VMs, but also the resources on which they rely, such as the host server or data stores.
ManageEngine Applications Manager
Applications Manager provides visibility into more than 100 applications and servers and supports all leading hypervisors, including VMware ESX and ESXi, Microsoft Hyper-V, Citrix Hypervisor and Linux kernel-based VM. It offers a set of comprehensive reports based on detailed metrics from the VMs and their hosts. Admins gain visibility into VM resource usage and performance, along with an overview of how VMs consume resources and which VMs consume the most.
Applications Manager connects to VM hosts through APIs that enable the tool to collect health status and performance information about the host and VMs. It notifies admins when resource usage is high or resources become too low.
The ManageEngine monitoring tool provides little support for snapshots or configuration capabilities. The tool's only option for working with snapshots is through its integration with ManageEngine Analytics Plus. Configuration capabilities are limited to bulk administrative operations on system monitors, which are specific to the tool, not to the VMs. However, Applications Manager provides RESTful APIs for integrating with internal portals and other monitoring tools, and it comes preintegrated with Slack, Site24x7 and ServiceNow, as well as with several ManageEngine products, including OpManager, ServiceDesk Plus, Analytics Plus and AlarmsOne.
SolarWinds Virtualization Manager
Virtualization Manager targets only virtualization platforms and supports just three hypervisors: VMware ESXi, Nutanix AHV and Microsoft Hyper-V. Despite its more limited scope, the tool offers comprehensive visibility into the health and performance of these environments, with support for on-premises, hyper-converged, hybrid cloud and public cloud platforms. It offers insights into the VMs, as well as their host servers and storage, making it possible for admins to troubleshoot problems that extend beyond VM boundaries.
Virtualization Manager analyzes the virtual environment, highlights unusual usage patterns and provides right-sizing recommendations. The tool automatically maps VMs to their dependent host, data stores and other related objects for quick insight into how they're related. Admins can drill deeper into each object to view more specific details. Virtualization Manager also provides VM troubleshooting features that help reclaim wasted resources and adjust VM allocation. In addition, the tool includes a capacity planning feature that supports what-if scenarios, such as assessing how capacity would be impacted if a host goes down.
Virtualization Manager also offers extensive snapshot and configurations support. Admins can identify VMs with large snapshots or orphaned VMDK files, or they can view VMs with the most snapshot disk usage. They can also isolate VM performance issues caused by VM configuration changes, as well as track and trend VM configurations. However, integration capabilities are limited to SolarWinds Orion -- a proprietary platform for SolarWinds network -- and systems management software.
Veeam One
As with Virtualization Manager, Veeam One targets only virtualization platforms, with support for the same three hypervisors: VMware ESXi, Nutanix AHV and Microsoft Hyper-V. Veeam One provides a set of comprehensive reports for verifying configuration issues and optimizing resource allocation and utilization. Admins can track changes, plan capacity and determine whether mission-critical workloads are properly protected. In addition, performance charts show changes in key performance counters over time.
Veeam One delivers monitoring and reporting through interactive tools and intelligent learning that enable admins to quickly identify and resolve issues. The tool includes more than 150 prebuilt reports and more than 340 preset alarms for performance monitoring and alerting. Admins can also access summary dashboards that display the health status of the VMs and their hosts and data stores. The dashboards also include information to help optimize resource allocation and utilization, as well as forecast resource usage and trends.
Veeam One also supports application-level monitoring and management, as well as multi-tenant reporting and monitoring. It includes reports for tracking orphaned and active VM snapshots and for viewing details about configuration issues. Admins can delete and create storage snapshots through Veeam One's integration with Veeam Backup & Replication. Veeam One also integrates with VMware vCloud Director. Beyond that, however, Veeam One is fairly limited in its integrations.