Oleksiy Mark - Fotolia
Field service mobile apps offer usability, new features
Field service management software can be a great way to integrate mobile into a service company. Now, cloud-based platforms offer an accessible entry point for smaller businesses.
As field service mobile apps become more robust and cloud-based, adoption grows with small businesses jumping on the bandwagon.
Field service management can range in its capabilities, from scheduling and customer relationship management (CRM) to inventory management and call center functionality. Now, organizations in the service industry can take advantage of advanced technologies, such as augmented reality (AR) and predictive analytics, in web and mobile field service apps, said Jason Wong, research director at Gartner.
"When it comes to mobile and field service, it's been a match made in heaven for a long time," Wong said. "The power of these devices is getting more sophisticated to support a wider range of use cases."
Mobile apps make sense for field service workers because they rely on portability and ease of use. These types of employees are rarely in the office, so mobile is often the best way to equip them with the tools they need, said Harpreet Ahluwalia, vice president of product management at ServiceTitan, a field service management software provider.
Keep it simple
There is wider adoption of field service management products as offerings shift from on-premises applications to software as a service (SaaS), Wong said. Some of the biggest players in the market include TOA Technologies, acquired by Oracle, and Salesforce.com. In the past, field service organizations would often use third-party tools to build mobile apps, but now service providers are including mobile as part of their offerings, said Mark Brewer, the industry director of field service management at IFS, a global software provider based in Sweden.
"It's no longer a case of build your own mobile app, because it's delivered from the service provider," he said.
Since SaaS is easy to consume, it's accessible to small businesses that don't want to run their own servers or worry about maintenance, Wong said.
HomeWiz, a small residential services company in Belmont, Mass., uses a cloud-based field service management tool called MHelpDesk. Technicians access a native mobile app in the field for customer service scheduling and CRM, as well as receiving signatures on invoice estimates. Employees in the office can use a native mobile app or web app on their desktops to track technicians via GPS and communicate with them in the field.
Ease of use was a crucial factor in the adoption of field service mobile apps, said Daniel Oven, a field service technician and marketing director at HomeWiz.
"[MHelpDesk] is a very easy application to put on someone's device," he said. "In a blue-collar industry like ours, you just don't know whether a technician will be with you for two months or two years."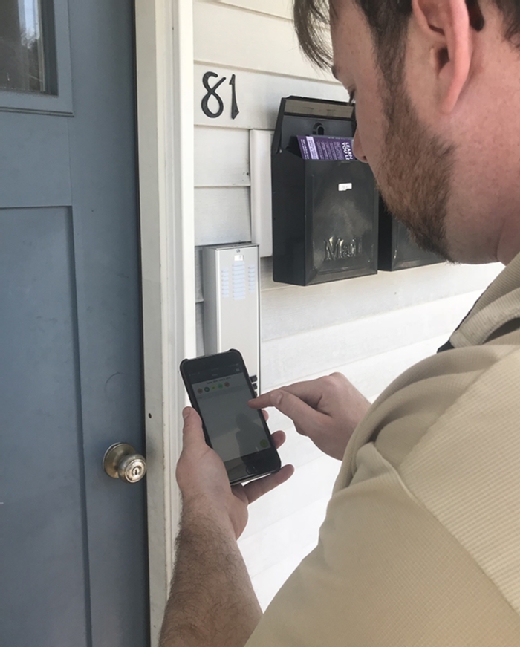 Advanced capabilities of field service mobile apps
The high turnover rate, as well as a shortage of skilled workers, complicates recruitment for many service companies. But technology such as AR aims to fill those gaps by providing AR training demos to immerse new employees in the troubleshooting process and learn how to do their jobs more quickly.
To help field service workers transition smoothly to mobile technology, vendors make it a priority for mobile applications to be as intuitive as possible. ServiceTitan's mobile app, for example, follows a standard workflow for a field service technician. When the user is driving to a job, he or she only has access to driving directions and the recording of the customer's initial call. But as the user moves through the workflow, those capabilities expand to include the ability to upload photos and access inventory information.
Although simplicity is key, field service management vendors look to incorporate more advanced capabilities, such as predictive analytics and IoT sensors.
Technicians at HVAC companies, for example, can use predictive analytics and sensors that can tell them the diagnostics of a piece of equipment and when it will need to be serviced. HomeWiz doesn't use those capabilities yet, but the company is interested, Oven said. Currently, technicians must call technical support for each equipment vendor they work with, which can be time-consuming, he said.
When you're working with hundreds upon hundreds of manufacturers, it's impossible to know about every single one.

Daniel Ovenmarketing director and field service technician, HomeWiz
"When you're working with hundreds upon hundreds of manufacturers, it's impossible to know about every single one," he added.
Field service management vendors often provide these advanced capabilities in native mobile applications, although hybrid apps are becoming more common.
"Native doesn't always mean it's the best," Wong said. "But if you're looking into a high-demand scenario like augmented reality and streaming videos, then hybrid architecture might not be as strong because there's some degradation there."
Plus, native apps' offline capabilities are important for technicians that work in areas with limited connectivity, such as basements and attics.
Challenges of field service mobile apps
Field service mobile apps still present a few hurdles. Cloud-based tools don't offer much control over data security, for instance.
"How safe is everything?" Oven said. "If MHelpDesk gets hacked, or crashes, or goes out of business, what happens to our files?"
For security, ServiceTitan encrypts and tokenizes all of its customer data and runs on Microsoft Azure using its security protocols, Ahluwalia said.
Field service mobile apps can some organizational issues as well. Elderly customers, for example, often struggle with using mobile devices, Oven said.
"You're streamlining your process and making things easier for most of your demographic, but that small portion is really drowning when you put a phone or tablet in front of them," he said.
And although adoption of field service mobile apps is rising, some of their capabilities are lacking. For example, 73% of respondents in a recent IFS study said they did warranty repair work, but only 15% of the total respondents said that the software handled it "very well."
"The field service management applications that come out of the box are great," Wong said. "But for typically larger companies with high-end needs, they might want to build their own custom app."