Halfpoint - Fotolia
Augmented reality in field service: Why FSM needs AR now
Augmented reality can improve field service by empowering technicians with better information. Learn why interest in AR for FSM has grown and what some early adopters are saying.
Equipping field technicians with more accessible, better information seems like a no-brainer, which is why the use of augmented reality in field service has gained such traction recently.
Enterprises engaged in servicing equipment often turn to field service management (FSM). At its simplest, FSM is any system that helps manage off-site technicians, tools, inventory and resources, though the term is primarily associated with FSM software.
FSM software is important to a number of industries, including:
telecommunications,
healthcare,
heavy engineering, and,
property maintenance and factory maintenance.
The software can help any industry that requires workers to be in the field. Managing this mobile workforce and ensuring they perform their duties safely, on time and up to the level that customers expect can be difficult. FSM software is an important means of ensuring all that. And adding augmented reality (AR) promises to make FSM even more effective.
COVID-19 sparks use of AR for field service
Interest in augmented reality for business use is growing generally, and incorporating it into FSM is one prime example.
The use of AR in field service has grown quickly since the pandemic began because a lot more organizations are looking to provide service remotely, said Tuong Nguyen, principal analyst at Gartner. AR can help technicians solve more challenging problems with heads up display instructions or by remotely connecting a person on site with an expert who can virtually watch over their shoulder as they work.
"If you were already using AR, you are scaling up deployments," Nguyen said. "If you were not, then you are looking at how to deploy it."
In other words, the COVID-19 pandemic has sparked a tipping point for using AR to improve field service.
"We deployed augmented reality in our training program primarily because of COVID-19," said Andy Osantowske, director of operations at Robotic Skies, a maintenance provider for unmanned air systems.
The company's training protocols relied heavily on in-person site visits, he said.
"When suddenly that luxury was taken away because of travel and site access restrictions, we needed other options," Osantowske said.
So, Robotic Skies adopted an AR platform from Upskill to fill this gap.
AR helps to solve the immediate issue of keeping the company's training program going, and it has additional benefits around reducing the time and cost involved with travel. In many cases, an expert working from their own office can coach a user in the field who is using the AR software running on a tablet or phone.
This is just the beginning of Robotic Skies' AR journey.
"We have only scratched the surface of AR capabilities for our organization, and we are eager to do more," Osantowske said.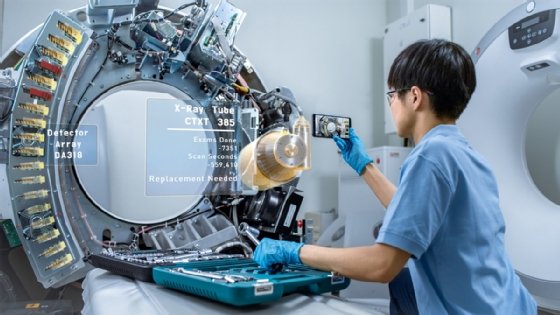 AR capabilities
Some of the most popular AR capabilities include information overlay, knowledge capture and training, said Ramon Llamas, research director with IDC's devices and displays team. Information overlay allows the AR system to present information about the equipment a technician is working on to help streamline the repair process. Knowledge capture enables a technician to capture information showing the current state of a problem or document a repair and then store it in the FSM software. Technicians can also share video of the repair with other technicians who encounter the same equipment.
When suddenly that luxury [of on-site visits] was taken away because of travel and site access restrictions, we needed other options.

Andy OsantowskeDirector of operations, Robotic Skies
Using AR for training is a bit more all-encompassing. It includes tapping into AR applications to pull up a schematic, map or diagram. It could also include collaboration with another expert connected remotely. It's useful to think of these capabilities as parts of a fluid experience, Llamas said.
"It is easy to slide from one use case to another," he said. "Work often calls for different approaches such as bringing in managers, additional expertise or diagrams."
Some of these narrow capabilities are easy to roll out, such as improving collaboration, Llamas said. But a more expansive AR rollout can take several months to set up the documentation, integrate it to work with the FSM software and train technicians. This kind of integration enables technicians to click on a work order to open up an information overlay for solving the particular problem, capture video about the problems into the FSM app, or reach out to the appropriate expert registered in the FSM.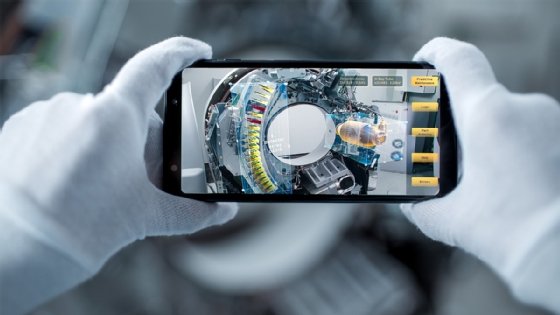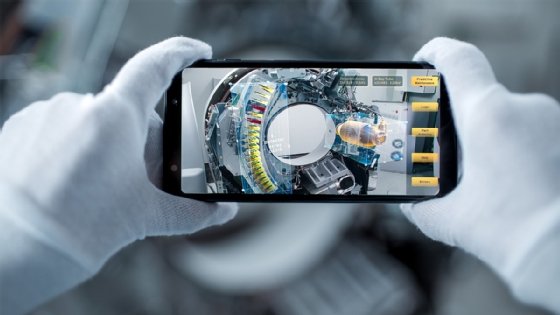 AR for better field service training
Toshiba Global Commerce Solutions worked with CGS, a global applications, learning and outsourcing services company, on an AR implementation. The remote learning program uses augmented reality capabilities to give technicians hands-on experience with the equipment from the home or office.
"With the AR tooling, our technicians have increased hands-on experience and retention that provides an improved service delivery performance," said Brian Osborne, client delivery executive at Toshiba.
Toshiba implemented the program on top of CGS' Teamwork AR software, which helps to organize the course material, calibrate learning experiences for new equipment and update materials on the fly. Toshiba also captures data from its FSM applications about service technician performance that can link service performance data to training engagement.
The biggest challenges were the security and management of user access and content in a global mobile environment, Osborne said. The team also ran into some problems with device and content updates, particularly in rural areas. These updates are best performed via a Wi-Fi connection prior to the service processes.
AR's use for remote field service guidance
One of the most promising use cases for augmented reality in field service is as a means of delivering on-demand expertise.
For example, BID Group, which makes timber processing equipment, has adopted PTC's Vuforia AR software to provide a deeper level of help to their customers and employees remotely.
"The technician on site doesn't have to be the expert all the time because we can now support him through this technology off site," said Chris Wells, senior vice president of service and reliability at BID Group, a large supplier to the wood processing industry, headquartered in Canada.
AR technology makes it easier to find solutions to problems by enabling an expert to see a problem from the perspective of the technician in the field.
"It is easier to find solutions quicker when you see what's going on," Wells said.
AR's instruction overlay capabilities
AR can provide technicians with important support information in their field of view so they can quickly reference support material, while focusing on the equipment they are repairing.
Case Construction Equipment, which makes agricultural and construction equipment, recently adopted Librestream AR software platform to provide these kinds of overlays to its technicians.
"AR provides a detailed and focused guide to processes that are extremely complex or extremely expensive," said Ted Polzer, director of North American product and customer support at Case.
This ensures issues are fixed correctly the first time to bring down time to a minimum.
The company's machinery is growing more and more complex, Polzer said. Some technicians are responsible for supporting every type of product Case has built back to the 1950s. Even longtime technicians find it challenging to keep all the variations in their head while working.
AR can help combat this overwhelm. Technicians use traditional initial diagnostics to first find the critical area to focus on. Then they use Librestream's Onsight AR platform to diagnose and repair the issue more quickly and accurately.
The Librestream software enables the Case technicians go back and forth between using the AR apps running on tablets or head-mounted displays.
"The wearables are great to free your hands for work while other times the phone and tablet may be a more durable option depending on the scenario," Polzer said. "The freedom to choose by user is the true benefit because each person can make the decision of what they are more effective using,"
AR and VR in the enterprise
Whereas virtual reality immerses technicians in a simulated experience and relies on a head-mounted displays (HMDs) for delivery, augmented reality involves overlaying data on top of the real world using an HMD or a smartphone or tablet.
AR is more widely used by enterprises, Llamas said. That's because AR can provide an information overlay to help people solve problems while looking at equipment. Its cousin, virtual reality, essentially overrides the outside world and is not getting as much traction in the enterprise, though it is more popular in the consumer realm.
Tablet or HMD?
The easiest and least expensive way to deploy AR is on phones or tablets, so many companies turn to these first. But interest in using HMDs is growing.
HMDs have an obvious benefit -- technician's hands are freed to do their jobs. Technicians don't have to drop their phone or tablet to do the work and in turn, they don't suffer a gap in attention from looking between the phone and the equipment they are working on.
However, HMDs have several downsides.
They can be costly, organizations may need new hardware, and technicians likely require training to use them, Nguyen said. HMDs are also another resource that IT teams will need to provision, manage, deploy and secure.
However, demand for this equipment is likely to grow as the hardware matures, the ecosystem grows and integration with FSM improves.
"We will see more and more organization and users use HMDs when and where it makes sense," Nguyen said.