alotofpeople - Fotolia
Samsung Galaxy Unpacked highlighted Microsoft partnership
Product integrations unveiled at Samsung Galaxy Unpacked could benefit users of Samsung devices and the Microsoft Office productivity suite.
Samsung's latest integrations between its Galaxy mobile devices and Microsoft Windows and Office could boost the productivity of at-home workers, analysts said.
The latest enhancements included the ability to run Galaxy phone apps on a Windows 10 PC and sync to-do lists between the phone and the Microsoft Office productivity suite. The longtime partners introduced the product integrations this week at the Galaxy Unpacked event that showed off Samsung's latest high-end smartphones.
Samsung synchronized to-do items from its Reminders app with Microsoft's task management application that spans multiple Windows PCs. It also integrated reminder lists between Galaxy devices and Microsoft Outlook and Teams while letting users export notes from Samsung's Notes app to Outlook.
Samsung's announcements included support for Microsoft's new Your Phone app that lets people receive calls from Android devices on their Windows 10 computers. Users would also be able to pin mobile apps to the Windows taskbar and run multiple apps simultaneously.
Responding to a different work environment
Making a reminder or note available on multiple devices at once is helpful to workers who are away from their home offices and have only their smartphones. If they add a suddenly remembered to-do item on the phone, they can address it later on the home PC.
That blurring of the line between work and leisure has become more intense during the COVID-19 pandemic, said Tuong Nguyen, a Gartner analyst. "When you work from home, it seems like you're working all the time, whether you're with friends, family, roommates."
Forrester Research analyst Frank Gillett said Microsoft and Samsung aimed the integrations at the Apple and Google ecosystems. For example, the ability to take calls on both Galaxy phones and Windows 10 PCs is similar to what Apple provides across its tablets, phones and computers. Google provides the option to receive mobile-phone SMS messages on a computer via its Messages for the web service.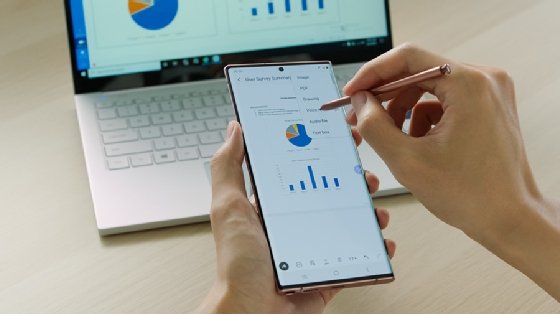 Device announcements
Samsung Galaxy Unpacked was also a showcase for the company's new devices. Samsung introduced the Galaxy Note20 and Note20 Ultra phones, the Galaxy Tab S7 and S7+ tablets and the Galaxy Z Fold2.
The two Note20 phones, available Aug. 21, will boast fast charging, 5G support and AMOLED displays measuring 6.7" for the Note20 and 6.9" for the Note20 UItra. The devices will come with a pen with less latency than previous models. The Note20 will start at $1,000, while the Note20 Ultra will cost $1,300.
The release of high-priced, high-performance phones was slightly out of step with a smartphone market weakened by COVID-19, independent analyst Eric Klein said. With the decline in travel and the increase in remote work, the need for powerful mobile devices is not what it once was.
"There's been a pretty visible decline in [smartphone] sales across the board," he said. "The changes are still incremental, and the price points are still high."
The Tab S7 and S7+, set for release this fall, will cost $650 and $850, respectively, and sport 11" and 12.4" screens. Samsung said the devices would be the first tablets to support 5G in the United States. Buyers will have the option of purchasing a separate "book cover" keyboard with a larger touchpad that supports multifinger gestures.
Samsung said the Fold2 addresses shortcomings in the first Fold, which had inferior foldable screens and a less durable hinge.
Still, it is unclear whether developers would build apps for the expensive device, Nguyen said. Samsung did not announce a release date for the Fold2.
Dig Deeper on Mobile operating systems and devices