ra2 studio - Fotolia
Open source MDM offers flexibility, with challenges
Determine whether the open source route is best when it comes to managing mobile devices. To start, weigh the pros and cons, and then evaluate the market.
Open source platforms may require more effort from IT than commercial products do, but they can also address an organization's specific requirements -- if the company is willing to invest in the necessary resources.
The open source mobile device management (MDM) market is very limited, but there are a few options. If organizations determine that an open source platform is worth the effort, then they can weigh a few different options for open source MDM tools.
Benefits of open source
In addition to the free price tag, open source MDM software offers a great deal of flexibility because organizations can customize and extend the code to meet their specific needs. In some cases, the code can benefit from outside developers who can help identify potential issues and provide innovative input.
Open source code tends to be standards-based and built with well-known programming languages, which makes it easier to integrate the platform with other systems, although this is never a guarantee.
Organizations don't have to jump through all the legal licensing hoops that come with a commercial product or sweat through the potential audits that follow. In fact, the organization can even commercialize the product as long as it complies with the applicable open source license.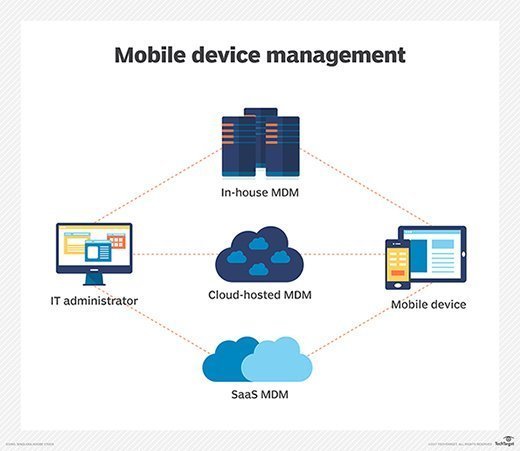 Open source MDM challenges
It can be risky for IT to use a platform that's not actively maintained, which may have security holes lurking anywhere beneath the surface.
An inactive product can also come with performance and compatibility issues, especially as next-generation technologies and new mobile devices continue to emerge. With such a platform, IT must troubleshoot, fix and test the entire codebase without help. IT must also customize and test the platform to ensure that it can meet performance and security requirements.
Open source MDM tools are not always as free as one might think. The platform might require pricey expertise to help customize, deploy, maintain or integrate it with other systems. In addition, product support might require subscription fees, if support is available at all. And open source products typically offer less documentation than a commercial product, so IT might have to dedicate more resources to the project.
Open source MDM tools are not always as free as one might think.
Much will depend on the number of developers that contribute to the project and how extensively the platform is deployed. An open source project that is widely implemented, has thousands of contributors and supports a large user community, for example, can be as stable, reliable and secure as a commercial product.
This is not the case with all open source projects, however. Many organizations prefer to stick with a commercial MDM or enterprise mobility management (EMM) product that comes with technical support, service-level agreements and proper documentation. Typically, vendors test their platforms in a variety of environments. Commercial products also tend to support multiple mobile OSes and offer more features than open source products.
Options for open source mobile device management
WSO2 Inc.'s EMM platform manages Google Android, Apple iOS and Microsoft Windows devices and is one of the most robust open source offerings. WSO2 EMM supports both BYOD programs and corporate-owned, personally enabled device programs. Like any comprehensive EMM platform, WSO2 offers mobile application management (MAM) and mobile identity management in addition to MDM.
The platform handles billions of transactions a day while providing policy-driven management and streaming analytics, according to WSO2 documentation. WSO2 is available as an open source, on-premises platform and as a cloud-based service. The company positions the on-premises version as an IoT product, but it is an EMM platform, and the source code is available for free under the Apache 2.0 license.
Teclib's Flyve MDM is an open source MDM platform that enables IT to secure and manage Android devices. From a centralized web console, IT can deploy security profiles, install and uninstall applications, control and manage security levels, and delete sensitive data from managed devices. In addition, IT can set password complexity rules, activate device encryption, lock devices remotely and carry out other tasks.
Although Flyve MDM appears to be a viable option, it's not as robust as WSO2 EMM, partially due to its lack of support for platforms other than Android. WSO2 EMM's presence on GitHub indicates that the open source community has vetted WSO2 to a higher degree than Flyve MDM.
Other open source MDM tools include Commandment Open Source MDM and MicroMDM. Both of these tools support only iOS and macOS devices, and Commandment Open Source MDM comes with relatively little documentation.