How do I begin network infrastructure planning for SD-WAN?
When gearing up for SD-WAN upgrades, enterprises should take their time with network infrastructure planning. These three steps can help get them started.
If you're looking to upgrade your legacy WAN with software-defined WAN technology, you should consider several...
Continue Reading This Article
Enjoy this article as well as all of our content, including E-Guides, news, tips and more.
things during network infrastructure planning to help with the migration process.
The first step in network infrastructure planning for SD-WAN is to evaluate which WAN connectivity options are available at each local and remote location. Whether the connectivity is Dark fiber, MPLS, Metro Ethernet, broadband, wireless or satellite, it must be considered in terms of cost, as well as the throughput and latency requirements of each remote office.
Your goal should be to meet each location's current minimum data requirements by using two or more intelligently managed WAN links. That will help keep costs down, which will help speed up return on investment. That said, network infrastructure planning should also include research into rapid scalability steps, such as increasing throughput on existing links or adding additional WAN links into the SD-WAN mix.
Decide how to implement the SD-WAN technology
Next, you must consider how to best implement the SD-WAN intelligence at both the corporate or headquarters side and the remote location side of the WAN. The lowest-cost option is to use existing WAN hardware that can be upgraded to support software-defined functionality. If that's not possible, you'll need to determine if hardware-based appliances or virtual server software is best for each location.
For smaller remote sites that likely don't have virtualized servers, hardware-based appliances are best. If your corporate office or remote site already has virtual machines hosted locally on the LAN, however, using a virtual SD-WAN appliance would lower costs and be one less hardware device that IT needs to support.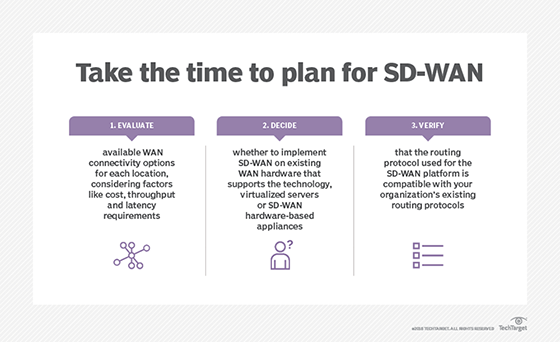 Verify the best routing protocol
Lastly, during network infrastructure planning for an SD-WAN upgrade, you must consider which routing protocol is best for your business. Your corporate office -- and possibly WAN -- is likely already running a dynamic routing protocol. For consistency purposes, it's usually best to use the same routing protocol for the SD-WAN as is being used on the corporate LAN.
Because some dynamic routing protocols are proprietary in nature, take care to verify the SD-WAN option you choose is compatible. If not, you'll have to redistribute one routing protocol into another, which can add unnecessary complexity.
SASE and NaaS are network models with different goals. SASE combines SD-WAN with cloud-based security, while NaaS lets businesses outsource network ... Continue Reading
Prevention is the only line of defense against an extortionware attack. Learn how extortionware works and why it can be more damaging than ransomware. Continue Reading
SMS is being supplanted by RCS to let carriers compete against WhatsApp and Messenger and open new avenues to business messaging. Learn the ... Continue Reading