Definition
NBASE-T Ethernet
NBASE-T Ethernet is an IEEE standard and Ethernet-signaling technology that allows existing twisted-pair copper cabling to exceed the cable's specified limit of 1 Gbps for distances of up to 100 meters. The standard, 802.3bz, established two new speeds, at 2.5 Gbps and 5 Gbps. NBASE-T Ethernet was approved as a standard in September 2016.
NBASE-T was developed to allow organizations to support the faster data transfer rates of 802.11ac Wave 2 -- which exceed 1 Gbps -- without having to replace existing Cat5e and Cat6 twisted pair cabling. The next higher Ethernet standard, 10 Gbps, required cabling capable of supporting very high frequency ranges, which Cat5e and Cat6 cabling cannot. Without the NBASE-T standard, organizations would have had to spend millions of dollars to upgrade their infrastructure.
In addition to allowing organizations to use existing twisted-pair cabling to support faster data transfer rates, NBASE-T supports Power over Ethernet (PoE), which eliminates bottlenecks created by wired Ethernet links to access points. PoE is becoming more important as more devices like IP cameras are added to the network.
Origins of NBASE-T
NBASE-T Ethernet is an iteration of the earliest Ethernet standard, 10-BASE-5, ratified in 1983. That standard, also known as shared-hub Ethernet had a maximum data transfer speed of 10 Mbps. It was engineered to maximize the transmission speed of LANs anchored by copper-based cabling. During the late 1990s, the fate of copper cabling was in doubt, as network designers evaluated whether or not asynchronous transfer mode (ATM) -- which ran almost exclusively on fiber optic cable -- would replace Ethernet for higher-bandwidth networking. The speculated replacement of copper cabling never took place, ultimately prompting the evolution of faster data transfer rates over twisted-pair cabling.
How NBASE-T Ethernet works
The amount of data transmitted in digital communications is measured in symbols. A symbol can be used to encode multiple bits. In 10 GbE, each wire pair in twisted-pair cabling must transmit 800 million symbols per second; a new symbol must be transmitted in a little more than a billionth of a second. Cabling performance must be very high to support this rate of transmission -- up to 500 MHz. Cat 6 cabling, by contrast, has a frequency range of up to 250 MHz.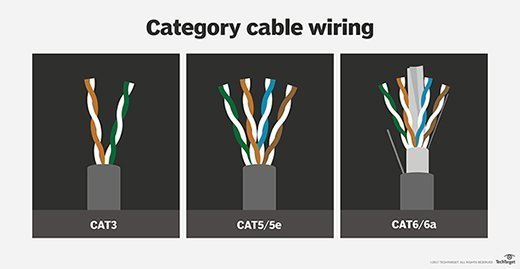 NBASE-T uses a technique to downshift the signaling rate used in 10 GbE to either one-quarter (2.5 Gbps) or one-half (5 Gbps) the rate. This modification allows existing copper cabling to handle the higher speeds.
NBASE-T Alliance
The NBASE-T Alliance is a consortium founded in 2014 by Aquantia, Cisco, Broadcom and more than 40 other organizations to promote 2.5 and 5 GbE. The consortium appears at conferences and hosts interoperability demonstrations and exhibits. The Alliance compiles a searchable list of interoperable products ranging from NIC offerings to NBASE-T Ethernet switch products and other NBASE-T Ethernet systems.
This was last updated in
October 2017
Continue Reading About NBASE-T Ethernet
Dig Deeper on Network Infrastructure