Rawpixel - Fotolia
How cloud network architecture can redesign the enterprise edge
Networks are changing at the edge, and maintaining edge connectivity is crucial. Cloud network advancements are transforming connectivity options, as well as WANs and SD-WANs.
Traffic and mobility are two major network areas growing rapidly and continuously, and various cloud network architectures are catalysts for this rise.
A recent IHS Markit survey of 292 North America-based network professionals explored the changing needs for enterprise edge connectivity and the transformation of enterprise IT architectures. The survey looked at WAN and software-defined WAN (SD-WAN) differences at the network edge, reasons for traffic and bandwidth growth, and the increased adoption of cloud network architectures.
The survey also dipped into best practices companies use for improving enterprise edge connectivity as networking technologies evolve -- and technologies that can advance these requirements. For example, an SD-WAN and multi-cloud partnership can lead to improved efficiency and visibility at the edge.
IHS found certain functions for application centralization that require low latency will move to the network edge on shared compute platforms, such as universal customer premises equipment. Mobility sparked the flow of more centralized applications, as business demographics changed with an increased number of remote employees.
Hybrid, multi-cloud network architectures transform the network edge
By the end of 2019, 51% of network professionals surveyed said they will use hybrid cloud, while 37% to adopt multi-cloud for application delivery. Respondents claimed hybrid cloud is a steppingstone to multi-cloud.
The primary difference between hybrid and multi-cloud is hybrid cloud environments encompass multiple clouds that are singularly managed, while multi-cloud environments have multiple clouds managed with separate tools.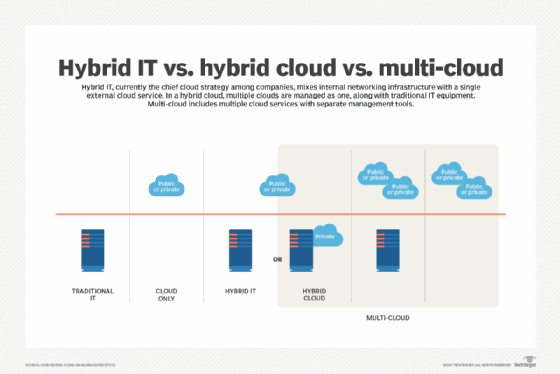 According to the survey, servers in enterprise data centers can benefit from a hybrid cloud model's centralized IaaS because it offers agility, stability and simplified management. Also, hybrid cloud can make the on-demand service of cloud network architectures available within data centers.
Hybrid clouds can contribute to major traffic growth at the edge, however, which can lead to slower overall performance. While cloud services are a leading cause of traffic growth, they follow behind data backup and storage. Because of this growth in traffic, IHS said enterprises began adding more WAN capacity, in addition to adopting SD-WAN.
Changes in WAN, SD-WAN at the network edge
Both WAN and SD-WAN evolved and continue to evolve as networks and edge connectivity requirements change. And, as bandwidth needs grow, IHS said companies will increase provisioned WAN bandwidth by 30% annually.
Companies that deploy SD-WAN use more than half of the bandwidth amount that traditional WANs use, so their bandwidth needs increase at double the rate, IHS said. But the maturation of SD-WAN led 66% of the survey respondents to indicate they will deploy SD-WAN by the end of 2020.
Overall, SD-WAN can improve application performance, simplify management and reduce overall costs, and this remains a driving factor in why enterprises adopt SD-WAN. SD-WAN can also benefit enterprises looking to gain a multi-cloud environment because SD-WAN offers analytics for end-user behavior, enhanced security and centralized management.
SD-WAN also offers reliable access to data and applications for multi-cloud environments. Increased maturation and adoption of SD-WAN could benefit cloud network architectures, IHS said.
This was last published in
April 2019