kromkrathog - stock.adobe.com
Top networking trends in 2019 to resurface in 2020
Recapping the top networking news stories of 2019 could provide a glimpse into the future and reveal some of the top networking technology trends of 2020.
Another year, same old networking trends -- sort of. In 2019, software-defined WAN, network automation and multi-cloud networking remained top networking trends. Other prominent trends in 2019 included AI, network management, edge computing, Wi-Fi 6 and, of course, 5G. Clearly, some of these technologies are more fully baked than others.
By looking at SearchNetworking's top news stories of 2019, we can track current trends and get a glimpse into networking trends for 2020.
For instance, many news stories reflected how networking vendors are intently focused on software-defined WAN (SD-WAN) to make money as customers spend less on data center technology and move workloads off premises to the cloud. At the same time, more cloud-based workloads drive the need for SD-WAN with security and WAN optimization.
Another networking trend involves technology for managing connections to multi-cloud environments. In particular, networking vendors are looking to integrate their products with AWS and Microsoft Azure.
Acquisitions set the stage for 2020 and beyond
In other networking news, acquisitions were a recurring theme throughout 2019 as vendors looked to augment their product portfolios or otherwise improve their position in the market. Just some of the announced and completed acquisitions in 2019 included the following:
Juniper Networks acquired wireless LAN (WLAN) vendor Mist Systems for $405 million. Juniper is integrating Mist's AI and network management analytics, filling a hole in Juniper's campus portfolio.
Extreme Networks acquired Aerohive for $272 million, largely for Aerohive's cloud-managed Wi-Fi, network access control technologies and its footprint in several markets where Extreme was absent.
In July, Cisco said it would acquire Acacia Communications for $2.6 billion. The deal, expected to close in the first half of 2020, will make Cisco a direct supplier of optical interconnects for the data centers of carriers and service providers.
As you can see, networking vendors are constantly jockeying for market prominence, whether they're filling gaps in product portfolios or planning for future trends. As for emerging networking trends in 2020 and beyond, keep an eye on the following:
the fusion of 5G and SD-WAN and what the two technologies could do for branch office automation;
Secure Access Service Edge, a cloud security strategy that aims to connect and safeguard devices that disperse data outside of the private data center; and
AI's influence on network management and network security products.
In the accompanying timeline, see how the top networking news items of 2019 could carry over into the top networking trends of 2020.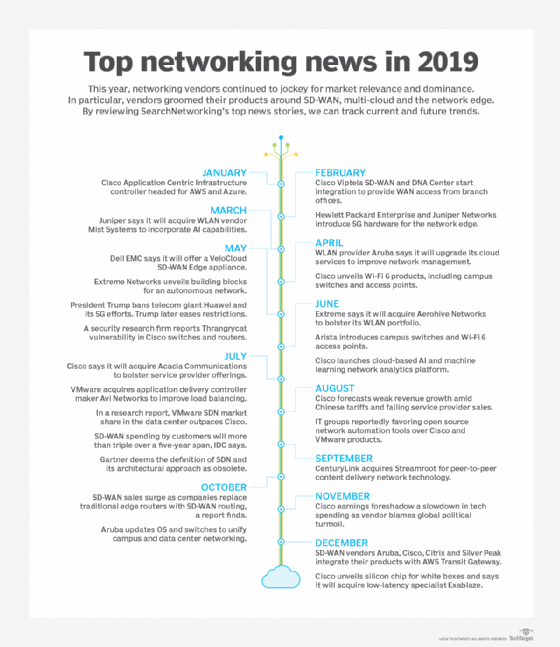 This was last published in
December 2019