Evaluate
Weigh the pros and cons of technologies, products and projects you are considering.
Network management and monitoring top of mind for IT teams
Network management and monitoring will take center stage in 2019, as IT professionals feel the pressure to monitor network devices, traffic and performance.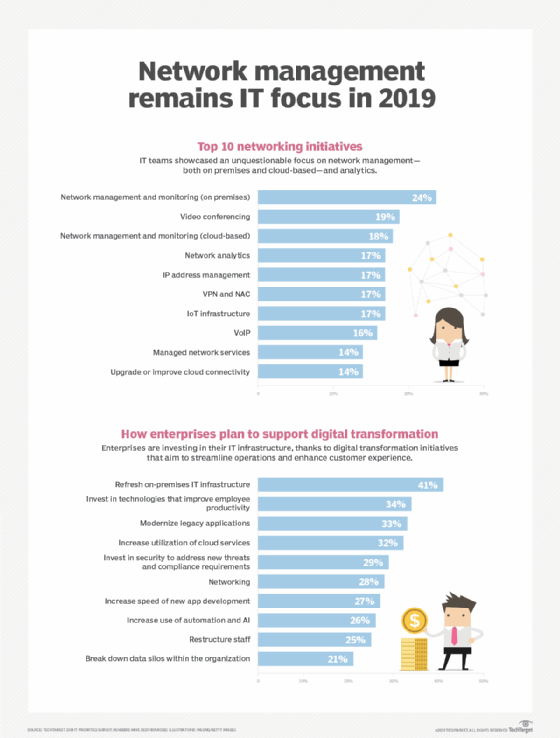 Network management and monitoring is nothing revolutionary. IT teams always need to reliably configure devices, troubleshoot issues, monitor network performance and authenticate user access -- and 2019 appears to be no different.
Network management and monitoring implementation was the top-ranking enterprise networking initiative this year, according to the results of TechTarget's 11th annual IT Priorities survey, which asked 624 IT professionals about their 2019 IT projects and initiatives. Other leading networking initiatives included projects involving video conferencing, network analytics and managed network services.
As network traffic surges and security threats loom, enterprises need to have management tools in place that can provide thorough network visibility and security. But the available deployment options and hype around advances in network management -- like cloud-based monitoring and intent-based networking, for example -- complicate the decision-making process.
In this year's survey, IT professionals showed a slight, but noticeable, preference for traditional on-premises deployments -- perhaps deeming it more reliable and secure than cloud-based management. But they clearly placed a high value on network management no matter where it is located -- prioritizing both options above other high-ranking survey contenders, like VPNs, IoT, multi-cloud connectivity and voice over IP.
Although intent-based networking, machine learning and artificial intelligence each play a role in modernizing and automating network management and monitoring, these emerging technologies garnered little interest among survey respondents. Instead, most IT teams said they planned to implement network analytics and IP address management and monitoring -- in the form of domain name system and Dynamic Host Configuration Protocol.
Outside of networking-specific plans, survey respondents ranked automation and AI as big priorities. In addition, many enterprises said they expect to upgrade their IT infrastructure in 2019 -- largely in support of their digital transformation strategies -- and will use AI and automation to add an extra level of support. Two main drivers behind these changes were improving employee performance and productivity and streamlining operations and efficiency.