Cisco: Cloud computing workloads to skyrocket by 2021
By 2021, Cisco says, cloud computing workloads will make up the lion's share of data center traffic as enterprises expand security, IoT and other activities in the cloud.
Cloud computing workloads continue to skyrocket and will account for 95% of all data center traffic by 2021, according to Cisco's most recent Global Cloud Index study, released this week. The vendor said global cloud data center traffic will more than triple in the next three years, rising from 6 zettabytes in 2016 to 19.5 zettabytes by 2021.
The rapid growth of cloud computing workloads is due in part to the expanding use of enterprise resource planning, digital enterprise applications and collaboration software. In the study, Cisco said security concerns that formerly hindered the extent of cloud adoption have diminished, further contributing to the increase in cloud computing workloads.
In addition, IoT and related systems, encompassing such operations as connected healthcare and digital utilities, have further fueled the growth in cloud traffic. Cisco said IoT connections are projected to reach almost 14 billion in 2021, more than twice as many as there were in 2016.
Hyperscale data centers to become more dominant
The Cisco report, the seventh annual, also highlighted the increasing role of hyperscale data centers, projecting that the number of such centers will grow 85% in the next few years, from 338 in 2016 to 628 in 2021. Sixty-nine percent of data center processing power, 65% of storage and more than 50% of servers and traffic will be concentrated in these mammoth facilities, Cisco said.
Hyperscale and webscale data centers -- anchored by low-cost white box switches and centralized SDN controllers -- may also be where much of the industry's next wave of innovation will lie, at least according to a recent report issued by Gartner.
"Data center application growth is clearly exploding in this new multicloud world," said Kip Compton, vice president of Cisco's cloud platform and solutions group, in a statement.
Among cloud service models, SaaS remains the most popular, according to the cloud computing workloads report. By 2021, 75% of total cloud workloads and compute instances will be SaaS. An additional 16% of workloads will be infrastructure as a service while 9% will be platform as a service.
The report also found that by 2021:
Of all cloud workloads and compute instances, 73% will be in public cloud data centers, up from 58% in 2016.
Big data will represent 20% of traffic within data centers, up from 12% in 2016.
Video streaming will represent 10% of traffic, up from 9% in 2016.
Video will represent 85% of traffic from data centers to end users, up from 78% in 2016.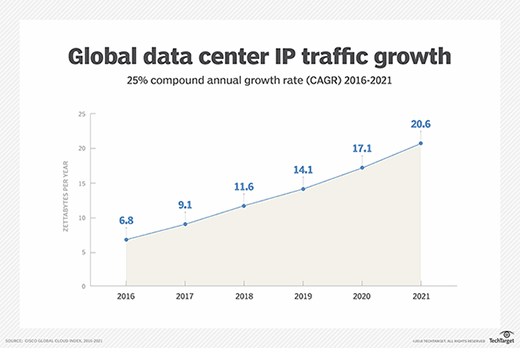 Cloud shift continues to accelerate
Cisco's report is just the latest confirmation of how quickly cloud computing is reshaping enterprise networking. IDC, for example, said public cloud spending grew almost 30% in the 12-month period between June 2016 and 2017 as enterprises move more of their workloads to external data centers.
"Public cloud adoption is accelerating in large part as enterprises recognize the cloud has become the launchpad for virtually every new IT innovation in the last 24 months," said Frank Gens, IDC's senior vice president and chief analyst, in a statement released with the November report.
Still, mixing and meshing both public and private clouds can be a challenge for enterprises. To that end, IT organizations must balance their own underlying architectures and operating strategies with those of their cloud providers'.
Fortunately, a slew of multicloud management products exist, which can help reduce inefficiencies associated with configuring and maintaining policies. Among other capabilities, those tools can help mesh standards and policies into multicloud environments regardless of the underlying architecture or software.
Dig Deeper on Cloud and data center networking