As 2018 IT budgets rise, network upgrades become priority
A new TechTarget survey reveals network upgrades in 2018 are an amalgam of legacy and emerging technologies, as Wi-Fi fever spikes and network automation efforts grow.
Technologies that are as fundamental as virtual private networks and as groundbreaking as intent-based networking are among this year's network upgrades for IT organizations, according to the 2018 TechTarget IT Priorities survey.
The 10th annual IT Priorities survey tracked the responses of more than 1,300 enterprise IT respondents in North America. We analyzed the responses of 228 self-identified networking professionals and confirmed they're not just interested in basic networking technologies, like VPNs and network access control (NAC) for remote access. They're also looking into Network automation and intent-based networking -- developments that could dramatically reshape the networking industry overall.
In addition, many respondents said they have major projects on their lists concerning multi-cloud management and access, the upcoming Wi-Fi 82.11ax standard and artificial intelligence. Finally, network upgrades remained high in developments associated with software-based networking, which includes approaches such as network functions virtualization (NFV), software-defined networking and other software-centric functions.
High-level network upgrades span mobility, network automation
Networking professionals are casting a wide net of high-level initiatives they want to complete in the next 12 months, reflecting the industry's need to modernize operations to keep track of increasing user and traffic demands. To that end, 44% said their top goal was to implement upgrades across their networking foundations -- spanning everything from provisioning new servers to enabling new analytics capabilities.
More specifically, 23% said they wanted to beef up their network automation capabilities, while 21% said they plan to focus on ways to better integrate their on-premises systems with cloud services. Mobility projects ranked fourth, with 19% saying they plan to upgrade their mobile frameworks, while unified communications -- including video conferencing -- received the nod of 18% of survey respondents.
Among other network priorities, here's what's top of mind for respondents in 2018.
IT budgets on the rise in 2018. Perhaps reflecting the key role IT departments now play in helping organizations meet their overall business objectives, almost half of our survey's respondents said their IT budgets would increase in 2018.
Some 17% said their budgets would grow by more than 10%; another 23% reported their budgets would increase from 5% to 10%. Only 10% said their budgets would decrease, while 20% said their 2018 budgets would remain the same from 2017 levels.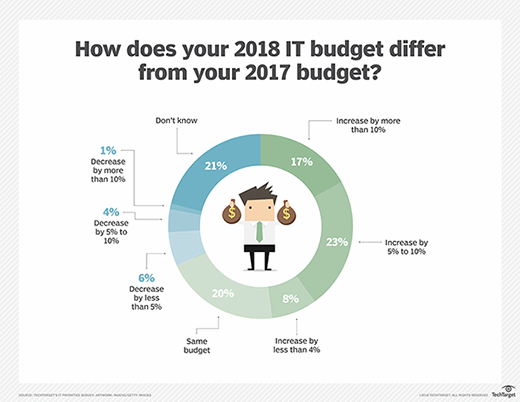 Keeping tabs on the cloud. Improving their network management and monitoring capabilities was the No. 1 networking-specific initiative for 37% of respondents. That's not surprising, considering the increasing levels of traffic flowing through the network and the reliance most organizations now have on services and applications residing in external data centers operated by cloud providers.
Indeed, as the 2018 survey indicated, some 42% of respondents said they are already using some sort of cloud-based SaaS offering, with almost a quarter using multiple cloud providers. As a result, enterprises said they must add management and monitoring software that extends their visibility throughout their networking infrastructure -- both internally and externally.
Back to the basics. Some 28% of respondents said building up their VPN remote access and NAC security capabilities is among their top network upgrades. As companies add more remote locations and more mobile workers, ensuring a robust VPN framework -- as well as strong endpoint security through NAC -- is more important than ever before.
Domain name system (DNS) and Dynamic Host Configuration Protocol initiatives also ranked high, with 24% of those completing the survey reporting they'd fortify their IP addressing and management capabilities in the coming year.
Next-gen Wi-Fi moving into spotlight. Even as enterprises continue to deploy 802.11ac Wave 2 Wi-Fi in their operations, attention is now turning to the next iteration of the Wi-Fi standard: 802.11ax. Although the new standard is still being formalized by the Institute of Electrical and Electronics Engineers, its features are already well-known. Those features include higher speeds -- up to 10 Gbps -- and bidirectional multiple-user MIMO. The standard's new capabilities are expected to benefit internet of things in installations, allowing more devices to connect to .ax-compliant access points.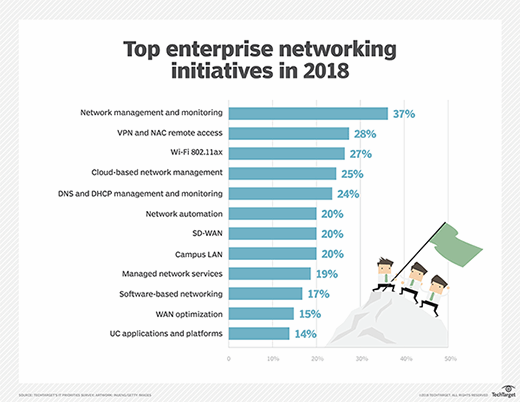 It's becoming automatic. Last year, we saw the introduction of new automation tools and an increasing focus on software that can perform functions that traditionally require manual intervention and arcane command-line interface (CLI) coding. One-fifth of respondents said they plan to invest in automation software in 2018, with 9% specifically citing software that can support intent-based networking. IBN makes it possible to abstract CLI in favor of a graphical user interface, through which engineers can determine what functions they want to occur on the network without having to program each device individually.
WAN and LAN focus. Software-defined WAN didn't even exist only a few years ago. Today, it is quickly becoming the connectivity medium of choice for enterprises looking for ways to improve their branch-office communications. The TechTarget IT Priorities survey found 20% of networking professionals are interested in deploying SD-WAN in 2018, as they search for ways to gain additional bandwidth and quality-of-service benefits without having to pay for expensive MPLS links.
Beefing up the campus LAN is also a compelling proposition for IT. As the performance gap between data center networks and campus LANs continues to narrow, enterprises are eyeing the LAN as a more logical place to host and manage mission-critical applications.
Managed services gain traction. Respondents' network priorities this year include a growing interest in managed network services, as networks become increasingly complex and the number of devices to connect to enterprise networks continues to balloon. Outsourcing network management to a service provider or a third-party provider encompasses a broad range of offerings, among them security services, traditional managed services like MPLS and newer options like SD-WAN and virtual network functions.
Software goes here and here and here. The march toward software-centric network upgrades continues, encompassing everything from SDN and NFV to using open source operating system software as a replacement for proprietary platforms. Seventeen percent of respondents said they are working on plans to make their networks more software-enabled.
Emphasis on collaboration, conferencing. UC applications and platforms are of increasing importance to IT, as the availability of collaboration and communications tools becomes more critical. Some 14% of respondents said they plan to add such platforms and applications, most likely with the bulk of their attention directed to the cloud. UC-as-a-service providers are able to deliver new features, services and application updates in minutes, rather than days, to upgrade an on-premises UC platform.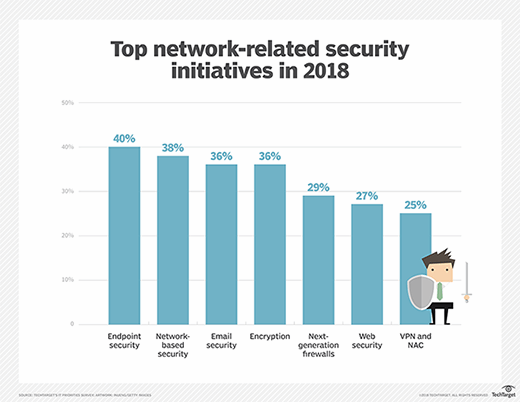 Last, but certainly not least: security. Because security is always a top concern of networking professionals, we asked separately about the top security initiatives our survey respondents plan to undertake in 2018. The top three -- endpoint security (40%), network-based security (38%) and buttoned-down email and encryption strategies (36%) -- were followed by next-generation firewall initiatives at 29%, web security at 27%, and VPN and NAC at 25%.
Dig Deeper on Cloud and data center networking