Enterprises won't reap benefits of 5G until 2020s
The first commercial 5G deployments are scheduled for later this year. One report's 5G timeline predicts many enterprises won't reap the benefits of 5G until the mid-2020s.
The deployment of 5G cellular technology won't significantly affect most enterprises until the mid-2020s, when new business models and use cases related to the internet of things, smart cities and virtual reality are expected to emerge, according to a recent analyst report.
Fixed wireless broadband and mobile 5G networks are the primary use cases on the report's 5G timeline through the early 2020s, with the first commercial deployments scheduled for late 2018. While the benefits of 5G networks include fiber-like speeds with extremely low latency, 4G LTE will remain more than sufficient for most business uses, said report author Chris Antlitz, a senior analyst at Technology Business Research Inc., based in Hampton, N.H.
But 5G still holds great promise for enterprises, which analysts said will benefit from 5G's fundamentally new architecture. The new model -- combined with submillisecond latency -- should unlock the full potential of technologies related to internet of things (IoT), artificial intelligence, augmented reality and virtual reality.
Between 2020 and 2025, Antlitz said, "you're going to see many new business cases and use cases for 5G come into view." Large enterprises in the Fortune 2,000 will be the first to innovate with 5G technologies during that five-year period, with more widespread enterprise adoption between 2025 and 2030, Antlitz said.
Use cases involving autonomous vehicles and remote surgeries -- for which the extremely low latency provided by 5G will be crucial -- should emerge after 2025.
5G timeline varies by carrier, country
Only around 25 of more than 500 network operators worldwide are actively moving toward the commercial deployment of 5G at this point, according to Antlitz. The next-generation network is expected to see mainstream adoption among operators by around 2025. The report's 5G timeline runs through 2030.
The technology is available; the problem is the business case is not there. And until that emerges, we are not going to see 5G take off in a massive way.

Chris AntlitzTechnology Business Research Inc.
Service providers in the United States, China, Japan and South Korea are leading the early charge toward 5G, with capital expenditures in those four countries projected to account for more than 85% of the total globally through 2020, according to the TBR report.
Verizon plans to introduce 5G fixed wireless broadband -- which will use 5G radio signals to deliver internet to homes and businesses -- in three to five U.S. cities in late 2018, starting in Sacramento, Calif. AT&T will launch mobile 5G networks in a dozen cities around the same time, although the first 5G smartphones won't be available until mid-2019.
Sprint and T-Mobile, meanwhile, have both announced plans for nationwide 5G mobile networks: Sprint in the first half of 2019 and T-Mobile by 2020, after some initial deployments in late 2019.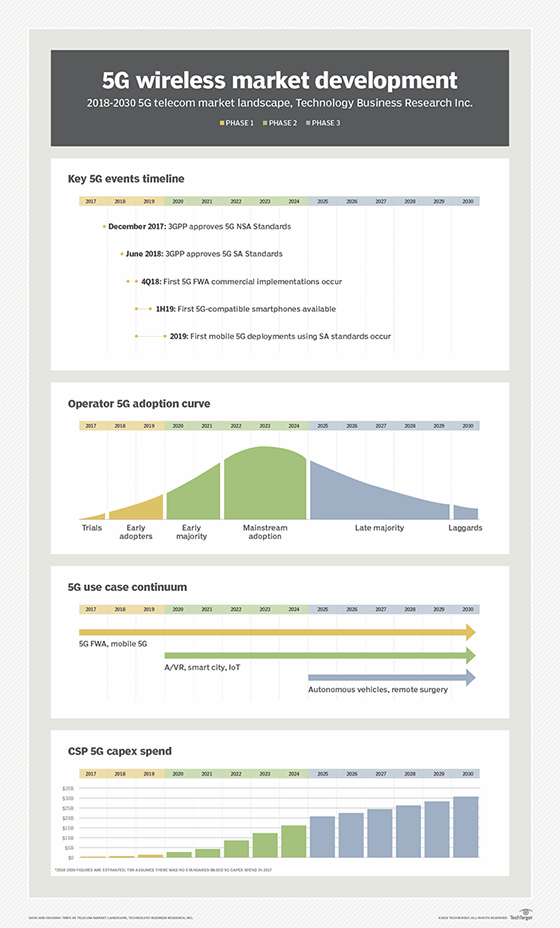 New business models vital to success of 5G timeline
Network operators are expected to spend more on 5G networks every year for the next decade. Global capital expenditures will grow from $200 million in 2018 to $2 billion in 2020, $20 billion in 2025 and $30 billion in 2030, according to the TBR report.
It's not yet clear how the benefits of 5G technologies will generate additional revenues for the telecommunications industry, although they should make delivering internet services cheaper. Even though 5G networks will transmit data up to 10 times faster than LTE networks, the latter is already so speedy that end users likely won't notice a difference.
The industry's 5G revenue problem could be solved by the development of use cases and business models that take advantage of the benefits of 5G, including low latency and network virtualization functions for projects related to IoT, smart cities and virtual reality.
The economics just don't make sense yet for 5G, Antlitz said. In part, that's why the next-generation networks won't be relevant to most enterprises until the mid-2020s based on TBR's 5G timeline.
"The technology is available; the problem is the business case is not there," Antlitz said. "And until that emerges, we are not going to see 5G take off in a massive way."
Dig Deeper on Mobile and wireless networks