Examine the requirements for 5G core networks
The 5G core network will support millions of devices that need high-speed communication and data processing. Learn what other capabilities are required for 5G deployment.
The migration to a 5G native core is a key challenge for most mobile operators as they roll out new, high-speed fifth-generation services. The 5G core is likely to be an evolution from the existing 4G infrastructure, as suppliers offer new microservices-based functionality, including network slicing and improved support for IoT devices.
Proponents of 5G wax poetic about its virtues, including its support for high-speed data -- 1 GB and beyond -- network slicing, IoT enablement and flexible deployment of new services. Despite the hype, 5G deployments are real, although they will likely roll out over the next five to seven years in an evolutionary fashion.
5G technology is in its infancy, and standards are still evolving. The initial implementations of 5G will be in large cities or for national events, like the Olympics. Another 5G business case is for fixed broadband services to compete or complement existing Ethernet services. The high-speed 5G services will require extensive -- and expensive -- fiber buildouts and three to four times the number of radio access networks (RANs) as compared to 4G.
Defining the functions of the wireless core
The wireless packet core unifies voice and data on an IP architecture, which enables operators to offer and control a full range of services for their consumer and business customers. The network core authenticates devices and tracks their connections across the network. This provides centralized control for the RAN and interfaces to the operational and business support systems.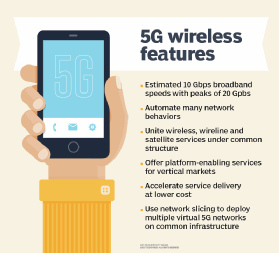 Discrete core functions include routing, quality of service, deep packet inspection and a range of security functions, among others. Core architecture provides for the separation of the control plane, the data plane and the subscription management functions.
Requirements for 5G core design
The requirements for 5G core networks are typically defined by high-speed data services and massive scale of devices connected to future 5G networks. 5G core network suppliers tout the scalability of their user and data planes to flexibly manage peak data capacity with millions of connections. For operators with existing 4G networks -- which is the vast majority of operators -- the smooth migration to 5G and the interoperability with existing 4G services are critical.
Requirements for 5G core networks include significant enhancements in data processing to control high-speed communications and network slicing.
The 5G core network -- per standard specifications -- represents a complete rearchitecting of the control and data plane functions. It includes network slicing capabilities, which enable operators to virtually isolate specific customers, applications and device types and provide distinct levels of service and security. Software-defined networking controllers provide the centralized control functionality.
The 5G core network will comprise newly designed microservices running on container-based platforms -- to improve scale and flexibility -- with so-called cloud-native architectures. This enables core network functions to be deployed in any private or even public cloud location. Operators can use open APIs to capitalize on open software ecosystems and, in theory, rapidly deploy new applications.
5G core suppliers
Leading wireless suppliers -- including Ericsson, Huawei and Nokia -- are in the lead for 5G core implementations. Other suppliers with wireless core-specific offerings include Affirmed Networks, Cisco, Oracle and Mavenir. 5G core network software will run on open network functions virtualization infrastructure hardware -- generally, x86 servers -- with support for OpenStack and VMware NFV implementations.
Operators prioritize RAN and data processing enhancements
Investments in 5G are in their early stages, with its rollout proceeding gradually in five to seven years. Most operators are currently prioritizing 5G investments in the radio access and backhaul portions of their network to support higher data speeds. This migration mandates tight interoperability between existing 4G and emerging 5G core networks, as almost all providers will have both 4G and 5G networks running concurrently.
5G core architecture is significantly modified from the 4G architecture -- it splits, merges and adds core functions to better separate the control and data planes. Requirements for 5G core networks include significant enhancements in data processing to control high-speed communications and network slicing. Suppliers claim this processing requirement will be offset to some degree by more efficient network virtualization in the rearchitected core network.
The migration to the 5G core is likely to be challenging due to emerging standards and the complexity of the 4G-to-5G transition. Multivendor 5G core implementations will be possible with the clear separation of control, data and subscriber functions. Open APIs will enable customization, but the lack of a viable independent software vendor ecosystem will inhibit innovation.
This was last published in
April 2019
Dig Deeper on Network Infrastructure