How 5G deployment will affect enterprise network hardware, software
Enterprise network architects can start thinking about 5G deployment now, focusing on mobile usage, real-time communications and 5G-capable network equipment.
For most organizations, IT teams will adopt the fifth generation of cellular technology in two different ways: mobile and fixed wireless broadband. Because most 4G to 5G upgrades happen within the mobile carrier's network, many enterprise network architects forget they have some work to do, as well.
In this article, we'll look at the effect 5G deployment will have on typical corporate networks, while also exploring what hardware, software and services enterprises will need to support this emerging technology.
When the topic of 5G comes up in conversation, people almost always bring up the singular benefit of improved network throughput. Indeed, 5G deployments are beginning to show impressive numbers many times greater than those of current 4G networks.
That said, another key 5G benefit people largely ignore is lower latency. For corporate users, low latency is truly what's been missing from a mobile workforce perspective. Real-time communications have become essential tools for any mobile or remote worker. The problem is the current generation of wireless broadband can suffer in the latency department -- to the point where audio and video streaming begins to stutter and stumble. With the vast latency improvements in 5G technology, most real-time apps should work identically, regardless of whether the employee is at the corporate office or waiting at a bus stop two towns over.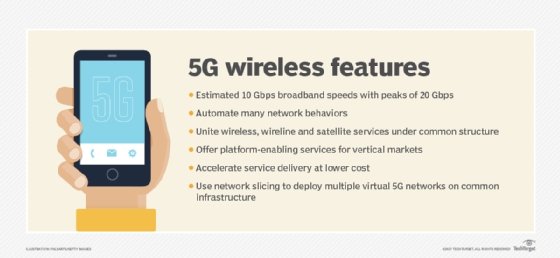 Three ways 5G affects real-time communications
The realization that real-time communications will operate better with 5G is important information for network architects for the following reasons:
First, someone is more likely to use an app that works reliably. Thus, enterprises should plan for a significant spike in mobile unified communications and collaboration usage. That means IT teams must ensure servers -- and connectivity to those servers -- have ample headroom in terms of CPU and data throughput consumption, both internal and external to the corporate LAN. If extra capacity isn't available, it may be time to consider some infrastructure or internet service upgrades to eliminate any potential bottlenecks.
Next, 5G deployment will become a great option for remote offices in a fixed wireless broadband setting. Again, IT teams need to consider a few things here. First, they should evaluate 5G fixed wireless as a primary link in many deployments. For many remote locations, 4G Long Term Evolution traditionally didn't provide enough throughput and latency. Thus, IT often relegated it to a backup circuit role. But with 5G, many offices can function identically to fixed-line options -- ideally with lower monthly costs.

Software-defined wide area networking (SD-WAN) to remote office locations may also be a more attractive alternative once 5G rolls out nationwide. Traditionally, locations that couldn't access multiple fast and reliable broadband options steered away from SD-WAN. But when 5G becomes available, it will change the game in terms of WAN performance and resiliency. Thus, network engineers should be on the lookout for how to replace their current remote office WAN hardware and software with 5G-capable routers and firewalls that include software-defined technologies.
Last, consider the fact that 5G deployment opens the door to several revolutionary everything-connected projects à la IoT. IoT devices and sensors will soon be able to move outside physical corporate walls, yet maintain the speed and reliability needed to perform a growing number of machine-to-machine data collection and analytics tasks. Combined with ever-increasing mobile workforce numbers, the addition of IoT devices will again increase the need for network and internet throughput.

Additionally, don't forget someone must be responsible for managing and securing the growing number of IoT and mobile devices. This is where unified endpoint management (UEM) and security-as-a-service tools will become an absolute necessity. UEM can help maintain endpoint health from a physical standpoint, all the way to how it's performing across the network at application-level granularity. Security-as-a-service tools will help streamline policy enforcement of mobile devices that reside on the internet, while also diverting security-based data flows away from the corporate network.