tasssd - Fotolia
Cisco Meraki Go chasing Best Buy customers
The latest Cisco Meraki Go products cost as little as $149 -- a price that could attract Best Buy customers.
LAS VEGAS -- Cisco has introduced a cloud-managed Wi-Fi system that's cheap enough to attract Best Buy fans in the small business market.
The latest addition to the Cisco Meraki Go portfolio includes indoor and outdoor access points, an access switch and a security gateway. The vendor is also offering an optional subscription to its cloud-based internet gateway Umbrella.
All products sold under Cisco's Meraki brand are cloud-managed, making the portfolio particularly attractive to small businesses. In general, small organizations, which Cisco defines at less than 250 employees, prefer cloud-managed technology that doesn't require dedicated IT staff.
The Meraki Go products, launched this week at the Cisco Partner Summit, demonstrate the vendor is willing to cut prices to attract a broader range of small businesses. This year, small and medium-sized organizations will spend globally $630 billion on technology, $27 billion more than last year, IDC predicts.
"Small business is big business," Jim Walsh, the senior VP of growth marketing at Cisco, told resellers at a summit keynote. "We're going big into small together."
Latest Meraki Go pricing
The latest Meraki Go pricing indicates there's almost no company too small for Cisco. Indoor and outdoor access points are $149 and $199, respectively; the security gateway is $149; an Umbrella subscription is $120 a year, and the access switch starts at $229. The switch is available with 8, 24 and 48 ports with optional Power over Ethernet. To manage the system, Cisco offers a free mobile app for Apple iOS and Android devices.
Small business is big business.

Jim WalshSenior VP of growth marketing, Cisco
Jason Doherty, director of sales for reseller R2 Unified Technologies, said Meraki Go pricing is cheap enough to compete with Best Buy. Small businesses often turn to big box tech retailers to buy inexpensive Wi-Fi gear.
"In the SMB space, specifically, price point drives a lot of decisions," Doherty said.
Doherty will try to sell those businesses on a single-vendor Wi-Fi system that covers hardware, cloud-based software and security. However, he acknowledges he will have to educate prospective clients on the benefits of buying into Cisco's platform.
"We're going to try to talk to customers about consuming technology differently," he said.
With Meraki Go, businesses can buy one or two products and add to them later, Doherty said. In the future, R2, based in Boca Raton, Fla., would like Cisco to offer the whole portfolio through monthly payments, either by financing or a subscription model.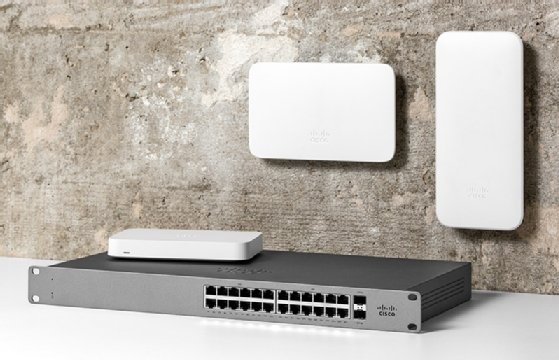 Cloud makes small possible
In the past, the price of networking products from enterprise vendors like Cisco and Aruba, a Hewlett Packard Enterprise company, had been too high for many small businesses. But that has changed with the introduction of cloud-managed technology, said Brandon Butler, an analyst at IDC.
"This specific Meraki Go announcement offers access to a cloud-based management platform at a competitive price," he said.
While Cisco looks for smaller fish, longtime small business vendors, such as Ubiquiti and Adtran, will be trolling for Cisco's midsize customers, Butler said.
"Enterprise vendors are looking down market, while other vendors who have traditionally competed in this market are looking to move up into the larger enterprise segment," he said.