chanpipat - Fotolia
Business IoT applications benefit from SD-WAN prioritization
Business IoT applications require prioritized traffic flows and low-cost connectivity. SD-WAN lets IT teams assign policies to prioritize traffic and use cheaper connectivity links.
Software-defined WAN isn't just about connecting PCs and mobile devices at branch locations; SD-WAN is flexible...
Continue Reading This Article
Enjoy this article as well as all of our content, including E-Guides, news, tips and more.
technology that can be deployed for a wide range of use cases, including many business IoT applications. SD-WAN technologies can provide the reliability, quality of service and security demanded by many critical IoT applications used in healthcare, retailers, smart cities, oil pipeline control systems and public safety.
Editor's note: The focus of this article is on business IoT applications and excludes consideration of consumer IoT.
Enterprises are adding millions of IoT sensors and devices to their networks, including video cameras, temperature sensors, inventory monitors, industrial controls, medical devices and shipping containers. Organizations can use the data and analytics derived from IoT endpoints to increase their operational efficiency -- e.g., reduce downtime -- and offer new and improved services to customers.
Many IT organizations have found implementing and integrating IoT systems can be challenging due to the complexity of networking, securing and managing a diverse range of non-PC-centric devices. IT teams must adapt networks previously designed to connect PCs around the new requirements of IoT devices, taking into consideration low latency, high reliability and the large number of endpoints with unique security requirements.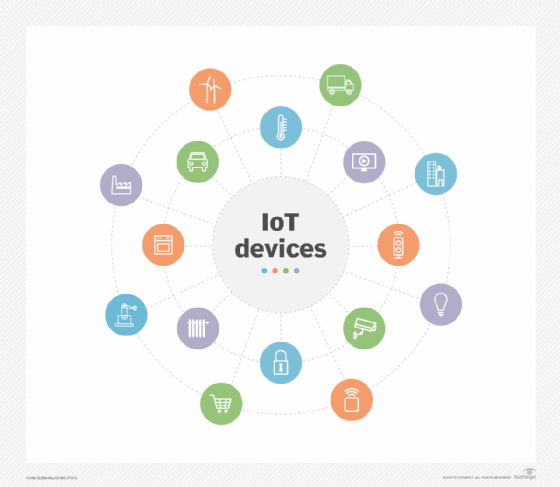 IoT network requirements
Many vertical industries are adopting business IoT applications for a variety of use cases. The types of IoT devices and sensors vary widely, and each has different requirements in terms of bandwidth, reliability, security and latency. In general, business IoT deployments at branch and other remote locations may have the following requirements:
prioritization of traffic flows;
traffic analytics at the device level;
ease of connection setup and teardown;
low-cost connectivity; and
wireless connectivity -- either Wi-Fi or 4G Long Term Evolution (LTE).
SD-WAN enables IoT applications at the branch
SD-WAN can provide significant benefits for IoT implementation at branch and remote locations. While IoT deployments can significantly increase WAN bandwidth requirements, organizations can use SD-WAN to access commodity internet bandwidth to reduce monthly costs. SD-WAN can also ensure critical business IoT applications have appropriate and prioritized WAN bandwidth.
SD-WAN technology can ease installation for new site locations, and it provides centralized management that can alleviate the need for trained IT personnel to physically visit remote locations. SD-WAN technologies help secure WAN traffic flows by providing additional security for sensitive IoT traffic. Many SD-WAN suppliers support integrated Wi-Fi and 4G LTE to connect IoT endpoints.
SD-WAN and IoT examples
SD-WAN is being deployed across a wide range of vertical industries in distributed organizations with IoT connectivity requirements. Below are examples of vendors with current SD-WAN and IoT deployments:
IT teams should consider SD-WAN technology as an integral part of their branch and remote IoT connectivity strategy.
Cradlepoint. Cradlepoint provides SD-WAN functionality integrated with 4G LTE and Wi-Fi connectivity, and it has a number of business IoT customers. Public safety organizations have deployed Cradlepoint to provide resilient application path control over multiple 4G LTE links with diverse carriers. Safety vehicles have many IoT devices, including body and dashcams, siren and light-bar sensors, evidence kits and shotgun mount sensors. These IoT devices connect back to headquarters and cloud-based applications.
Several retail chains have deployed Cradlepoint SD-WAN for their branch sites, integrating IoT applications for food storage and preparation monitoring, digital signage and surveillance. They use SD-WAN to provide nonstop networking using wired broadband and a 4G LTE link. The SD-WAN technology also lets retail chains control which applications can use LTE in failover situations. Cradlepoint microsegments the IoT devices using virtual LANs, with an integrated zone firewall that controls cross-VLAN traffic and VLAN-to-WAN traffic.
Citrix. A large multinational oil and gas company deployed Citrix SD-WAN at eight distributed locations, including its pipeline terminals. The company requires traffic prioritization and resiliency for its pipeline control and monitoring system sensors -- supervisory control and data acquisition -- that aggregate data from numerous other sensors. Citrix SD-WAN allowed the company to meet its requirements for active-active high-availability networks with visibility and reporting.
Design branch networks around IoT requirements
Distributed organizations are rapidly adopting SD-WAN to improve WAN connectivity, application performance and network security. At the same time, organizations are deploying IoT devices and sensors for a wide range of use cases at the network edge. The sheer number of IoT devices and their bandwidth and latency requirements can affect the branch network. IT leaders need to design their branch networks with the flexibility to meet evolving business IoT application network requirements.
The power of SD-WAN technology can help IT teams meet the challenge of connecting, managing, securing and troubleshooting IoT devices. SD-WAN provides access to low-cost internet bandwidth; provides for application prioritization, centralized monitoring and management; and improves traffic security. Many SD-WAN providers now offer integrated 4G LTE and Wi-Fi communication to ease IoT connectivity challenges. IT teams should consider SD-WAN technology as an integral part of their branch and remote IoT connectivity strategy.