kirill_makarov - stock.adobe.com
How Oracle RPA systems can automate business tasks for users
Robotic process automation software can be integrated into Oracle environments to help strengthen business operations by augmenting workers with software robots.
As enterprise AI technology continues to evolve, using it for business benefit is becoming a realistic option at more companies. For Oracle users, the trend toward AI includes the increasing availability of robotic process automation tools that can perform repetitive operational tasks in organizations.
Businesses can use robotic process automation (RPA) to fill gaps in their human workforce, said Glenn Hoormann, executive vice president of sales and marketing at eAlliance Corp., an RPA development services provider based in Naperville, Ill. Speaking in a recent webinar on the potential benefits of Oracle RPA deployments, Hoormann said these workforce gaps sometimes result from planned cutbacks. But they're often unintentionally created by turnover or strong sales growth, he added.
RPA software acts as a digital assistant to workers, complete with the ability to handle most of the same functions and transactions that people do, Hoormann said. As a result, it contributes to a company's growth without increasing headcount, he noted. Adding workers is an expensive process, and a company that experiences or anticipates an upswing in sales can use RPA to accommodate that growth.
Software robots in the workforce
Eduardo Chiocconi, director of product strategy for business process management at Oracle, also spoke during the webinar. In Oracle environments, he advised, RPA tools are best suited to be incorporated with Oracle Integration (OI), a cloud service that supports automation of business processes and provides prebuilt integration workflows between different Oracle applications.
While the robotic technology can function on its own, Oracle RPA users get the most bang for their buck when it's combined with OI, in Chiocconi's view. That's because the cloud service also includes orchestration capabilities to coordinate the interactions of software robots with applications and human workers as part of processing workflows, he said.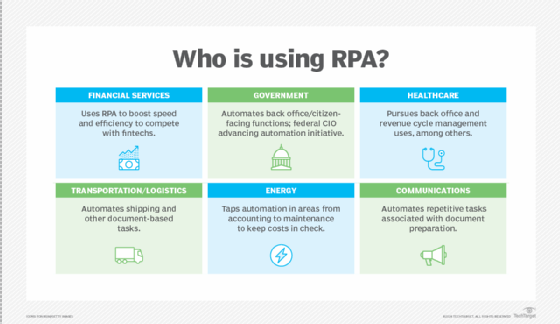 Pairing the two also helps OI users with task automation, Hoormann added. Via more than 100 adapters built into OI, RPA products are able to work with Oracle ERP Cloud and other Oracle applications, plus non-Oracle ones like Salesforce and Workday -- both in the cloud and on premises.
Hoormann and Chiocconi cited a 2018 report by consulting and outsourcing provider Auxis, which said 71% of companies it surveyed were using, deploying or evaluating RPA tools. They also pointed to a 2017 Forrester Research report that estimated four million robots would be doing administrative work and sales-related tasks by 2021.
RPA use cases and applications in businesses
One business use for RPA that Hoormann and Chiocconi detailed is speeding the monthly financial close in companies. Hoormann described the record-to-report time as "mission-critical to finance and accounting." The average business takes three to eight business days to close their monthly books, he said. By comparison, an Oracle RPA system that eAlliance helped a client deploy can perform this task in 12 hours, according to Hoormann.
Another RPA installation can do bank statement reconciliations in an hour, he added. Software bots can also run reports on business operations during the night, allowing executives and other end users to access the reports at the start of the business day and preventing potential reporting bottlenecks during normal working hours.
Chiocconi said companies can also use RPA to create a digitized version of the end-to-end workflow for processing transactions. When that's done, business managers are able to more easily monitor transactions. This can help them determine where workflow bottlenecks may occur and how they can be dealt with quickly and efficiently, he said.
Getting started on an Oracle RPA deployment
RPA setups have a relatively quick deployment time because there's typically no need to customize applications or disrupt the existing IT infrastructure, Hoormann said. In practical terms, a bot is just another user that needs only a login and the appropriate access privileges to connect to Oracle systems and applications, he explained.
OI includes conventional process automation capabilities, but Oracle doesn't offer RPA software itself. Instead, it points users to RPA vendors like UiPath and Automation Anywhere, with implementation support from eAlliance or other consulting services providers.
For those just beginning their Oracle RPA journey, eAlliance offers a sort of pilot program in conjunction with Oracle that lets users test the waters before diving in. Hoormann said in the webinar that the process is intended to demonstrate the speed and efficiency with which an organization can automate business processes through the use of RPA. "What happens in there is we start to gather requirements, we automate a couple business processes for them [and] get them rolling," he said.