Evaluate
Weigh the pros and cons of technologies, products and projects you are considering.
Oracle makes a case for intelligent ERP at OpenWorld 2018

Listen to this podcast
The OpenWorld conference brought a new crop of Adaptive Intelligent Apps, process automation and voice-enabled bots that Oracle's CTO said will reduce human error in business processes.
SAN FRANCISCO -- Intelligent ERP is becoming the new shorthand for ERP that uses machine learning to automate many of the tasks formerly handled by people. It also employs AI-based robotic process automation, chatbots and voice user interfaces to make ERP systems more interactive and autonomous.
Oracle made intelligent ERP and its underlying, AI-powered database and cloud security infrastructure the theme of its OpenWorld 2018 conference here. The vendor introduced a handful of new Oracle AI features and reinforced that messaging with numerous panels and sessions.
CTO Larry Ellison touted Oracle's growing list of intelligent ERP offerings in a keynote at the conference.
"The most dramatic new technology to arrive on the scene for many, many years is machine learning. We exploit that technology in the underlying infrastructure," Ellison said. "Well, guess what? Our applications that sit on top of our Gen 2 infrastructure also fully exploit machine learning."
Ellison listed closing the financial books and comparing actual vs. planned financial results among the Oracle intelligent ERP features.
"We're able to automate these enormously complex business processes, thereby taking the labor out of closing the books. And when you eliminate human labor, you eliminate human error."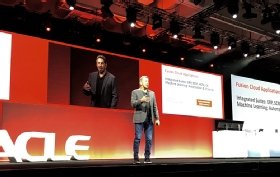 In his speech, Ellison also announced a new analytics platform for ERP called Oracle Fusion Analytics Data Warehouse.
"We have all this stuff built into Fusion," Ellison said, using the official brand name of the Oracle enterprise application and codebase. Fusion will also allow users to mash up data stored in the product with data in other databases -- for example, to extend an analytics model by using historical sales data maintained on a Salesforce platform, he said.
In a podcast recorded at the conference, Jack Vaughan, senior news writer of SearchOracle, and David Essex, executive editor of SearchERP, discussed the Oracle intelligent ERP and related technology introductions, including four supply chain blockchain applications, and how they compare to efforts by rivals such as SAP.
"People are getting used to having some of those kinds of skills helpers -- assistants -- at home to help with the shopping list ... and they're probably expecting to see something along those lines at work," Vaughan said.
However, the advent of intelligent ERP and AI in areas such as HR has raised concerns about misuse, such as bias in recruiting and performance management.