Ivelin Radkov - Fotolia
SAP iPad application gives NHL coaches real-time stats
Design thinking and SAP HANA database tech are the keys to an iPad app that will allow NHL coaches to access real-time stats on an Apple iOS tablet -- and others could follow.
NHL coaches are about to get an assist from an SAP iPad application that will bring SAP HANA database technology to an area where pen-and-paper have been the long-standing tools of choice.
The league recently unveiled the SAP/NHL Coaching Insights App for iPad, which will provide NHL coaches with in-game, real-time statistics. The app has been in development for the past year, and it is expected to be rolled out to all NHL clubs in February, according to David Lehanski, NHL senior vice president of business development and innovation.
The SAP iPad application will provide NHL coaches with more than 60 individual and team statistics that offer insights into game action and performance. The application can be customized to display the most relevant stats for each coach. There are also video clips that coaches can use to analyze action almost as it happens.
The SAP iPad app for coaches is a niche product that was built for a very specific user base, but it can be the basis for other business applications in the future. The amount of data being consumed, the environment it's consumed in and the way the data needs to be customized can be valuable to other types of users, Lehanski said.
"We feel there's already a tremendous amount of learning that we've gathered that we can apply to other experiences and products that we may want to build in the future," Lehanski said. "Most certainly for coaches and players, but also for other use cases for fans, media partners [and] broadcasters. So there's a tremendous amount of opportunity to leverage this for other businesses."
SAP, Apple and the NHL team up
The SAP iPad application is the result of close collaboration between SAP, Apple and the NHL, Lehanski said. It builds on an iPad-based video application the league introduced for coaches prior to the 2017-2018 season playoffs. SAP is a technology partner of the NHL and has helped to develop fan-facing applications, like the league's statistics application, which is based on the SAP HANA database.
"For the 2017-18 season, we captured feedback from all of the clubs on an ongoing basis about the video application and it became clear that there were stats and data points that the clubs would love to have on the bench in real-time, as well," Lehanski said. "We went to SAP and said, 'Let's try to figure out some way to take some of the work we've done with the fan experience in the past few years and see if we can build an app that gives the coaches what they want.'"
SAP and several league clubs collaborated to determine which statistics were the most important to display in the application for in-game analysis. Every team identified time-on-ice for players and faceoff win and loss percentages as the top priority stats, according to Lehanski. But this was only one side of the task, as the league needed to decide on the best way to display the stats for coaches who need to access them immediately during games.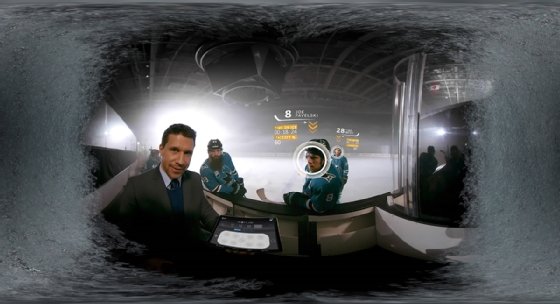 Usability and speed are key factors
The coaches' application development process involved a great deal of collaboration and design thinking between SAP, Apple and the NHL coaches from several teams, Lehanski explained.
"A big part of the application development was the UX [user experience] that allows them to be able to call up the data that they want to see," Lehanski said. "The application needed to be able to provide customization and be able to do it in a way that's super turnkey so that they can pick it up and get what they want out of it right away."
In addition to being easy to use, the coaches' application needed to process large amounts of data and operate in real time. This was done using the SAP HANA database platform and SAP Cloud Platform, according to Rob Bendl, SAP vice president of strategic customers.
"What was important for the NHL was the ability to have this information available in a matter of seconds, and the data is pulled from the NHL statistics database, which is built on the SAP HANA database," Bendl said. "It uses SAP HANA Smart Data Integration, which allows you to grab data from HANA and pull it into SAP Cloud Platform."