James Thew - Fotolia
Supply chain risk assessment a major focus of SAP Ariba
SAP Ariba's Supplier Risk helps companies assess their suppliers in a number of risk categories, but building a responsible supply chain will take strong change management efforts.
Managing supply chains in today's hyperconnected global economy is an increasingly complex task, and supply chain risk assessment and management is becoming a top priority for procurement departments.
Because of this, many tools are available to procurement professionals for supply chain risk assessment that can provide insights into the companies that make up a supply chain and determine if there are any issues that may lead to disruptions.
One such tool, the SAP Ariba Supplier Risk module, is essentially an analysis engine that syndicates data from more than 600,000 sources, including news feeds, government agencies, disaster systems and other private and public sources, according to Tony Harris, SAP Ariba vice president and general manager of supplier management solutions. All the sources are vetted by SAP Ariba to ensure legitimacy, but they can range from major news sites, like Bloomberg, to local news sites or even blogs. This data is analyzed on more than 200 risk factors that companies can then use to profile companies in their supply chains on whatever factors are most important to them, including environmental, social, financial, regulatory, legal and operational concerns.
The risk factors are displayed through a dashboard that shows the data in several ways, including graphs, charts and news feeds, and enables users to see general trend information and drill down to individual company profiles.
"The intent is to make it easy on the user. They get actively notified, but they can be very selective in how they configure the system," Harris said. "You don't want to be overwhelmed with alerts, so you can make sure that you get only alerts that are important to you."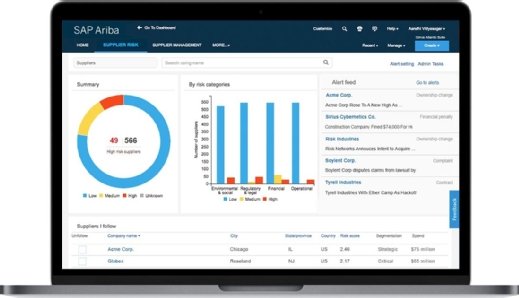 Interest in SAP Ariba's Supplier Risk module was evident at the SAP Ariba Live conference in March. One attendee, a procurement business analyst for a large global automobile manufacturer who did not want to be identified, came to the conference to investigate the module.
"I don't know if we do a good job today of evaluating our supplier base from many of these factors. I know we do that on the OEM side -- the direct side -- but I don't know what their data sources are," he said. "Because our indirect supplier base is so much larger than our direct supplier base, the cost to acquire that same information that they're getting would be not supportive, but by using this tool, we can begin to manage the indirect suppliers, much like we do the direct vendors."
Awareness is good; what you do is more important
SAP Ariba Supplier Risk is a good tool for helping companies figure out where there may be problems, according to Mickey North Rizza, IDC program vice president for enterprise applications and digital commerce, but it can only do so much to really solve them.
It's going to bring awareness, but the problem is: You can't just shut off the supply chains. You have to be able to work with some of these suppliers because you may not be able to secondary source some of this.

Mickey North RizzaProgram vice president, IDC
Supply chain risk assessment has typically focused on the financial health of suppliers or what to do if a node in the supply chain goes down and ensuring there are secondary sources available, Rizza said.
"Now, it gets down into multiple layers or end tiers in who can or can't provide -- for example, conflict minerals, human trafficking, child labor," she said. "It's going to bring awareness, but the problem is: You can't just shut off the supply chains; you have to be able to work with some of these suppliers because you may not be able to secondary source some of this. So, how do you work with them to make them understand that you want to make sure that you're not exposed to risk?"
SAP Ariba Supplier Risk provides companies with a lot of good data, but how this data is used is the most important thing.
"It's all about change management. So, whatever it's telling you or giving all these insights now, what does your action need to be?" Rizza said. "Do you pull all the business GMs [general managers] of a particular country together and show them that we've got issues here and need to change the sourcing, or do we, as a company, say that we can no longer do business in that region sourcing there? So, procurement's going to bring up the insight, and they're going to be able to bring more awareness to it. But what does the business itself decide, and then, what [are] procurement's actions based on what the business decides?"
Supply chain risk assessment leads to better business
For SAP Ariba, the goal is not just to expose supplier risk, although this has inherent benefits to business, but to use this supplier risk assessment as the means for the business to have a higher purpose.
"Wherever there's risk, there's opportunity, because it's not just about mitigating for the risk," Harris said. "We can use this to work with the supplier to reduce or ideally eliminate child forced labor because that will help us meet our ESG [environmental, social, governance] goal of eliminating forced labor."
Doing good through identifying and dealing with supplier risk can create a virtuous circle that drives up company value and creates a better work environment, Harris said.
"When companies demonstrate great ethics, it helps to sell more of their products, which drives up the company's value, but they also attract the top talent. Generation Z or millennials want to work for a company that has a purpose," Harris said. "That, in turn, perpetuates the success of that company over time, and likewise, they're getting better investment rates. For example, Larry Fink, CEO of BlackRock, just announced that they're no longer just investing in companies; they're choosing the companies very carefully based on their ESG policies. So, that's a big driver."