Oleksandr - Fotolia
SAP Ariba Live focuses on procurement for purpose
SAP Ariba Live 2018 focused on the idea that businesses can use procurement technology to do good in the world; for example, by using supply chains to expose forced child labor.
LAS VEGAS -- Does procurement have a higher purpose?
Continue Reading This Article
Enjoy this article as well as all of our content, including E-Guides, news, tips and more.
Of course, procurement has a business purpose: securing and delivering goods and services in the most cost-effective way. But the question at the heart of the annual SAP Ariba Live 2018 conference was whether procurement can be a business vehicle to do good in the world.
SAP Ariba Live 2018 gathered about 3,100 procurement professionals here last week to learn about the latest in Ariba technology and ponder its purpose.
There were a number of examples of ways that procurement can be a force for good.
Big data can be gathered and analyzed to warn businesses of potential trouble among their suppliers in a similar way that applications can send out alerts warning of potential natural disasters, according to Padmini Ranganathan, SAP Ariba vice president of products and innovation for supplier risk.
Ariba applications can make it possible to bring in data from a variety of sources and integrate this with business data in the Ariba Network to give it context and help companies connect the dots through the procurement process, Ranganathan said at an SAP Ariba Live panel on building ethical supply chains.
For example, the Ariba Supplier Risk module makes it possible for companies to determine if their suppliers use forced child labor, Ranganathan said.
New SAP Ariba president Barry Padgett continued the theme in the opening general session by saying that companies now have the tools to move beyond simple data and provide cognitive insights that can get ahead of problems like forced labor in supply chains.
"We can use machine learning now, not just data to create sustainable and ethical supply chains that drive value not just to us and our companies, but to the world at large," Padgett said. "SAP Ariba is committed to delivering that technology, committed to collaborate, to dream and think with you on the way the world could work."
The Ariba Network is large enough to make this a reality now, Padgett said, as it has more than 3 million buyers and suppliers on the network that transact over $1.7 trillion.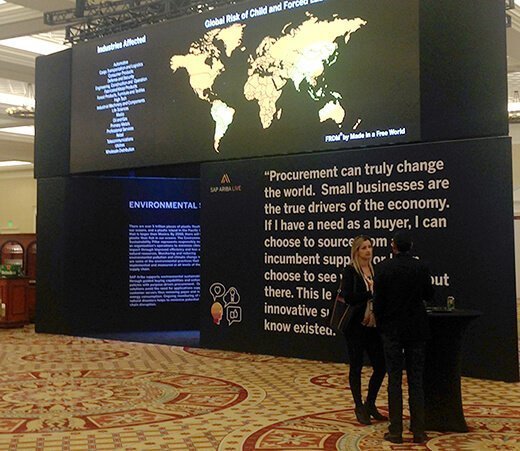 Procurement with a purpose benefits special needs education
Another example of how procurement with a higher purpose doesn't always involve a traditional business case centered on SAP Ariba's partnership with Step Up for Students, a Florida-based organization that provides scholarship opportunities for disadvantaged K-12 students.
Working with Ariba and technology partner Premikati, Step Up for Students developed a portal that uses Ariba's Guided Buying technology to create a user-friendly online marketplace to help families with children with economic disadvantages or special needs shop for and obtain scholarships.
Katie Swingle, the mother of Gregory, a severely autistic child, described the difficulties that she and her husband faced in trying to find adequate educational opportunities for Gregory after he did not last a week in a public school kindergarten class. They eventually found a school in Tallahassee, Fla., that was able to help their son in ways that Swingle did not think was possible, but came at a prohibitive price tag. By using the Ariba-based MyScholarShop portal, the Swingles were able to access state scholarship funds that could pay for Gregory's education.
"This literally saved our lives," Swingle said through tears.
Social media changes the game
The emphasis on using procurement or supply chain processes as a vehicle for social good does seem to strike a nerve.
The messages about social responsibility are valuable in today's political climate because it can be important for companies to prove that they can act in a humane manner, according to Predrag (PJ) Jakovljevic, principal analyst at Technology Evaluation Centers (TEC), a Montreal-based technology research and evaluation firm.
The procurement with a purpose theme was not necessarily aimed at the average procurement professional who attended SAP Ariba Live 2018, Jakovljevic said.
"[These messages] are more for the CEOs of companies, because now in these days of social media it's enough that someone says 'That company uses child labor,'" he said.
Matt York, research analyst at Boston-based Ardent Partners also noted that social media has changed the game for businesses.
"I'm glad to hear that SAP Ariba is doing this because it speaks to my values and judging from the reception of the mainstage presentations it seems like it resonated really well. But I think overall companies are having to reconcile their business practices with the nitty-gritty dirty underside of the business," York said. "Maybe they could get away from it before, but now that's difficult with social media, and even if regulatory bodies aren't going to hold their feet to the fire the consumers will and they'll be named and shamed. So [SAP Ariba is] headed in the right direction with the tools and there's tons of upside."