Argus - Fotolia
SAP S/4HANA Cloud 1908 gets more RPA, embedded analytics
The quarterly release of SAP S/4HANA Cloud includes new RPA and embedded analytics capabilities. One analyst was blunt about his take: He called the additions 'bells and whistles.'
SAP S/4HANA Cloud 1908 includes a new infusion of robotic process automation (RPA) bots and embedded analytics.
The RPA and embedded analytics capabilities are expected to help customers automate processes and enable the system to be more proactive in identifying issues and presenting users with actions, according to Sven Denecken, SAP head of product management and co-innovation.
"The focus areas [for S/4HANA Cloud] in finance and manufacturing are growing," Denecken said. "We have more and more manufacturing customers who want to run their workload in the cloud, which they are doing with S/4HANA Cloud."
One analyst calls the new capabilities "bells and whistles" and said that in order to make S/4HANA Cloud more desirable as a public cloud offering, SAP needs to step-up S/4HANA Cloud's industry functionality.
RPA paves the way
SAP S/4HANA Cloud 1908 is the latest quarterly release of the SaaS version of S/4HANA. It now incorporates "intelligent RPA." RPA is a way of automating rules-based mundane tasks; intelligent RPA takes the technology a step further by embedding automated intelligence into everyday commonly used business processes, Denecken said.
There are three specific industry use cases for the new capabilities: finance with bank statement reprocessing, manufacturing with predictive manufacturing resource planning (MRP) and procurement with purchase order confirmation. A new feature called "My Situations" uses RPA and embedded analytics to identify issues within a system and then automatically informs users about the issue and provides actions they can take to resolve the issue.
"['My situations'] knows the business processes and it can connect these with the user's role and provide notification frameworks to inform them about actions and telling them where to take the action," Denecken said.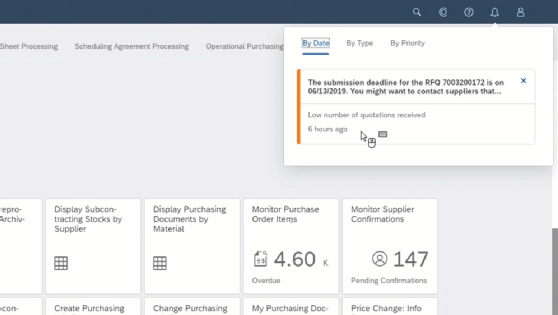 Embedded analytics help with integrated planning
S/4HANA Cloud also now includes embedded analytics through integration with SAP Analytics Cloud. This enables companies to be proactive rather than reactive in certain situations, according to Denecken. By embedding SAP Analytics Cloud, S/4HANA can collect data from other systems and can enable different systems to talk to each other. A financial organization, for example, can run a revenue planning process that combines data from HR systems and manufacturing systems to plan sales prices or simulate sales quantities.
"[S/4HANA Cloud] can read out the finance data model; it can read master data out of SAP and other systems; it can read transactional data; and it can put those three together. You can have an absolutely integrated planning process," Denecken said. "This planning capability is completely embedded into the product, it's not separate or needs data extraction."
More industry functionality needed in S/4HANA Cloud
The enhanced RPA and embedded analytics are nice additions, but are essentially bells and whistles, according to analyst Josh Greenbaum, co-founder and principal of Enterprise Applications Consulting, an ERP consulting firm based in Berkeley, Calif. SAP needs to deliver S/4HANA Cloud as a public cloud industry solution across a number of industries, he said.
"The public cloud is the gold standard because private cloud S/4HANA is really a managed service, and you're not going to get the cost benefits that you get in the public cloud," Greenbaum said. "The industries that S/4HANA Cloud serves now in the public cloud is the real issue, I don't think the deal is going to hinge on RPA."
The decision of existing SAP customers to migrate to S/4HANA Cloud will likely be determined by this issue of specific industry functionality rather than capabilities like RPA, he said.
"The biggest migration question is: Do they have your industry's functionality in S/4HANA Cloud, or are you going to have a hybrid of SAP HANA Enterprise Cloud based S/4HANA, some S/4HANA on-premises and some S/4HANA Cloud?" he said. "This question is really germane to the legacy base, and if they're not paying attention to that, then they're missing the boat, whatever bells and whistles they're slapping onto S/4HANA Cloud."